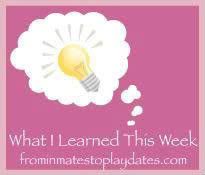 Is it really Tuesday already?
This week has left me in a fog. It's been a stressful week and if there's one thing I've learned, it's this:
If everything in your life is going well and everyone in your family is healthy, you should BRACE YOURSELF SISTER.
There's a pretty good chance that sorrow or stress or sadness is just around the corner.
Then I learned that when it rains, it pours.
Please pray for my family. We are going through a valley right now and all we can do is trust in the Lord to see us through.
I apologize for my lack of posting here at FITP, Inc. My mind just isn't on blogging right now. I appreciate all of you who stop by here for a daily dose of crazy. Rest assured that the crazy ABOUNDS right now. I'm just not in a place to share it.
Oh, and I also learned that if you are in need of some entertainment you should tune in to Duck Dynasty. Si Robertson can brighten the darkest of days.
That's what I learned this week.
Now, what did YOU learn?
To join in on the What I Learned This Week carnival, simply follow these steps.
1. Any time this week, publish your What I Learned This Week post on your blog and link to this post.
2. Link up with the Mr. Linky form down below. Please put the link to your POST, not the front page of your blog.
3. Then visit the other participants and see what they learned this week.
Alrightythen. Ready, Set, GO!