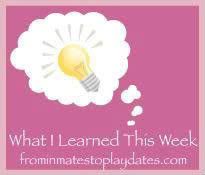 First of all, let me start by apologizing for posting this so late on Tuesday evening. I would have loved nothing more than to post this at my normal Monday evening blog-posting hour, but unfortunately, I've been busy being where I need to be.
I am hopeful that things will get back to normal VERY soon.
Here's what I learned this week.
1. Sitting all day is sometimes more tiring than running all day.
2. It is much harder to paint a cereal box than what you might think.
3. If your phone battery seems to be going dead faster than normal, there's a good chance your seven-year old started the stopwatch fourteen hours earlier.
4. There is not one can of purple spray paint within a 20-mile radius of our house.
5. Markers, yarn and stickers can keep 1st grade boys busy for days.
6. It IS possible to have a box of THIN MINTS on the kitchen counter for days and NOT TOUCH THEM. (It isn't easy, but it IS possible!)
7. Not every nurse should be one.
8. You are more likely to be killed by a Champaign cork than a poisonous spider.
9. Duck Dynasty is a wonderful addition to any DVR docket.
10. I might be the only girl in the free world who hasn't watched Downtown Abbey.
11. A Big-Mac tastes much better when you haven't had one for seven weeks.
That's what I learned this week.
Now, what did YOU learn?
To join in on the What I Learned This Week carnival, simply follow these steps.
1. Any time this week, publish your What I Learned This Week post on your blog and link to this post.
2. Link up with the Mr. Linky form down below. Please put the link to your POST, not the front page of your blog.
3. Then visit the other participants and see what they learned this week.
Alrightythen. Ready, Set, GO!