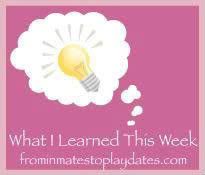 It's been a crazy, busy non-stop week. We had things on our calendar almost every evening and I'm afraid that I fell off the mission SLIMpossible wagon. I only exercised three of the required five days, and I was barely able to get in 100 ounces of water. I am hoping this week will be better.
Because exercise is worth DOUBLE THE POINTS this week, I need to get back at it. Oh, and also because this is the last week of the competition.
Here's a little of what I learned this week.
1. When you have a message from Fed Ex on your answering machine saying a package requiring a signature will be delivered the next day and you must be home to receive it, you probably shouldn't be quick to assume it's a piece of equipment for your husband's work. It is entirely possible that the package you will be receiving is a new laptop to replace the set-up that is currently taking OVER your kitchen countertop.
2. It takes hours to get a new laptop up and running
3. The Fed-Ex wait window is 8AM – 6PM.
4. The elderly gentleman down the street gets empty milk bottles from the Fed Ex guy every week. (I sure wish I knew more about this whole empty milk bottle deal.)
5. My weight fluctuates more than the stock market. UGGGHHH!
6. Ordering Samoas and Thin Mints in the midst of a weight-loss competition makes no sense whatsoever.
7. I have no business visiting Pinterest when trying to write a blog post.
8. Typing on a new laptop takes some getting used to.
9. Using a new laptop (especially one with a different operating system) is kind of like driving a new car.
10. I have forgotten about A LOT of really great rap music from the 90's.
11. The girl scouts have the whole girl scout cookie pick up line thing down to a science.
That's what I learned this week.
Now, what did YOU learn?
To join in on the What I Learned This Week carnival, simply follow these steps.
1. Any time this week, publish your What I Learned This Week post on your blog and link to this post (this is important!)
2. Link up with the Mr. Linky form down below. Please put the link to your POST, not the front page of your blog.
3. Then visit the other participants and see what they learned this week.
Alrightythen. Ready, Set, GO!