Recently, I received an e-mail asking if my boys (and I) would possibly want to check out the new features on the Math Blaster site. They were eager to get started because they really enjoyed the site the last time they were provided with a membership.
Math Blaster is a fun arcade-style video game that incorporates math into its space-themed site. The site "Provides "Blasters" with a fun way to learn essential math skills. In a nut-shell, Math Blaster is a futuristic online adventure site that is filled with wacky aliens, gadgets, and lots of math."
According to the Math Blaster Site:
Once your kids are logged in and on board the spaceship to Math Blaster, they are able to design their own Blaster Cadet, a personalized avatar that will run, jump and blast through the Math Blaster spaceship. Using the Molecular Modulator, kids have their choice of different hair styles, faces, eyes, and even species for their Blaster Cadet! As kids progress through the game and tackle the math training activities, they will earn merits and achievements. When they earn merits, kids will climb the ranks in the Intergalactic Space Patrol (ISP), and their Blaster uniform will be upgraded for all of Math Blaster to see!
I have always been impressed that the site is suitable for both of my boys, in spite of their three-year age difference. I think this is largely due to the fact that the site has a nice variety of math subjects with different levels of difficulty. Both were able to quickly navigate the site and they really enjoyed creating their own avatars, or in this case Blaster Cadets to play with. Stevie, my ten-year-old (whose blaster cadet is named Jason StoneLaser) enjoys playing hide and seek with his Mutt – Cyber Xenon. His favorite thing about the site is "The robot who gives interesting information about different topics (how much the earth weighs, each fingerprint it different, Venus is the only planet that rotates clock-wise, etc.) when you click on him." Alex's (age seven) blaster cadet is named Sean SilverFireball and his MUTT is named Speedy Crater. Alex's favorite part of the site is "The red alert door that requires you to shoot asteroids and soccer balls and cheese."
*Knowledge Adventure's Math Blaster is proof that video games can be educational and fun! As a parent, I love that. The site has this to say about Knowledge Adventure:
Knowledge Adventure is the creator of award-winning educational products like JumpStart and Math Blaster and is trusted by over 20 million parents. You can find our virtual worlds online at www.MathBlaster.com and www.JumpStart.com. In the Math Blaster galaxy, kids can explore a futuristic world, voyage to strange new planets and discover wacky alien races, all while practicing their math skills. At JumpStart.com, kids can explore magical worlds, discover and unlock games, videos, and story books that teach everything from math to reading.
Since they last visited Math Blaster, the boys were excited about some of the new features on the Math Blaster site.
In HyperBlast, players can hop on a hypercycle and blast through aliens while solving math problems.
The Monster Mutt Pod allows you to decorate, feed and play with your Mutt in its own room.
The Nebula Knockout allows your pet to train and then battle other Mutts.
Another cool feature of the Math Blaster site, is the Math Blaster Blog which is a great resource for parents (and kids, too!) because it is chock-full of math and science information, including family fun, current events, learning tips and science facts. I also "liked" Math Blaster on Facebook so I can keep up with new site features, games and stories.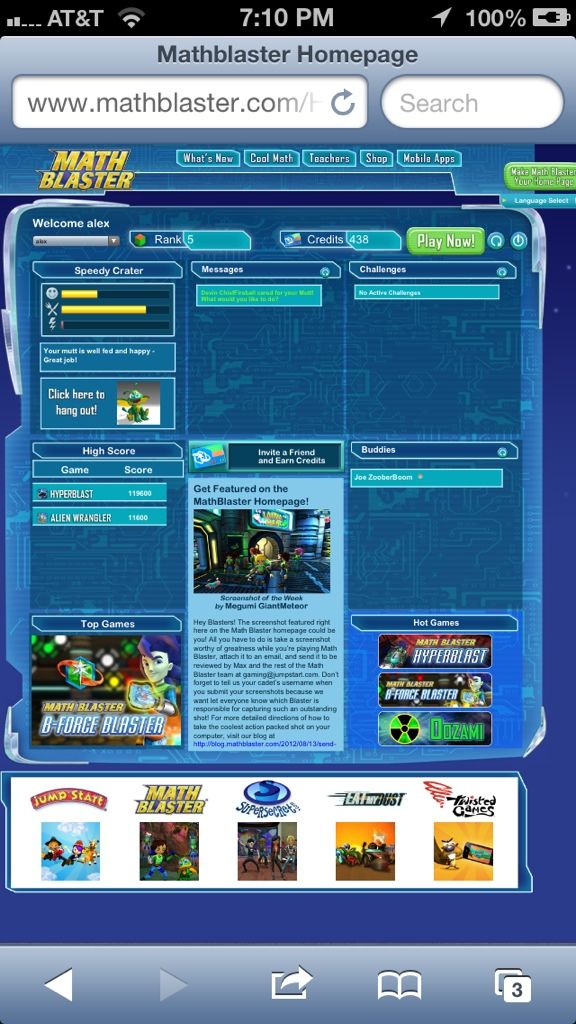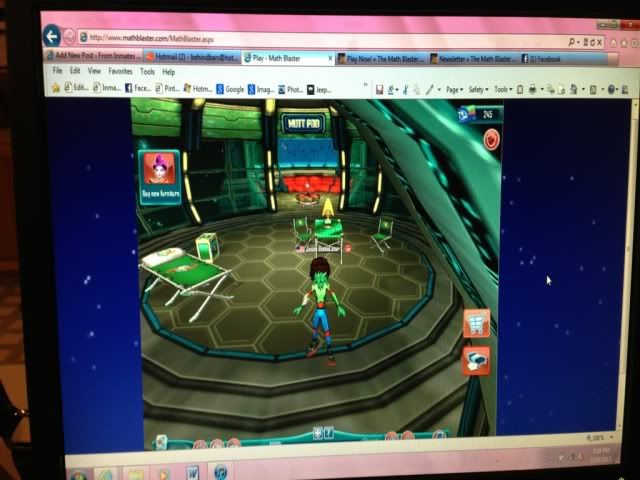 Math Blaster is a hit around here. My boys and I appreciate the opportunity to play around on the site.
In the interest of full disclosure: I was given a three-month membership to Math Blaster in exchange for this honest review. As always, the opinions expressed in this post are my own.