It is with regret that I announce that I shot my wad on the SLIMpossible diet today.
While at the hospital for most of the day, I found myself with about six minutes to scarf down some "lunch". I made a quick trip to the hospital snack bar and settled on a bag of Doritos and a chocolate pudding parfait, which I could not pass up because, HAVE YOU EVER HAD ONE? And, in a moment of weakness, I swallowed four thin mints, almost whole.
On an unrelated note, who named those suckers THIN mints anyway? I realize they are THIN, but that's the last thing anyone who eats them is going to be. (Especially when you eat an entire sleeve. * Not that I've ever done that! *
In my defense though, I did come home and spend an hour with Leslie Sansone in an attempt to work that parfait and the Doritos and those four measly 160 calorie THIN mints off.
For weeks (or maybe it's been months at this point) my kitchen counter has looked like this because the screen on that pretty pink laptop decided to quit working.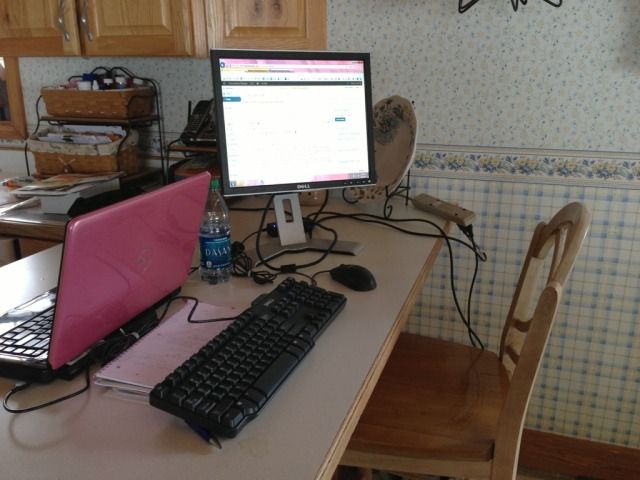 Only, I did move the monitor and keyboard over toward the wall to clear up half the counter.
But alas, I am pleased to report that tonight I am no longer sitting on that HARD bar stool. Instead, I am blogging from the comfort of my big, blue, bloggy couch with a brand spankin' new laptop with a screen that works.
Hallelujah.
And Amen.
My tailbone thanks you, McDaddy.
And I do, too!
I heard bad news today.
I mean REALLY bad news.
I haven't been able to think about much else since I heard the news.
Can you believe that my beloved Maksim Chremkovskiy will not be on this season of Dancing With The Stars?
That makes me nine kinds of unhappy.
But seeing these at the hospital today sure made me smile.
Yes, those are tennis shoes.
The nurse wearing them explained that they are specially designed tennis shoes (called Z-Coils) for people with a bad back. I think they are super cool and really, I MEAN REALLY wanted to ask her if I could try them on. But instead, I just snapped a picture all secret-squirrel right in the middle of the E-R.
She bought them on a Canadian website and they were $240. And before you ask, for once I wasn't the one asking nosy questions. My dad happened to be in the E-R with me and his nose is way bigger than mine! (Hi Dad!) He was asking her all kinds of questions.
[On an unrelated note: Since receiving a tablet for Christmas, my daddy has joined the ranks with LBF's all over the nation. And you can bet the farm it is killing him not knowing what the heck an LBF is.
I do not suffer from back, joint or foot pain (but remember I still have butt pain from sitting on that hard bar stool!), still, I really want a pair of those shoes. They are cool and from what I understand very comfortable. Not to mention I am finding, at the ripe age of 39, that comfort trumps cute every. single. time.
Oh, and on the off-chance that the fine folks from Z-Coil end up here at From Inmates To Playdates, Inc., you should know that I would LOVE an opportunity to work with you on a review/giveaway promotion. Just have your people call my people and we'll set something up!
And just like THAT, I realize the time on my laptop is an hour off.
Danggit.
Crazy random posts work for me!