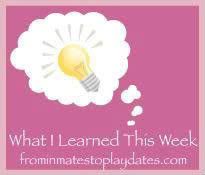 Well, lookie there. It's Tuesday already.
And time for another award-winning edition of What I Learned this week.
Only, I've never really won any awards. Not for this post or any of posts for that matter.
1. High Efficiency appliances make laundry bearable. I can now do a whole week's worth of laundry for four in three loads. We shoulda bought those puppies years ago.
2. You need nowhere near the amount of detergent the front-load laundry dispenser says you need. In fact, a tablespoon or two is all that is needed to leave your clothes smelling fresh and wonderful.
3. Smiling is now prohibited in passport photos. (Darn facial recognition software.)
4. Being on a weight-loss journey is an interesting endeavor.
5. As bad as I hate to exercise, I feel so good and accomplished afterward.
6. Month, orange, silver and purple are the only English words that don't rhyme with another English word.
I'll have useless facts for $500. Alex.
7. For all the years I've ever heard Bin Laden's name, I thought it was spelled Osama Bin Laden. I was surprised to find out while watching Zero Dark Thirty that Government agencies actually spelled his name with a "U" – Usama bin Laden.
8. After typing on a laptop for lots of years, it's hard to get used to a real keyboard.
9. A gallon of milk is $1.38 cheaper at Wal-Mart than it is at the grocery store less than a mile from my house.
10. I find myself hungriest late at night. It is 10:52 PM, and I WANT CHOCOLATE!
11. I am the most unorganized organized person I know.
12. I'd rather be on my big, blue, bloggy couch than this hard, legs hanging down bar-stool at the kitchen counter.
13. The simple post template widget is the bomb. Thanks for the heads up, Heather!
14. I could really benefit from an hour-long (or two, even!) WordPress Tutor session. Heather?
That's what I learned this week.
Now, what did YOU learn?
To join in on the What I Learned This Week carnival, simply follow these steps.
1. Any time this week, publish your What I Learned This Week post on your blog and link to this post.
2. Link up with the Mr. Linky form down below. Please put the link to your POST, not the front page of your blog.
3. Then visit the other participants and see what they learned this week.
Alrightythen. Ready, Set, GO!