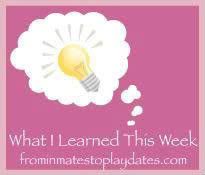 First of all, I need to apologize for dropping the "What I Learned This Week" ball. The truth is, I don't have a good excuse, except to say I've been busy living life. I spent most of last evening at the hospital with my granny, but I wanted to get a WILTW post up this week on the off-chance that some of you show up here looking to link up.
So. Without further ado…. here's what I learned this week.
1. It is much easier to find a parking spot at the hospital at 6:00 PM, than it is at 9 AM.
2. If you wait until after 9 PM to leave the hospital, you don't have to pay.
3. As much as I love my Christmas tree, when Christmas is over, I'm ready for it to come the heck down.
4. It is difficult, for me at least, to drink 64 ounces of water every day. Hopefully it will get easier.
5. The hospital is an exhausting place. 
6. There are some straight-up shady people visiting the hospital.
7. There is always one in the school pick-up line who refuses to follow the rules.
Now, what did YOU learn this week?
If you need help linking up, you can go here.