Y'all know I love a good story.
THIS will be a great story.
A year or so ago, I ran into a childhood friend at the Wal-Mart. I hadn't seen Scott since our 10 year reunion in 2002, and it was great to see him and meet his wife. While we chatted, I mentioned seeing pictures on him on his Facebook posing with Christian music artists. He went on to tell me that he is the tour manager for Skillet, and that he is friends with all of the artists in the pictures.
Well, sweet holy Moses.
I probably went on and on about loving Toby Mac and listening to his music all the time and blasting "Made To Love" and "Lose My Soul" in the car every chance I get.
After I got this mouth to slow down, Scott said, "The next time Toby's in town, I'll try to arrange for you to meet him."
And to that I said, "Holy crap, that would be awesome!"
Or something to that effect, because who can really remember what they said over a year ago?
I didn't think much more about it after leaving Wal-Mart.
Fast forward to November 24, 2012 when I received a Facebook message from Scott saying he remembered how much I liked Toby Mac and asking if my fellas and I would be attending Winter Jam 2013. After I confirmed that we were planning to attend, he told me that he might be able to arrange for us to meet him.
Y'all.
Do you know how many kinds of crazy that is?
ME?
Meet Toby Mac.
Where do I sign up?
Winter Jam 2013 kicked off in Charleston on Friday evening. Hours before the show, Scott called me with the details.
First, he got us early admission. The concert started at 6:00 PM. We were permitted to enter at 4:30 with the couple hundred people who purchased the early admission tickets. I spazzed out when I saw how many people were in the line, because we hadn't purchased tickets, and I wasn't sure if we needed them before getting in the line, or if we'd be able to buy them at the front of the line. I sent a frantic text to Scott.
In the meantime, a guy who called himself "Mr. Talkbox" was mingling in the crowd posing for pictures. I heard him tell the gal in front of me he was Toby Mac's back-up singer. Seizing the opportunity, I hurriedly explained that I had a friend named Scott who was Skillet's tour manager, blah, blah, blah.
Y'all.
Mr. Talkbox whisked us to the front of that line and stopped at the table where we found out that we were on Toby Mac's V.I.P. list. They gave me an envelope with my name on it and said everything we needed was in the envelope.
There were four Toby Mac wristbands.
And this message:
I stood there all dumbstruck.
The boys and I hurried into the arena and snagged four seats in row six.
ROW SIX.
We had almost two hours until the start of the show, so Alex and I went off to look for a bathroom. And I wasn't sure if Toby would sign autographs for us, but on the off-chance that he did, we picked these up at his table.
And yes, I am totally throwing around the name Toby as if we are BFFs. But dang, we were on Toby Mac's  V.I.P. list and had six row seats FOR FREE, and were waiting to meet him at Winter Jam 2013. Surely that gives me a right to call him Toby, right?
And did I mention that we were sitting on the sixth row?
This was the view from ROW SIX.
And yes, that fire was just as hot as it looked.
Sidewalk Prophets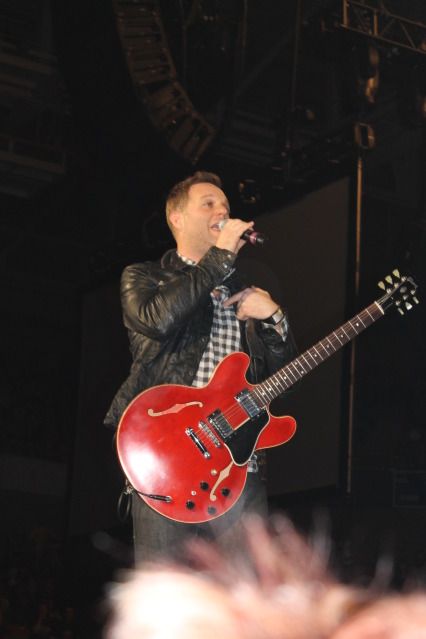 Matthew West
And sweet, delightful Jamie Grace
At 7:10 PM, we made our way to the right side of the front of the stage. The security guard who was standing at the back-stage entrance looked at that little slip of paper and almost laughed in our face. She said she nothing about that slip of paper or meeting Toby Mac and couldn't allow us to come through. Shortly after, another family showed up with the same slip of paper.
Because I am nosey, I asked how the other family got their little slip of paper.
Apparently, the lady was the high bidder on two front row seats and backstage passes to meet Toby Mac.
It was us against the crazy security lady.
Within a minute or so, a gentleman came to the gate and asked to see our arm bands. He quickly whisked us backstage and led us down a corridor and asked us to wait against a wall. Just seconds later, we saw Matthew West walking toward us.
He was so kind. He shook our hands and posed for pictures with the boys.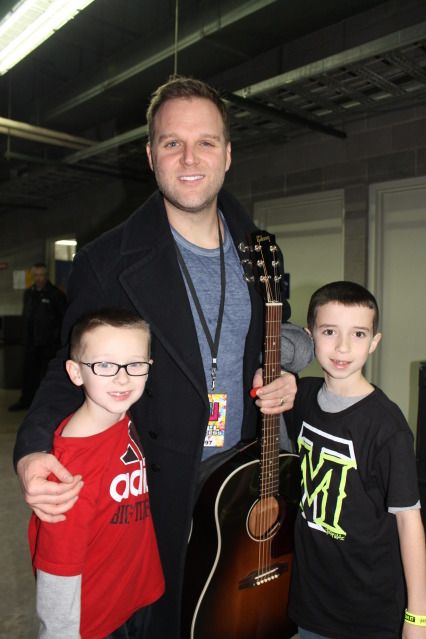 Would you just look at that.
I handed my camera off to "Led us backstage guy" and explained how to use my camera. He playfully snapped pictures of me looking ever so stupid.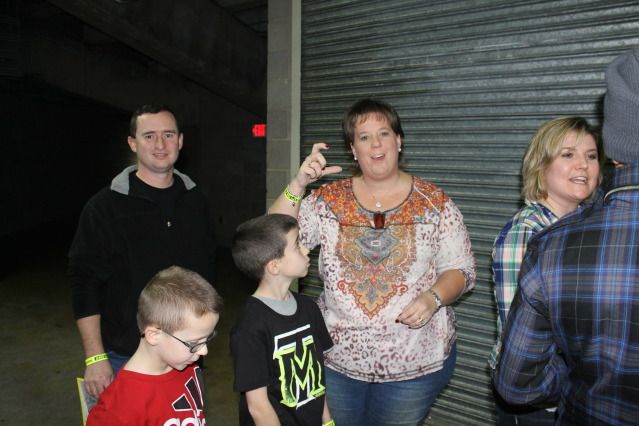 Oh dear lord.
And wouldn't you know as I was busy looking like a crazy person, Toby walked out of the same room that Matthew West came out of and saw this. (See that blue plaid jacket on the right side of the picture? That's TOBY for crying out loud! And see the crazy person making a "C" with her fingers? That's me!)
It took everything in me not to bust out dancing and singing, I don't wanna gain the whole world and lose my soul, but somehow I managed to keep my crazy self under control.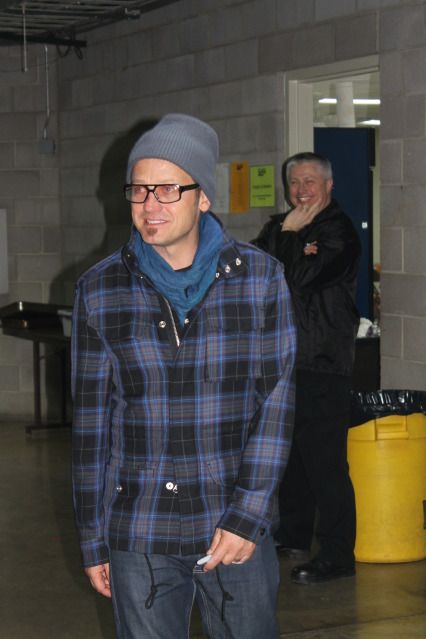 And just look at this.
Holy friggin' cow. That right there is Toby Mac, McDaddy, the boys and me.
Two days later, I can hardly believe it.
He was so gracious and kind to my family. It was an honor meeting him. And now, when I'm exercising with his music blaring from my iPod, I will smile knowing that we are friends.
Or something like that.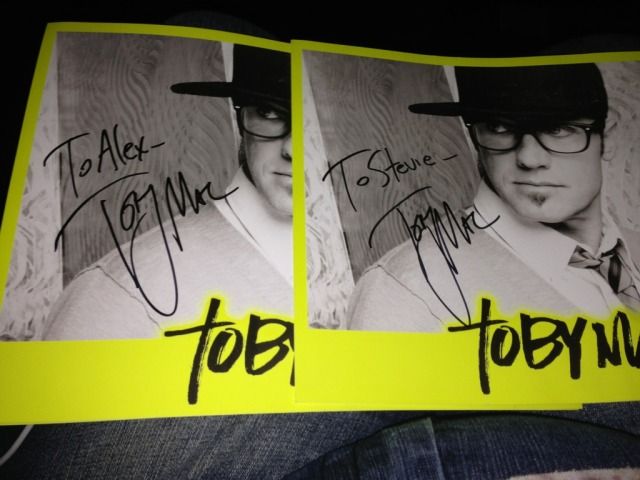 It was a wonderful night and a wonderful experience. It couldn't have ended any better than having 4,382,184 pieces of tissue paper dropped on us.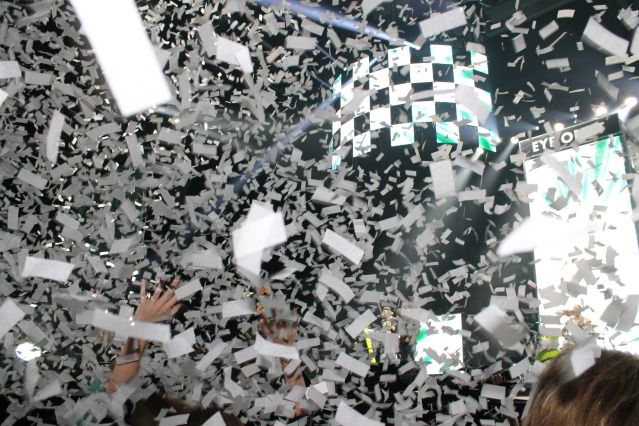 Seriously, THE SIXTH ROW was nuts!
It is only fitting to thank my friend Scotty Rock for making absolutely all of this possible. I am so grateful to him for going out of his way to arrange all of this. I could never thank him enough.
And also, a big shout out to Toby Mac and Matthew West (on the off-chance that they ever find their way to a little blog called From Inmates To Playdates, you know, because it's what all the cool kids are reading), I'd like to say thank you for being so kind and gracious to the McFamily from Charleston WV 2013 Winter Jam. You guys made the experience so special for us and we will never forget it!
For tons of more pictures (FROM ROW SIX) you can visit my Facebook page.