It was a beautiful day in our neighborhood.
The good news is, it was a wonderful, beautiful, perfect for January 70 degrees.
The bad news is, this…

As much as I love have the JEEP in the garage on cold January mornings, I miss having the SKY here at the house for rare 70 degree days in January.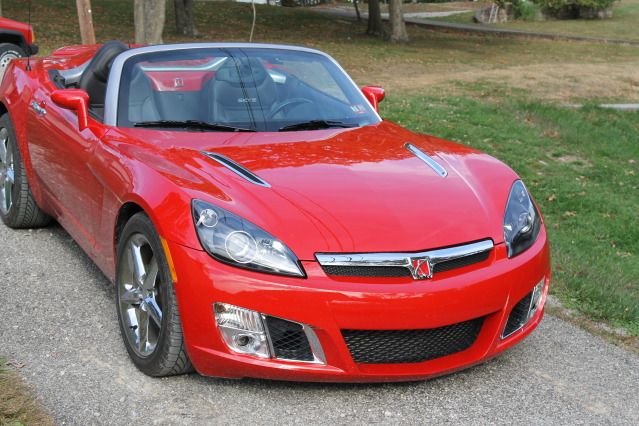 Aside from the beautiful weather, I spent much of the day trying to burn calories. I had plans to eat at Chilis with some girlfriends and knew I'd more than likely be ordering the chicken crispers / mashed potatoes / corn on the cob combo which has about a bazillion calories.
3,210 calories to be exact.
Let's just say I didn't exercise nearly enough, and I finished the day in the caloric hole.
But enough about calories, because tomorrow is a new day, right?
And I plan to do better.
The weather guy warned that we could have 60 mile-high winds tomorrow, along with thunder showers. The temperature is supposed to be in the 60's. The rest of the week calls for snow, snow and more snow.
I can't tell you how sad that makes me.
I long for the day that I can put on my flip-flops, drop the top, and drive around all afternoon blaring my SKY tunes playlist. But for now, I use that playlist when I exercise. Here's a sampling of whats on there:
Rag Doll – Aerosmith

Give Me Your Eyes – Brandon Heath
Rolling In The Deep – Adele
City On Our Knees – TobyMac (did you know I recently got to meet TobyMac?)
There Is A Way – NewWorldSon
Have Fun, Go Mad – Blair (love this one!)
Play That Funky Music – Adam Lambert
Feelin' So Fly – TobyMac
The Way You Make Me Feel – Michael Jackson
These Thousand Hills – Third Day
Lose My Soul – TobyMac (My favorite of his songs!)
You Learn – Alanis Morissette
Poison – Bell Biv Devoe
Motownphilly – Boyz II Men
Fantastic Voyage – Coolio
Hold On – EnVogue (Can you tell I loved 90's music?)
Cantaloop (Flip Fantasia) – Us3
If I Had No Loot – Tony! Toni! Tone'!
If these songs don't get you moving, I don't know what will. They sure work for me when I'm trying to put some pep in my step.
I'd love to hear your suggestions for some fresh, new workout material. You know, down there in the comments.
What are you waiting on?