I cleaned like a crazy person today. Actually, I cleaned and danced like a crazy person today. I had some clutter to put away, three week's worth of mail to sort through, and some decor to change out. I linked up my iPhone with the bluetooth wireless speaker that McDaddy got for Christmas, blasted some Third Day, Toby Mac, and Selah and I went to town swarping papers, cleaning countertops, putting dishes away and sweeping the floors. I danced and cleaned for 45 minutes. My heart was banging and I had sweat. So, that's good, right?
It felt good knowing that I was cleaning my house while also getting in some exercise.
A few days ago, I asked for your help with finding a good calorie tracking APP. Several of you suggested My Fitness Pal, which I downloaded today.
Y'all.
I was thrilled that it was so easy to use.
When I ate two pieces of Pepperidge Farm toast for lunch, I was able to scan the bar code on the bread-bag and the APP spit out the nutrition information.
Boom, just like that.
And after I cleaned and danced like a crazy person, I input that information into the cardio tab on the APP and was surprised that the APP adjusted and allowed for more caloric intake.
Later in the evening I did 15 minutes of Wii Fit. The advanced step and free run was listed alongside of their calories burned info. It was quick and easy to put the info in.
There was just one slight problem.
My new Fitness Pal wasn't so friendly on our first day as pals.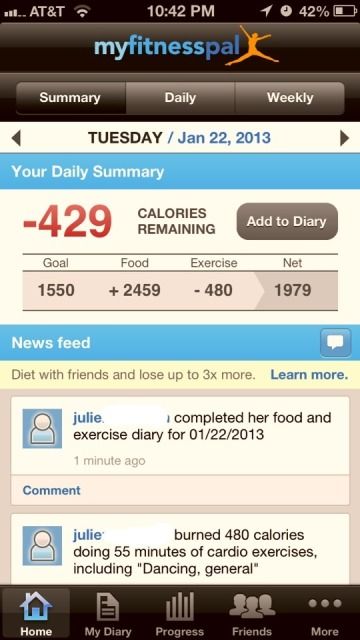 It appears that I shot my caloric wad by more than 400.
Looks like I shoulda' cleaned and danced like a crazy person for about seventy more minutes.
Or skipped breakfast.
Phew.
I was even more depressed when I put McDonald's big breakfast with hotcake into the APP just to see how many calories it would cost me if I decided to go that route the next time I meet the girls at McDonalds for breakfast. As it turns out, they don't call it BIG BREAKFAST with hotcakes for nothing. That little bit of greasy Heaven will cost you 1100 calories. Or in my case, just a little less if you forgo the greasy hashbrown.
Eleven friggin' hundred.
OUT OF 1500.
Which means I'd have to eat two cheese slices for lunch and a two bananas for dinner.
Dang.
The BIG BREAKFAST with the hotcakes is history.
If you're on My Fitness Pal, look me up. I suppose it would be fun to add friends, so long as My Fitness Pal doesn't offer up my three numbers or rat me out when I fall off the biggest la-ooser wagon and eat a sleeve of thin mints.
I suppose My Fitness Pal worked for me!