I've attempted to post here for the past three days.
Obviously, those attempts have been unsuccessful.
It is Saturday afternoon. I am sitting at our kitchen island (only it's not really an island because it's attached to another counter) but island sounds better than "bar" because that seems like a silly name for a kitchen counter and by now you've probably already forgotten how you even got on this train, because HOLY COW, FOCUS.
Anyway, what I was trying to say is that my laptop screen decided to go all Harry Houdini and even though we can hear the laptop fan running and the screen lights up when it first comes on, the screen just goes black, and well, when you can't see what you're writing, that makes blogging tough. McDaddy rigged up a solution, which translates to he hooked a keyboard and a monitor up to the laptop which works perfectly, but which is also driving me absolutely insane because OH MY HECK THE CORDS….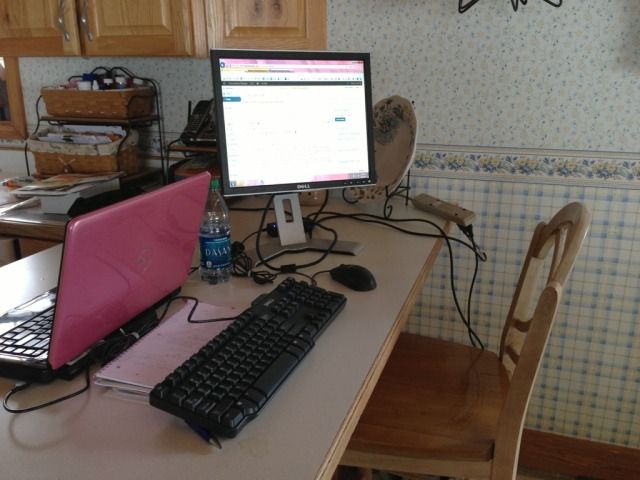 So, here I sit at my kitchen island-that's-not-an-island chomping on two slices of pepperidge farm raisin cinnamon swirl bread because it is sweet and has fewer calories than the Mississippi mud brownies that I made last night.
There is approximately 0.2 inches of snow on the ground (give or take a .1 or so because I stink at estimating) but we got enough snow yesterday for mass choas at the grocery store and our school district to dismiss three hours early. We used that time to have our passports renewed for a cruise we'll be taking over spring break. I was aggravated to learn that you are no longer permitted to smile in a passport picture, and learned it had something to do with facial recognition, which is ridiculous to me because I AM NOT A TERRORIST, but yeah, whatever. One look at my new passport and you'll think I'm a goofy, disturbed woman. I was opposed to driving into town yesterday to take care of that business because HELLO THREE HOUR EARLY DISMISSAL DUE TO INCLEMENT WEATHER, but McDaddy never passes up an opportunity to drive in the snow because he is a crazy person who enjoys unnecessary risk.
And speaking of passports, this is Stevie's latest 4th grade project assignment. A six-page Martin Luther King, Jr. passport.
Notice, he is not smiling either.
Dang, enough with the projects already!
I can't wait for spring and flip-flops and baseball. Mostly because I hate the cold weather (it is currently 30 degrees according to my beloved iPhone), but also because Alex is coughing again and in this house Alex coughing almost always equates to a trip to the pediatricians office for a steroid, an antibiotic and if we wait too long, a chest x-ray. I'm giving meds 'round-the-clock in hopes of fending the cough and snot off, but I've been at this mother-of-compromsied-respiratory-system-kid thing long enough to know that is unlikely. *big sigh*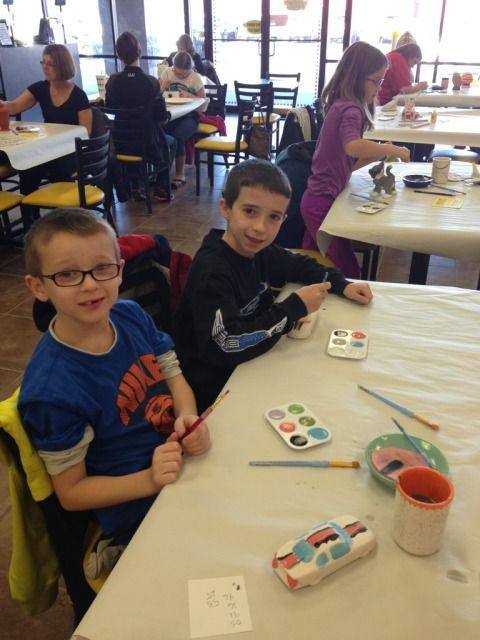 This picture was taken on Monday when we went with some friends to The Pottery Place which just opened last week. Both boys chose race cars and I painted a plate which I intend to display above my kitchen cabinets. It's hard to tell when enough is enough at that place because all of the pottery pieces have to be fired after they are painted, and they look quite different after being fired, but here's what mine looked like when I was done.
It is 2:51 PM, and the boys are still in their pajamas, which is just fine with me because that's less laundry I'll have to do next week. They are totally engrossed in their iDevices (Alex's term, not mine) playing Mine Craft (or is it minecraft?) which seems like a big ol waste of time to me, but then again, I totally "get it" because I've been known to spend 20 minutes "on the pot" catching up on my "Gems with Friends" business, barely able to walk afterward because I've sat there so long my feet are numb.
True Story.
McDaddy and I are going on a date this evening and I suppose I should log off of the computer and slap some paint on this old barn, though he prefers me without any. (I love that man!) I haven't mentioned the deployment recently, but rest assured that with every passing day, we are one day closer, and there isn't a day that goes by that I am not reminded of it.
Thanks for praying for us in the meantime, we sure appreciate it!
This post is linked to JanMary's iPhone Friday even though it is Saturday.