A month or so ago, my friend Tracy mentioned that she was thinking about starting an eight-week "Biggest Loser" weight-loss challenge and asked if any of us would be interested in joining her. I was all like, "Sure, where do I sign up?" And then it dawned on me that if I was serious about joining the competition, I'd probably have to say goodbye to some of my closest friends, coke and chocolate. Still, I decided to join in on the fun.
Tracy was hoping for ten or twenty friends to join in. days ago I mentioned that I was joining a Biggest Loser competition. It kicked off on Saturday. Much to my surprise there were over 100 people there to weigh-in. One hundred people who paid $20.00 to enter the competition.
And then, to kick things up a notch, Tracy put us on teams and asked for volunteers for team captains. Of course, me and my Type A personality jumped on that chance, too. Tracy told me I would be heading up the yellow team. Thinking that yellow is just too boring, I told her I would head up the bright, bright yellow team. And so our team is called Shrinking sunshines.
The contest kicked off on Saturday morning. We met at a local elementary school, signed in, paid the fee, stepped on a scale, and had three different body measurements. At the end of the line, Tracy handed out contest rules, fitness/weight loss tips, and a point sheet.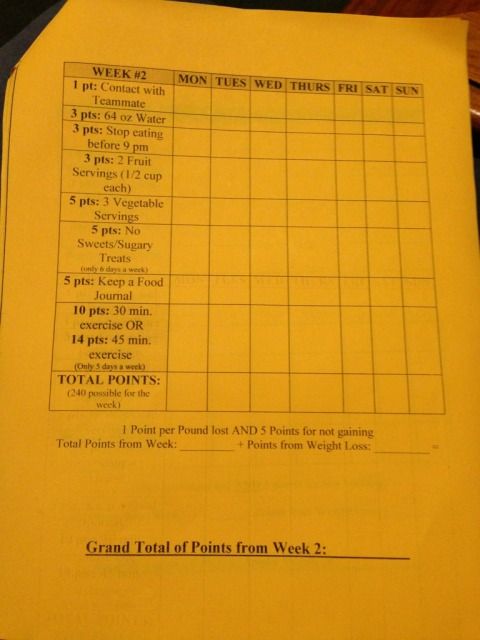 The actual team points competition started on Monday.
I've made some huge changes in my daily activity. For instance, instead of riding the elevator to the third floor at the hospital, I've been taking the steps. And instead of walking leisurely to my car from the third floor – which is a hike I tell you – I've been walking briskly.
And the water.
Sweet holy Moses.
The water.
I could float off of this friggin' hill if I had to.
As of a few minutes ago, I just finished off my 100th ounce of water.
Like I said, float.
And I don't even want to talk about sweets. Or should I say, lack of.
I'd be lying if I said I quit coke cold turkey. I allow myself one glass at dinner, and when I'm finished eating, I don't drink another drop. Which is a huge change from carrying a bottle around in my purse as if it's my life support.
I exercised for 45 minutes this evening doing aerobics on the Wii Fit, and before you scoff at the Wii Fit, you should know that my heart was beating out of my chest and I was sweatin' like a pig at the end of 45 minutes.
As I was leafing through the point sheets just now, I noticed that Tracy kicks things up a notch in week three.
Double dang.
It's a bad day five weeks to be a big girl.
What the heck is that all about anyway?
Think of the advantage the skinny gals will have.
But since I'm the one that got myself into this mess, I shall. not. whine.
You're welcome.
I plan to keep you all updated on my progress. You know, so you can cheer me on and make me accountable. After I weighed in on Saturday, I came straight home and weighed myself on my home scale, so I'd know if they are the same. My home scale is one pound off of the "official" scale. When I weighed myself tonight, I was shocked to find out I was three pounds down. That, to me seems unimaginable.
But I'll take it.
I'm hoping the biggest loser weight loss competition works for me! because the top prize is $700 smackeroos.
Stay tuned…