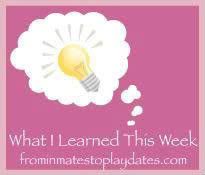 It seems like I did my last edition of What I Learned This Week just yesterday. The month of December flies by, either because it's such a busy time or because I'm more focused on it because I have so much to do and so little time to do it in.
This past week I did get my Christmas cards finished and mailed, hosted 38 folks here on Saturday for Stevie's tenth birthday party, and, caught some sort of mild stomach bug that held me hostage for about 24 hours. Like I said time flies.
Here's what I else I learned this week.
1. It is perfectly acceptable for people from Card Services to call my house [read: harass] multiple times each week and even cuss at me when they call and there is very little – according to the Attorney General – that can be done about it.
2. When I am told there "is very little that can be done about it" I am even more motivated to do something about it.
3. There are some really great recipes on Pinterest.
4. Some recipes look/sound so good, I've even pinned them twice.
5. Our new Kenmore Elite washer and dryer is equipped with Kenmore Connect Technology that allows for diagnostic services to be provided through the telephone. Dear Lord, what will they think of next.
6. Cinnamon and Sugar Pringles are interesting. To say the least.
7.  There are a lot of people on Facebook at midnight. As is obvious from the number of birthday wishes I received at that time.
8.  After my boys playing for four years, I am still learning the game of basketball.
9. Two onions cost approximately $0.72. I know this because two of them were hiding under my jacket in the shopping cart at Wal-Mart.
10. Santa's workshop is a great place to catch some sort of gastrointestinal nonsense. I should know. It's happened for three years straight.
Now, what did YOU learn?
—–