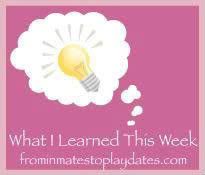 It is Tuesday and that means another award-winning edition of What I Learned This Week.
Except I've never really won any awards.
All I know is that I've been up since 5 AM when Alex woke me up hackin' his head off.
In my bed.
And now, a mere 18 hours later, I've got two hackin' their heads off, which means it's probably going to be another L-O-N-G night here at the McResidence.
On top of that, Stevie is sure he saw a mouse downstairs earlier this evening.
And if you know me, you know that also means I will not be going downstairs until that sucker is caught deader than four o'clock.
Here's what I learned this week:
1. I am a big scaredy cat when it comes to rodents in my home.
2. The thought of a rodent in my house makes me gag.
3. You can pretty much bet the bank that it will rain any day after McDaddy washes the SKY.
4. Either Revlon mascara or Urban Decay eyeshadow primer mats my eyelashes together to the point where it makes me crazy all live long day. I feel like throwing them both away.
5. Presents under a Christmas tree makes it so much more festive.
6.  Without an alarm to remind me, I would no doubt forget to move the Elf On The Shelf.
7. Unless you're making mashed potato soup, it is best not to cook your potatoes too long.
Now, what did YOU learn this week?