Every year at Christmastime, my friend Becky hosts a cookie exchange. This isn't just an ordinary cookie exchange though, because Becky's cookie exchange awards the baker of the best cookie with a COOKIE CROWN that they get to keep for an entire year.
Not to mention bragging rights and a picture on this here blog.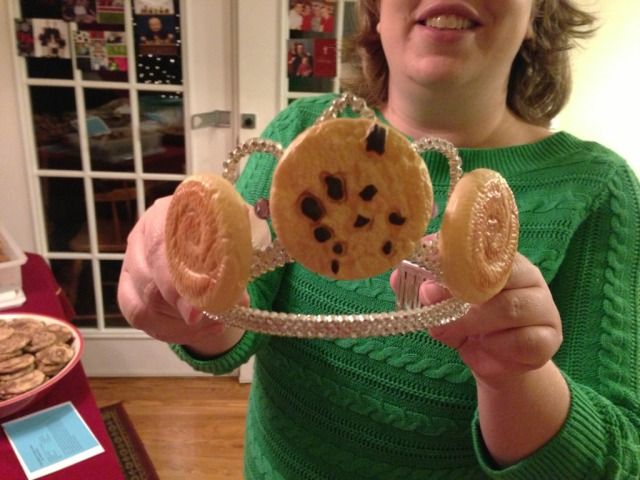 And speaking of making the blog, that's Becky holding the cookie crown so that I could get a good shot of it, since in all probability, I won't get to take it home.
So yeah, like I said.
It's a BIG. FRIGGIN. DEAL.
Each year I spend several hours scouring the internet for the winning cookie recipe. I was confident with last year's entry because it was a really good cookie. But this year, I wasn't so sure. This was Becky's tenth cookie exchange and the eighth one I've attended. Through the years, I've learned a thing or two about the cookie exchange.
The cookie exchange always proves to be a great night of fun and entertainment, and maybe even some whining if a certain Princess doesn't win the crown.
Actually, the whining is expected.
Here's the battlefield.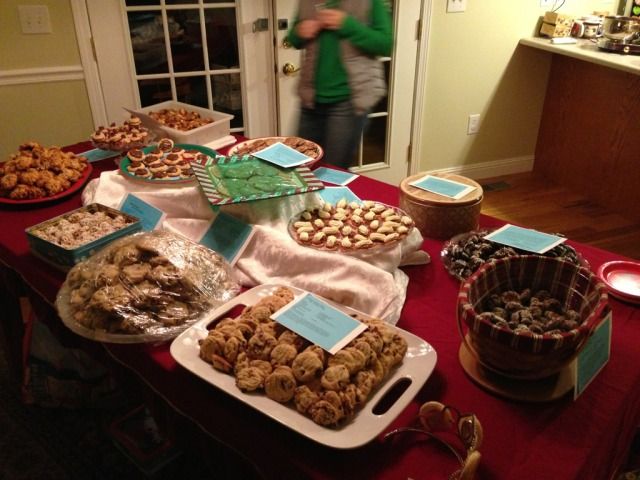 Um, I mean the cookie display.
My cookies are in the Longaberger basket on the right side of the table.
As you can tell by the display table, Becky does this thing up right. In addition to the beautiful cookie display, she also cooks up a storm the day of the cookie exchange because everyone knows it takes a lot of energy to sample twelve cookies laced with all manner of sugar, flour, nuts, peanut butter and icing.
Next year, she should offer shots of insulin along with each sample plate.
And before you say anything, I should tell you that I hardly put a dent in this sample plate because HELLO, THAT IS A BUTT-LOAD of sugar.
Pun intended.
Oh my heck, I crack myself up!
I really thought my cookie entry would win last year. It was a REALLY GOOD cookie and I even voted for myself at the cookie exchange. I wasn't quite as confident with this year's cookie though, even though it was a Paula Deen original. It was a good cookie, but it tasted a lot like a cake ball.
I should know by now that the winning cookie almost always has peanut butter in it.
Or is a Pillsbury Cookie Bake-off winner.
Facts that I swear I'm going to remember for the next year. Except, only I don't.
I made Paula Deen's Chocolate Gooey Butter Cookies. (Thankfully, the cookies turned out better than these pictures did.)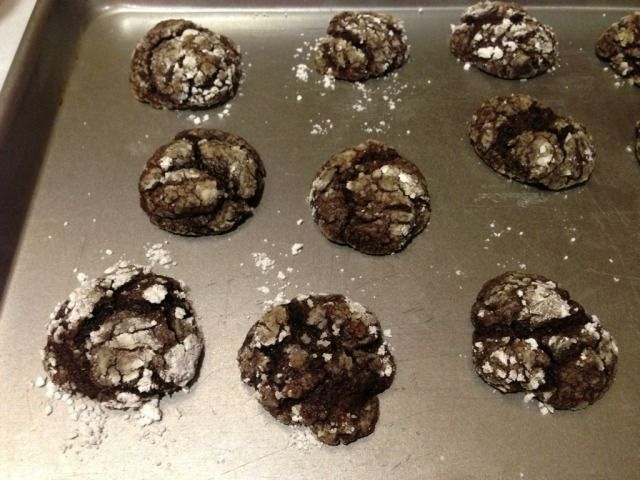 And here's what you need to make these suckers.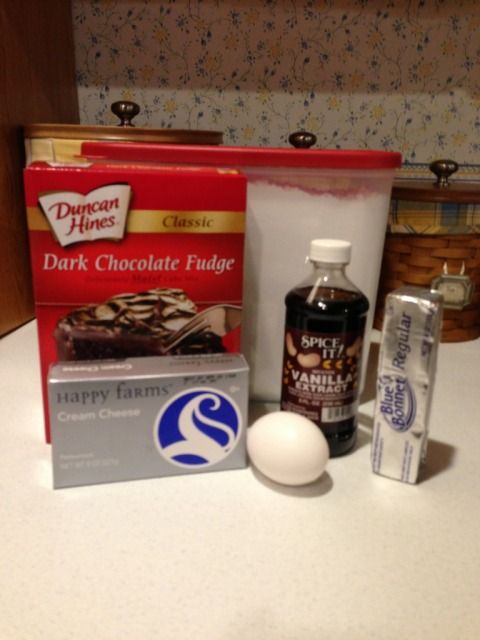 [NOTE: This picture was taken from the test batch that I made.]
When I made the batch for the cookie exchange I used a devil's food chocolate cake, which, by the way, tasted much better than the dark chocolate cake mix mess.
Chocolate Gooey Butter Cookies
Ingredients
1 (8-ounce) brick cream cheese, room temperature
1 stick butter, at room temperature
1 egg
1 teaspoon vanilla extract
1 (18-ounce) box moist chocolate cake mix
Confectioners' sugar, for dusting
Preheat oven to 350 degrees.
Directions
In a large bowl with an electric mixer, cream the cream cheese and butter until smooth. Beat in the egg. Then beat in the vanilla extract. Beat in the cake mix. Cover and refrigerate for 2 hours to firm up so that you can roll the batter into balls. Roll the chilled batter into tablespoon sized balls and then roll them in confectioner's sugar. Place on an ungreased cookie sheet, 2 inches apart. Bake 12 minutes. The cookies will remain soft and "gooey." Cool completely and sprinkle with more confectioners' sugar, if desired.
The biggest difference between the batch of cookies Paula made on her show and the batch of cookies I made on my show, is that Paula's were much prettier than mine. And because I didn't win, I'd wager that her cookies tasted better than mine, too.
Becky's sister Megan won the cookie exchange for the second time in three years, which begs the question… is this thing rigged?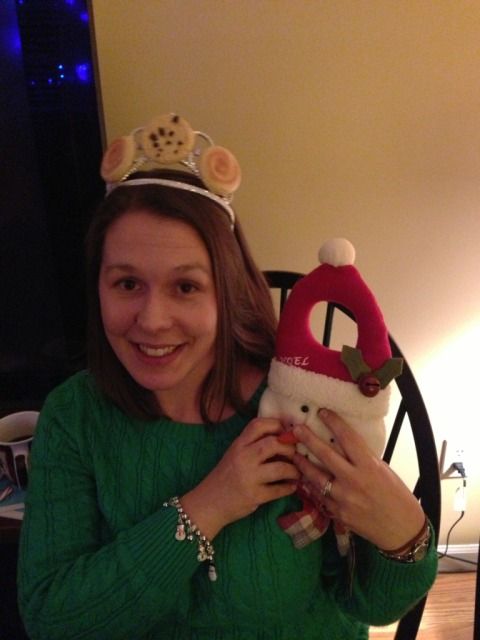 I'm kidding.
Sort of.
Look, anytime thirteen ladies gather to compete in a baking competition, I think you should expect some trash talk. Especially from one that writes a blog.
All I know is that there was a crown and I didn't win it. (Which reminds me of the song "Little Is Much, When God Is In It" that goes,
Little is much, when God is in it,
Labor not for wealth or fame;
There's a crown and you can win it,
If you'll go in Jesus' name.
And so perhaps that was my problem.
I should've prayed first.
And went in Jesus' name.
Which I will definitely be doing next year.
Until then, ENJOY THAT FRIGGIN CROWN, Megan! Your cookie was wonderful! And because it was a Pillsbury Cookie Bake-Off winner, I suppose it should've been.
But know that next year… I'm coming for that crown.
In Jesus' name.