It's been a week since I last posted some crazy. I think that's the longest I've gone since I started this blog back in 2008. My friend Becky Facebooked (is that word?) me this morning to ask when I'd be posting again, saying she has missed my crazy.
And before you go and get it in your head that maybe the crazy took a break, rest assured, there has been plenty-o-crazy round these parts.
The week before Christmas, both boys came down with the crud. What started as an innocent cough in Alex on Monday, resulted in both boys being prescribed Prednisone, Albuterol inhalers, and Tamiflu by Wednesday. I was straight-up scared crazy, mostly because I watched it get worse hour after hour, and also because McDaddy was working out-of-town that week, which means he wasn't around to talk me off of the ledge that I end up on anytime I face a crisis by myself.
For the better part of five days, I administered five or six medications, and breathing treatments round-the-darn-clock. Which also means I got way far behind on Christmas shopping, wrapping, BLOGGING, and laundry, which wouldn't have been a big deal had we not been planning a day-after-Christmas-trip to Florida. I remember sending McDaddy a panicked text asking if it would be possible for him to come home early. My marbles were all rattling around in my head and I was concerned I might go off the deep end if I woke up one more time in the middle of the night to a 102 degree temperature. Once McDaddy walked through the door two days early from his business trip, it was like a load had been lifted from my shoulders. He knows I am emotionally needy and highly dependent on him, so I suspect he figured for the sake of everyone involved he better get his hind-end home before I lost what little bit of sanity I had left.
By Thursday the boys were better, but still not allowed to go to school because THE STUPID FLU. That means they missed all manner of parties and cupcakes and hot chocolate and pajama days. I was moved almost to tears when Alex's teacher stopped by our house to deliver the snacks and treats he missed at his class Christmas party that day. I thought she went way above and beyond her teacherly duties and I feel blessed that he has such a caring classroom teacher.
It is now two days post-Christmas, and I am preparing to sign next year's Christmas cards.
Yes, you heard me right.
I made a trip to the Mart of Walls to find their Christmas Card shelves picked clean. A trip to Target though resulted in me finding just enough discounted cards for next year. I thought that I'd get ahead of the game by signing them so I'll have less to do next year.
In unrelated news, we are headed to Legoland tomorrow and the boys are super excited. There's a good chance I'll lose my ever-lovin-mind over the next week because I made a grand announcement a few months back that I would not allow one more single solitary Lego to enter our home.
I'm eating those words tonight because between the Lego Superhero sets they purchased this evening at Downtown Disney, they are adding 842 pieces to their already massive collection.
You only live once, right?
Anyhoo.
I thought it might be fun to share some of my favorite and NOT SO favorite Christmas memories from 2012 (mostly because I can't get enough of the Photo Collage APP on my beloved iPhone!)
From left top to bottom right: my beautiful nine foot rotating Christmas tree amongst a blue million presents, my sweet boys (at 10 and 7 mind you) talking to Santa Claus, our Elf on the Shelf – Louis Hamilton perched where else? high on a shelf, an easy "cookie" or whatever you want to call it recipe I found on Pinterest – I call it quick and easy, and lastly, brightly colored wrapping paper is one of my favorite things about Christmas. (And just in case you have a crazy sharp memory, you should know that I purchase a three set can of mixed nuts at SAMS every year to give to my dad just so that I can have a beautifully wrapped, ribbon-tied present under the tree each year.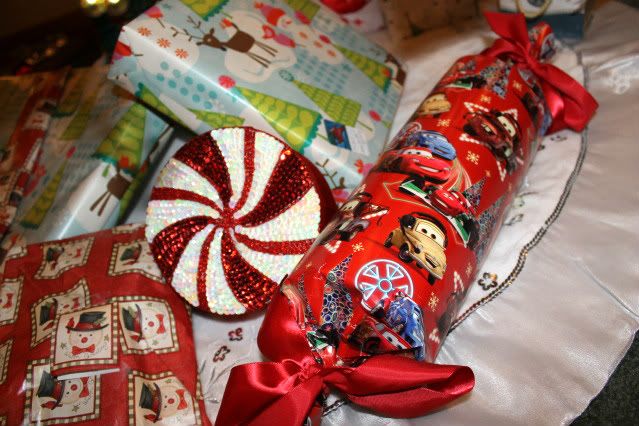 And here you thought I was kiddin' about the crazy.
top left to bottom right: The ridiculous collection of medication required to treat the flu, a wrapping paper roll sword fight between McDaddy and Alex, the cookie display at Becky's cookie exchange, Alex's second chest x-ray in three months to check for walking pneumonia, and lastly, our friend Terry and his kids at our annual Christmas party where he won a gift card for creating the best looking Christmas tree – while holding his hands and the paper over his head.
I didn't include any pictures from Christmas morning because those pictures are on my big camera and that would require me to actually get up and move, and well, it's two days post-Christmas and I might step on a Lego. But I promise to post those later.
Merry two-days-after Christmas, y'all.
And if I don't talk to you for another week, Happy New Year, too!