I attended a Christmas Card addressing party on Wednesday, and my friend Becky asked if I had given any thought to reviving Thursday Thirteen (through the alphabet) during the six months McDaddy will be deployed like I did last time. Actually, I have thought about it, and I've decided I probably will do it because 1. it provides a great way to count down the 26 weeks of deployment, and 2. it's totally random and fun.
And speaking of random and fun, I thought I'd revive it for today and play 13 things I did today –
This one's for you, Becky.
1.  Filled out Stevie's birthday invitations – how is it that my sweet son will be in the double digits in just 12 short days? It seems like just yesterday I was whining all sprawled out on a day-bed in our great room whining (in my 4th week of bed-rest! whining) waiting to meet this sweet baby boy whining.
Not that I whined or anything. 
2. Watched Shemar Moore Criminal Minds – Ok, so the truth is I started watching Criminal Minds years ago because of Shemar Moore, but it really is a great show. And it would be with or without Shemar. Don't you love how I just throw his name around like we're pals? I just wish they'd bring Gideon back.
3. Cracked myself up when I referred to Apollo and Duke (our dwarf hamsters) as "Brothers of the wheel".
4. Went to Reeds Jewelers to have my wedding ring cleaned and also to see if this set was a third of the size as it appears in the advertisement they sent to my house today.
On the off-chance there are three of you out there who are looking for something to buy me for Christmas, look no further. I love all three of these pieces, and was surprised to find out that they are almost true to size as pictured. My preference, in order would be, necklace, ring, earrings. Oh, and as it turns out, I got so excited about this set, I totally forgot to have my wedding ring cleaned.
5. Saw this family picture on the JEEP Facebook page. I took a screen shot to show McDaddy – a great idea for a future family Christmas picture. (Photo credit: Sharper Photography)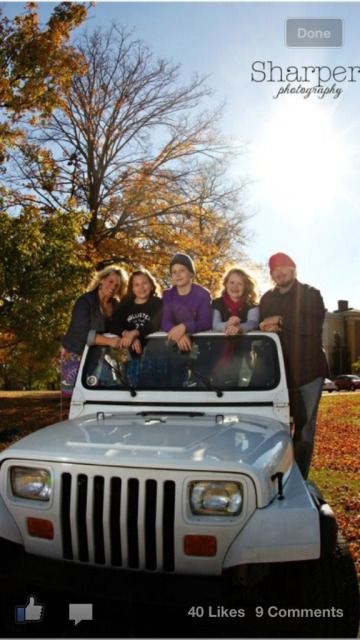 6. Managed my Facebook yardsale inventory –  y'all, it is a job keeping up with those items and comments and private messages and meeting times. I keep a page in my memos specifically for my FBYS "business".
7. Visited with my granny – She is my last living grandparent and I enjoyed spending most of the day with her. She asked me if I had any idea what "that whole tweetering thing is all about." (And in case you're a Tweeter, you can look me up – I'm JulieatInmates – though I don't get on there much anymore.)
8. Had dinner at Chilis with friends – and as always, I ordered my usual, chicken crispers with mashed potatoes and corn on the cobb. After making myself half-sick on chips and salsa of course.
9. Moved Louis Hamilton, our Elf on the Shelf – which is really a stupid name, because OUR elf? Well, because he never just sits on a shelf.
This was Louis Hamilton a few days ago spreading the good news.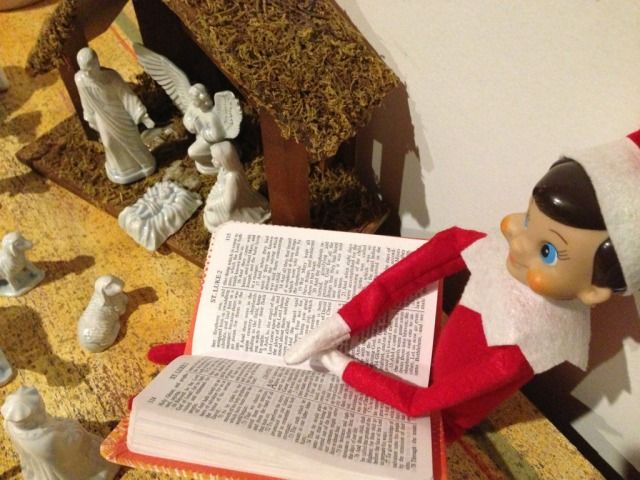 10. Laughed hysterically when I read this e-mail from a sweet blog reader: You don't know me, but I have been following your blog for quite some time now… I actually wish you would print a recipe book of the meals you cook (I'm sure you're laughing about now, but I'm serious) because, like you, I prefer recipes that have 5 or fewer ingredients! – Oh dear goodness. I'll give you all some time to process that last statement.
Never in a gazillion years would I ever think of writing a COOK book.
Me? A recipe book? Me? The same someone who baked a marble cake for Thanksgiving dinner and thought she got jipped out of the marble because the cake was just plain yellow. I had no idea that marble was in its own separate packet.
Me? A Cookbook?
Such kind words. Thanks Wendy. =)
11. Prepared two breathing treatments for my sweet Alex.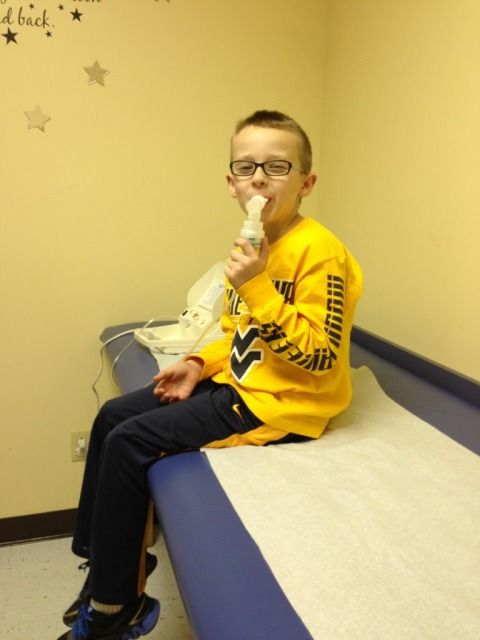 Don't ask why he has that goofy look on his face, because I have no idea.
12. Ordered Poptropica for the DS. Actually, I ordered two copies because I figured it was worth the extra $25. for each kid to have their own copy, and thought in the long run it might preserve some of my sanity.
13. Got myself in gear to kick off Santa's Workshop tomorrow – I am prepared for a fun week. It is a lot of work, but the kids love it so much.
What did you do today?
Oh, and it just dawned on me that it's now after midnight, which also means that it's Friday now.
I suppose I spent way too much time thinking about the whole Me? and Cookbook? thing.