1. I rarely ever talk about politics here on the blog. For one, I don't know enough about foreign policy or the energy crisis to stir up a debate, and for two, ELECTION DAY HURRY UP AND GET HERE! I will say this however: If you are one of those people who spout off, calling people close-minded, misguided, stupid or foolish because they endorse a different candidate than you, please, for the love of all that is holy, STOP. IT.
2. For the past three days, ZAPPOS has been tempting me with some great shoes over in my side-bar. It seems that every time I open a window on my laptop, I have some really great shoes smiling at me. I'm fighting the urge to order these even though the last thing I need is another pair of tennis shoes. What can I say, except that I'm a sucker for pink. I'll take these in a size 9, please.
And now? This exact pair shows up every time an ad pops up in my sidebar.
3. And speaking of shoes, have  I mentioned that I have created a monster? My sweet Alex loves shoes. He has approximately six or seven pair of tennis shoes. He takes great pride in matching his shoes to his outfit. That fact makes me smile.
4. But smiling hurts. When I went to bed on Saturday night, I was happy that the fever blister on my bottom lip was almost gone. When I got up on Sunday morning, I was so sad to discover that another one popped up on my top lip overnight. It hurts and it's ugly. I'm guessing this is a direct result of the deployment stress I'm under.
5. Have you seen the Ohio State University Band perform their video-game themed half-time show against Nebraska? At 6:36 into the performance The OSU Band makes an incredible formation. As a past band-geek, I have a true appreciation for the work necessary to pull that off. I have one word. Superfreakinfabulous.
6. Our last fall baseball game is scheduled for Friday evening. Wouldn't you know there is a 60% chance of rain that day. I think we've only played seven of our scheduled 20 games thanks to the rain. Rain, rain, go away.
7. McDaddy brought a new company car home yesterday. The 2011 Chevy Impala is old news. Welcome to the McFleet, Chevy Equinox.
8. Thanks to Scentsy's Mocha-Doodle brick, my house smells divine. I love fall!
9. Maks and Kirstie were in the bottom two again. I was ready to swear off Dancing With The Stars if Maks got the boot before Bristol and Mark. I have to wonder if cutting off the goatee' had anything to do with this week's fall from glory.
10. I recently discovered an APP called InstaCollageFree. It is my newest favorite thing to do on my iPhone. There are endless possibilities and all kinds of choices. That equates to many-an-hour spent creating fun pictures.
 And just look how young the boys are in this next one.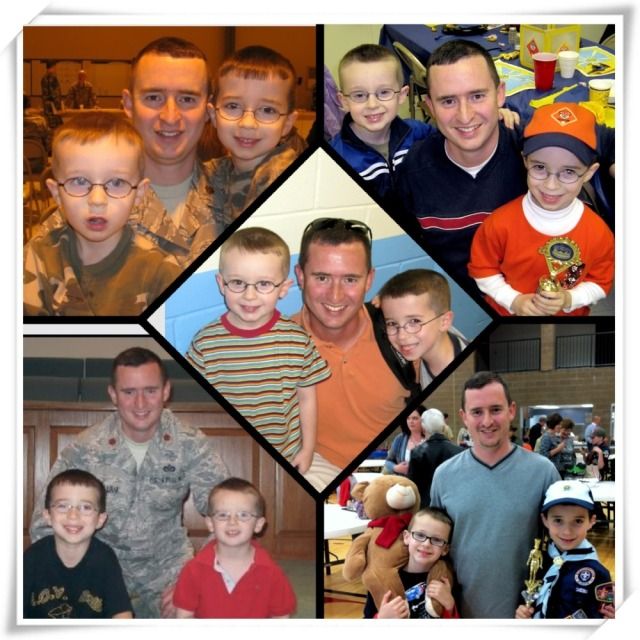 You can expect to see many more collages in the weeks to come.
InstaCollage works for me! 
And now I'm off to fight the urge to buy look at some shoes.