School started here in our district two weeks ago. We are almost back in the up early-homework as soon as you get home – early to bed routine. Though, for the record I HATE getting up early.
My ideal school day would start at 9:00 AM, but unfortunately I didn't get to vote.
But alas, I will survive.
And speaking of surviving…
Before school started, I put together a Teacher Survival Kit for Stevie and Alex's teachers.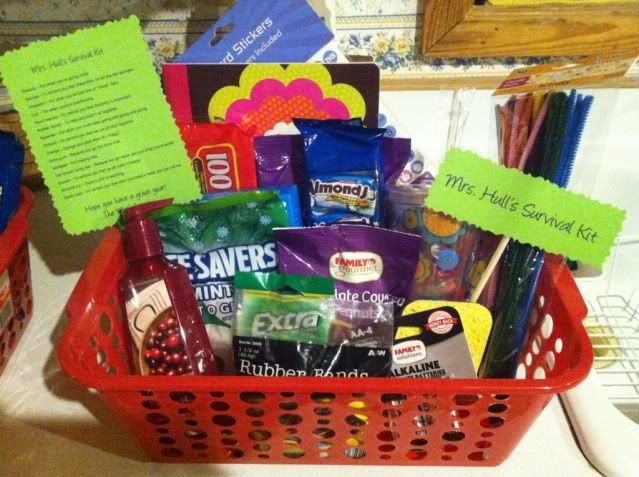 Extra Gum – because you go the extra mile.
Batteries – for when you must keep going and going and going.
Bath & Body Soap – to remind you I'm here if you need a hand.
Rubber bands – to help you hold it all together.
Sponge – to remind you that little brains are like sponges.
Peanuts – for when you're going nuts!
Lifesavers – for when you've had one of those days.
Cup – for when yours is running over.
Pipe Cleaners – to remind you that flexibility is important.
Stickers – to remind you that we can all stick together.
Orange Slices – Orange you glad for Fridays!
Stick of Gum – to remind your students to STICK TO IT when things get tough.
Notepad – for making lists
100 Grand Candy Bar – Because we can never pay you what you're worth.
Erasers – to remind you that we all make mistakes.
Almond Joy – there is JOY in teaching.
To make your own teacher survival kit:
1. Purchase a cheap basket. (Mine is from the dollar store.)
2. Find items to fill your basket that inspire ideas about children and teaching.
3. Type up a list of survival kit items, explaining each one.  Use scrapbook scissors to create a decorative edge. Attach list of items to a straw and allow plenty of room for the list to be seen.
4. I also typed up "Mrs. Soandso's Survival Kit" and used the scissors to create a decorative edge. I then attached "the flag" it to a straw.
Viola!