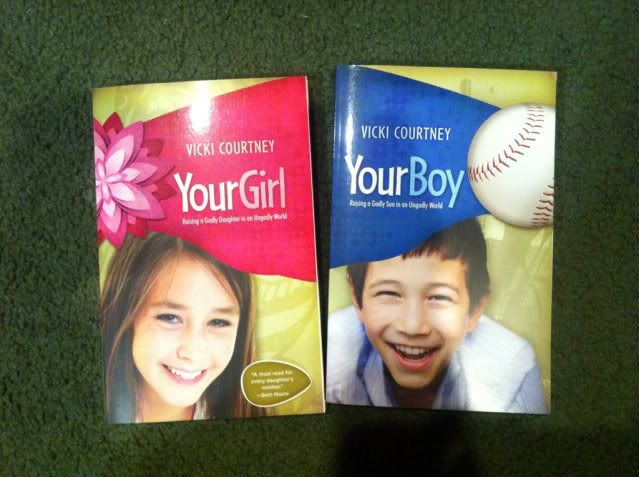 This parenthood thing is a trip.
Would y'all agree?
As the mother of two boys, it is non-stop action at our house 24/7. There is always some sort of competition, and almost always it's one that involves somebody running through the house.
It's exasperating.
But I know there will come a day when I'll give anything to have them running through the house just one more time.
When I recently received an e-mail from my friends at the media collective asking if I'd like to review Vicki Courtney's book, Your Boy – Raising a Godly Son in an Ungodly World, I was like, where do I sign up? Lord knows I need all the help I can get. I say it all the time… I am the most over-protective mother I know. Still, my boys are the ones who swallow pennies, inject themselves with an EpiPen (right under my nose, mind you!), and pass out in the middle of the street after a bike wreck.
Like I said. I need help.
In her book Your Boy, Vicky Courtney uses Biblical illustrations (Daniel, David, and Gideon just to name a few) to develop guidelines for raising boys to becoming Godly men. She shares many experiences of her own motherhood journey with sons, Ryan and Hayden, as well as experiences from her years of ministering to youth and young adults.
Your Boy is an easy read, filled with humorous tales that reminded me that I am not alone in this thing. With chapters covering instant messaging, chat-rooms, hormones, pornography and marriage, (you know, the heavy stuff!)  Courtney leaves no stone unturned. As the mother of a nine-year old and six-year old, I would like to think it will be a few years before I have to worry too much about these, but with current trends and society's standards (and talks with other moms!), I realize it's never too early to start praying about these things. I appreciated Courtney's candor and honesty about her years in the battlefield (as I like to call it!) as she explains what mothers can do to raise godly sons despite the negative worldly influences.
And Lord help us, there are so many.
Some of the things I took away from Your Boy.
Little League Mom: "You've seen her in action. Maybe you've even been her. She's every coach's nightmare, especially if, heaven forbid, the coach fails to notice her son's athletic abilities. She's the mom who fights her son's battles, many of which she starts herself… Whether it is academic, athletic, or recreational, we want our boys to be treated fairly. We will not serve our sons' best interest in the end by taking up their every battle."
A Nice Guy's Dating Rules: "While dads play a big role in modeling noble behavior to their sons, moms should never minimize the critical role they play. Don't wait until your sons is about to enter into his first dating relationship and then give him a crash course in acceptable dating behavior."
"As mothers, we have been given a task to grow the next generation of godly men, and I believe it is one of the highest callings in a mother's life. We have been given a brief eighteen years to make a godly impact on our sons…. Let us remember that our sons, while they will always be "our boys," belong first and foremost to Him.
If you are the mother of a son, especially one in the tween or teen years, then you know that you are in a war for his mind, body, and soul. I strongly recommend this book to help you along your way.
Vicki Courtney is a trusted speaker and best-selling author. Known and respected as a "mom in the trenches," Vicki has shared her youth culture wisdom , CNN, FOX News, and Focus on the Family. She and her husband have three children and live in Austin, Texas. Her books, Your Boy and Your Girl can be purchased at Vicki Courtney [dot] com.
—-
In the interest of full disclosure: I was provided a copy of Your Boy and Your Girl to facilitate this review. As always, the opinions expressed in this post are my own.