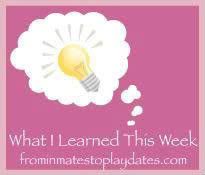 Yes, that's right! It's Tuesday!
And that means its time for another award-winning edition of What I Learned This Week.
[And the crowd goes wild!]
Only I've never really won any real awards.
Or fake ones for that matter.
1. When you have one of those horrible nasty painful red zits right between your eyes, you should probably leave it alone.
Or so I hear.
2. Dwarf hamsters are much more active throughout the day than normal hamsters.
3. Draw Something is much easier (and neater) with a stylus.
4. A can of soda can be substituted for eggs and oil in a cake-mix.
5. Too much protein can be bad for your kidneys.
6. Because the driver's seat sits so low, it is difficult to see out the back of the Saturn Sky.
7. Eczema of the inner ear is every bit as aggravating as it sounds.
8. Cracker Barrell has some really good Chicken Fried Chicken.
That's what I learned. Now, what did YOU learn?
You can read a crazy long detailed version of the rules here, or simply follow these easy steps.
1. Any time this week, publish your What I Learned This Week post on your blog.
2. Within that post, please mention the What I Learned This Week carnival and link back to this post here at From Inmates To Playdates. If you don't know how to link, please ask me.
3. Then link up with Mr. Linky down below.
4. Visit the other participants and see what they learned this week. Then leave a comment because comments are fun!