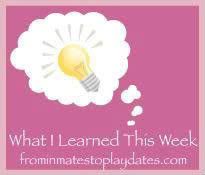 I've been neglecting the blog as of late.
It's summer. We've been camping. We've got family staying with us. And now, the OLYMPICS are in full swing.
Have I mentioned that I love the Olympics? I am especially thankful for my TiVo because it is hard to keep up with the madness.
Just like right now. I'm watching Ryan Lochte swim the 200 M Free. and its hard to focus and concentrate on What I Learned This Week because OH THE EXCITEMENT!
And just hold on to your hats, because after that comes men's gymnastics.
Here's some of what I learned this week. 
A TiVo does you no good whatsoever if you don't set it to record. DANG. IT.
The Olympics TRUMPS the "no TV in the Camper rule."
If my child were competing in the Olympics, I would not be the calm mama quietly waving a flag in the stands. Rather, I'd be the one whooping and hollering like a crazy person, cheering my baby on. Have I mentioned I come from a long line of loud?
I could watch Phelpsie swim all. live. long. day. He is a freakin' machine. And a cutie, too.
Chinese people (especially gymnasts)  look a lot younger than they claim to be.
When I watch a female Olympic gymnast cry when she doesn't make the women's all-around, it makes me cry, too.
iHop makes a really good Fajita salad.
Sneezing 382 times in one day will make you want to rip your nose right off your face. Plus, it makes it tough to concentrate on Olympic Swimming.
Things can change in a second. (Just ask the men from Ukraine's gymnastic's team).
A waterfall is torture when you have to pee. (Not really related to the Olympics, its just something I'm dealing with at this minute.)
My boys enjoy watching the Olympics as much as I do. 
The Star Spangled Banner makes me cry every single time I hear it.
There are some vicious critters in the Amish Country. Either I have several really bad bug bites, or several medium size cysts that, according to DiagnoseMe.com could be deadly.
A person with dramatic tendancies should not consult DiagonoseMe.com for any reason.
It is tough to turn the Olympics off and GO TO BED.
Now, what did YOU learn?
You can read a crazy long detailed version of the rules here, or simply follow these easy steps.
1. Any time this week, publish your What I Learned This Week post on your blog.
2. Within that post, please mention the What I Learned This Week carnival and link back to this post here at From Inmates To Playdates. If you don't know how to link, please ask me.
3. Then link up with Mr. Linky down below.
4. Visit the other participants and see what they learned this week. Then leave a comment so we can get to know eachother.