If you were around here on Monday, (or if you follow FITP on the Facebook) you might remember me mentioning that Stevie and McDaddy won first place in the father/son cub-scout bake-off.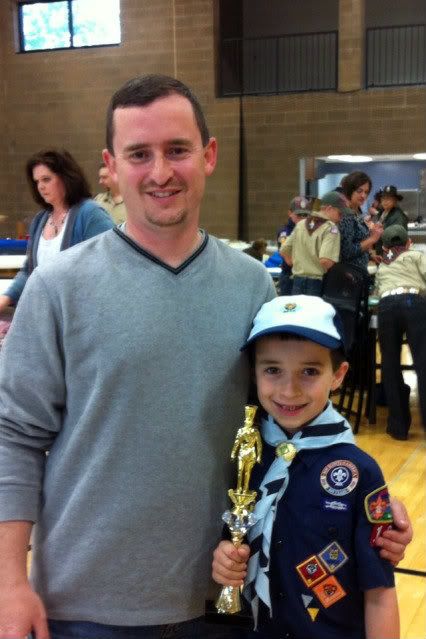 This win marks their third trophy in three years, but their FIRST first place award.
I'd say these two make a pretty good culinary pair, wouldn't you?
And before you ask, the trophy he's holding is not a solid gold dancer. It's actually a chef.
I started researching recipes at the nail salon one day and narrowed my search to three cakes. When I got home I asked McDaddy if he'd like to see the choices. He simply replied, "You can just pick one."
So, after school that day, the boys and I stopped at the grocery store to pick up the ingredients for the cake that I chose, based on the list of ingredients and the simplicity of the recipe. As we made our way up and down the aisles, Stevie mentioned that he'd "Really rather make a cake with bananas in it because you really can't go wrong with bananas as your main ingredient".
I can only imagine he said that because of the hundreds of banana cakes I've made throughout his nine years on this earth.
Or maybe because he comes up with some off-the-wall stuff sometimes.
So.
I pulled up the banana cake recipe I had looked at the day before and started reading off the ingredients.
I said to Stevie, " Well, if you lose with this cake, it's all on you."
To which he replied, "But if I win, it's all on me, too!"
Well alrighty then.
So off we went, in search of buttermilk, lemon juice and baking soda. Among other things.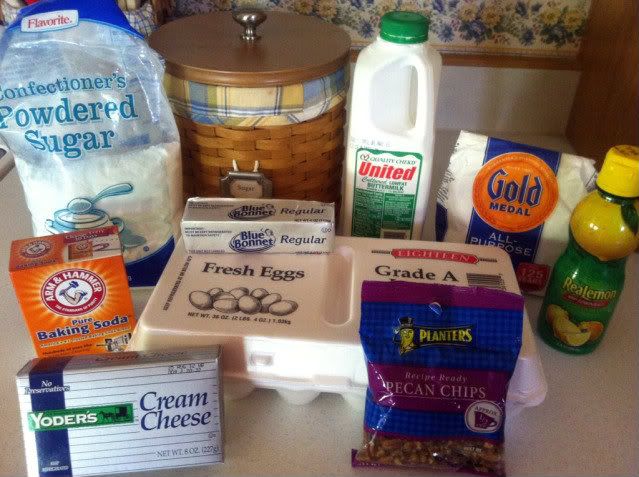 (Absent on picture day: bananas)
Best Ever Banana Cake
Cake Ingredients
1 ½ cups bananas, mashed, ripe
2 teaspoons lemon juice (sounds nasty, but stay with me!)
3 cups flour
1 ½ teaspoons baking soda
¼ teaspoon salt
¾ cup butter, softened
2 1/8 cups sugar
3 large eggs
2 teaspoons vanilla
1 ½ cups buttermilk
Frosting Ingredients
½ cup butter, softened
1 (8 ounce) package cream cheese, softened
1 teaspoon vanilla
3 ½ cups confectioner's sugar
Garnish: Chopped nuts
Directions:
1. Preheat oven to 275 degrees
2. Grease and flour a 9×13 pan
3. In a small bowl, mix mashed banana with the lemon juice; set aside
4. In a medium bowl, mix flour, baking soda and salt; set aside.
5. In a large bowl, cream ¾ cup butter and 2 1/8 cup sugar until light and fluffy.
6. Beat in eggs, one at a time, then stir in 2 tsp. vanilla
7. Beat in the flour mixture alternately with the buttermilk.
8. Stir in banana mixture.
9. Pour batter into prepared pan and bake in preheated oven for one hour or until toothpick inserted in center comes ut clean.
10. Remove from oven and place directly into the freezer for 45 minutes. This will make the cake very moist.
11. For the frosting, cream the butter and cream cheese until smooth.
12. Beat in 1 teaspoon vanilla.
13. Add confectioner's sugar and beat on low speed until combined, then on high speed until frosting is smooth and spread on cooled cake.
14. Sprinkle chopped nuts over top of the frosting, if desired.
Slice and enjoy.
As it turns out, there are at least six other people who agree with Stevie's opinion that you "Can't really go wrong making a cake with bananas as the main ingredient."
And on his dresser, there is a solid gold dancer statue to prove it.
This post is linked to Works For Me Wednesday.