We have approximately 4,728,193 Legos in this house. So when I received an e-mail about reviewing a fun toy called The Toydozer – an innovative product that allows parents and kids to spend less time cleaning and more time playing – I was all, where do I sign up?
From the Toydozer website:
Toy clean up time is often as tedious as it is time-consuming, but yet it remains a necessary evil of parenting. With the Toydozer, your days of crawling helplessly around on the floor picking up every last tiny toy piece are over. This innovative new product promises to make the clean up process fun and efficient for both parents and kids.

The Toydozer is simple and easy to use, and the results are dramatic. The "gatherer" is designed to work like the blade of a bulldozer and the "scoop" is modeled after a bulldozer scoop. Users hold on to the "gatherer" to collect small toys into the lightweight "scoop" and then dump the toys into their respective toy bins or containers. With just a few scoops of the Toydozer, clean up time is over in no time.
Stevie [and his Legos] had the chance to put the Toydozer to the test.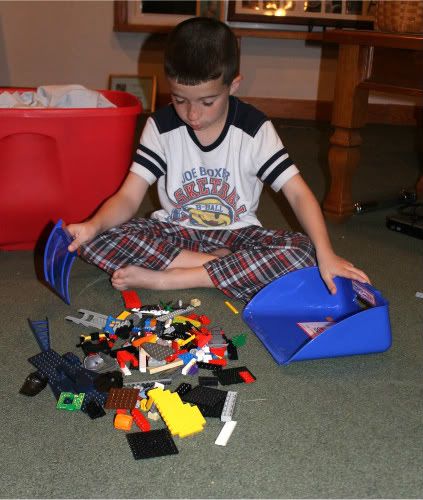 It honestly took me longer to get my fingers in place on my camera than it did for him to get this pile of Legos picked up. In fact, after three or four attempts to get some good pictures for this post, he asked, "Do you need me to do it slower?" My response was, "Yes, that will help a bunch!"
 And as an added bonus, he enjoyed using the Toydozer to get the job done.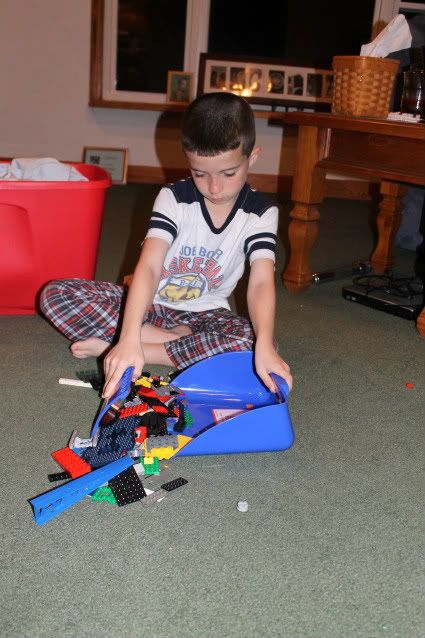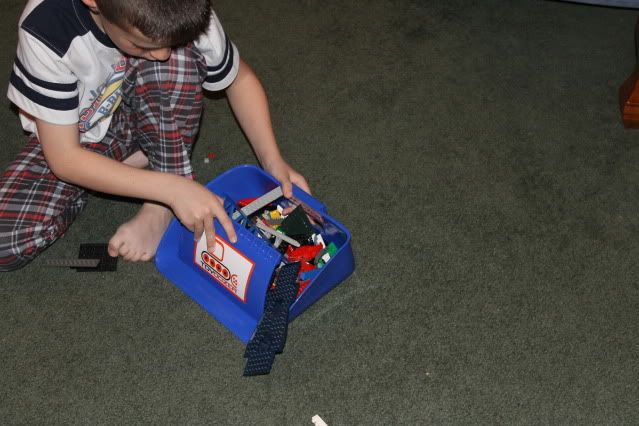 The Toydozer retails for $18.99, ships free anywhere in the United States and Canada. The product is available exclusively on the toydozer.com website. It comes in three vibrant colors: blue, yellow and purple. Each Toydozer features orange Velcro tabs that attach the gatherer to the scoop when not in use for easy storage.
BUT WAIT:
The kind folks at the Toydozer have graciously offered to provide a Toydozer for giveaway. In addition, I'll be giving away one Toydozer also. To enter, simply leave a comment telling me what types of toys you'll be picking up if you win the Toydozer.
THERE'S MORE!
In honor of mothers everywhere who are tired of picking up Legos, Polly Pockets, and blocks, the folks at Toydozer are offering a 20% discount to my readers. If you don't win, simply enter the code BLOGGER20 at checkout to take advantage of this great savings.
—–
For Extra [Optional] Entries: You may receive an extra entry for any or all of the following; just make sure to leave a separate comment for each.
1. Follow Toydozer on Twitter or Facebook. Or both!
2. Follow From Inmates To Playdates on Facebook
In the interest of full disclosure: This post is part of a Toydozer blogger outreach campaign. Participating bloggers have been provided with a complimentary Toydozer to review and have been compensated for their time.
FINE PRINT: Winners must have a U.S. or Canadian mailing address. A winner will be chosen with the help of Random.Org on Monday, April 9th after noon. I will announce the winners on Facebook and I will also send a personal e-mail. If a reply is not received within 48 hours, another winner will be chosen.
Phew. I think that's it!
UPDATED TO INCLUDE THE WINNER:

Random Integer Generator

Here are your random numbers:

2

Timestamp: 2012-04-11 02:33:54 UTC

Congratulations to Angie, who commented on April 4, 2012 at 7:43 AM.