I know at least one person who's happy about my sudden interest in Pinterest. It 'd be the one who benefits from all the recipes I've tried since becoming hooked.
I'm always nervous when I ask McDaddy his opinion on my latest culinary endeavor.
Last week, I tried a new pork chop recipe. I typically use Shake & Bake (And I helped!) on pork chops, and since we all like it, you'd think that maybe I should just stick with what we all like. But then what kind of fun would that be?
For this recipe, you'll need these ingredients:
4-6 Large Loin Pork Chops

3 cups dry Italian bread crumbs

1 tbsp. Garlic Powder

2 tbsp. Parmesan Cheese (can use real or canned)

Envelope of Italian salad dressing

Ranch dressing in a bottle
Preheat oven to 400 degrees.
Line a metal pan with tinfoil and spray with cooking spray.
Mix bread crumbs, garlic powder, parmesan cheese and Italian salad dressing in a bowl. Pour into a large Ziploc bag.
Pour a layer of ranch dressing on a plate.
Coat a pork chop with the ranch dressing (shake off excess) and then drop it into the bag of powder ingredients. Shake until well coated on both sides. (Add more ranch dressing to the plate as needed.)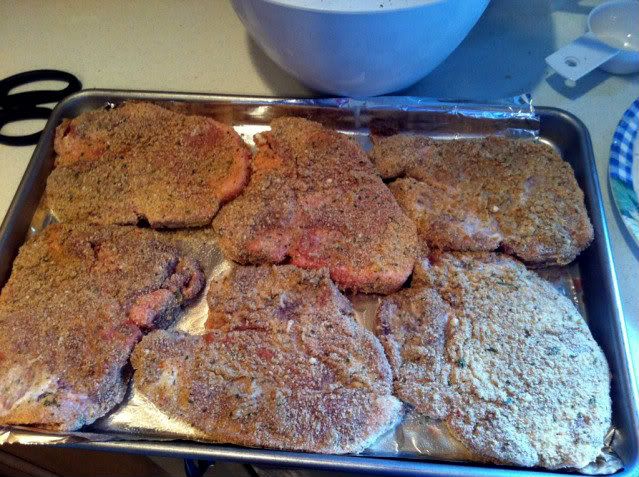 Place coated pork chops onto the tinfoil covered pan. Once all pork chops are coated, place the pan into the oven and bake for 45 minutes or until the thick part of the pork chops reach an internal temperature of 160 degrees. Remove the pork chops from the oven as soon as they are finished, and serve as soon as possible.
Enjoy!
This post is linked to works for me!