It is that time of year again.
You know, the time of year where I spend days, weeks, planning, writing, and pouring over the McFamily Christmas letter. Each year I wonder if I'll be able to come up with something unique, and every year I give it my best shot.
This year's letter looks like this: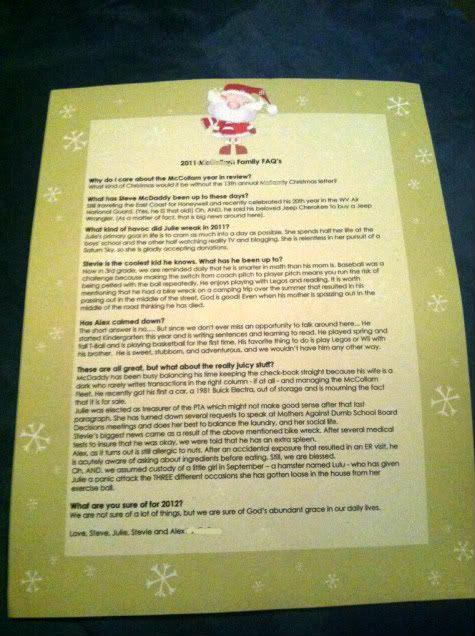 If you are one of the selected few who receive our letter, you should click on the red "x" and wait until yours comes in the mail later this week. Otherwise, read on…
2011 McFamily FAQs
Why do I care about the McCollam year in review?
What kind of Christmas would it be without the 13th annual McFamily Christmas letter?
What has Steve McDaddy been up to these days?
Still traveling the East Coast for Honeywell and recently celebrated his 20th year in the WV Air National Guard. (Yes, he IS that old!) Oh, AND, he sold his beloved Jeep Cherokee to buy a Jeep Wrangler. (As a matter of fact, that is big news around here).
What kind of havoc did Julie wreak in 2011?
Julie's primary goal in life is to cram as much into a day as possible. She spends half her life at the boys' school and the other half watching reality TV and blogging. She is relentless in her pursuit of a Saturn Sky, so she is gladly accepting donations.
 
Stevie is the coolest kid he knows. What has he been up to?
Now in 3rd grade, we are reminded daily that he is smarter in math than his mom is. Baseball was a challenge because making the switch from coach pitch to player pitch means you run the risk of being pelted with the ball repeatedly. He enjoys playing with Legos and reading. It is worth mentioning that he had a bike wreck on a camping trip over the summer that resulted in his passing out in the middle of the street. God is good! Even when his mother is spazzing out in the middle of the road thinking he has died.
 
Has Alex calmed down?
The short answer is no! But since we don't ever miss an opportunity to talk around here… He started Kindergarten this year and is writing sentences and learning to read. He played spring and fall T-Ball and is playing basketball for the first time. His favorite thing to do is play Legos or Wii with his brother.  He is sweet, stubborn, and adventurous, and we wouldn't have him any other way.
 
These are all great, but what about the really juicy stuff?
McDaddy has been busy balancing his time keeping the check-book straight because his wife is a dork who rarely writes transactions in the right column – if at all – and managing the McFamily Fleet. He recently got his first a car, a 1981 Buick Electra, out of storage and is mourning the fact that it is for sale.
Julie was elected as treasurer of the PTA which might not make good sense after that last paragraph. She has turned down several requests to speak at Mothers Against Dumb School Board Decisions meetings and does her best to balance the laundry, and her social life.
Stevie's biggest news came as a result of the above mentioned bike wreck. After several medical tests to insure that he was okay, we were told that he has an extra spleen.
Alex, as it turns out is still allergic to nuts. After an accidental exposure that resulted in an ER visit, he is acutely aware of asking about ingredients before eating. Still, we are blessed.
Oh, AND, we assumed custody of a little girl in September – a hamster named Lulu – who has given Julie a panic attack the THREE different occasions she has gotten loose in the house from her exercise ball.
What are you sure of for 2012?
We are not sure of a lot of things, but we are sure of God's abundant grace in our daily lives.
 Love, Steve, Julie, Stevie and Alex
—-
This post is linked to Works For Me Wednesday.