It is Sunday morning.
10:14 EST.
I should be in church.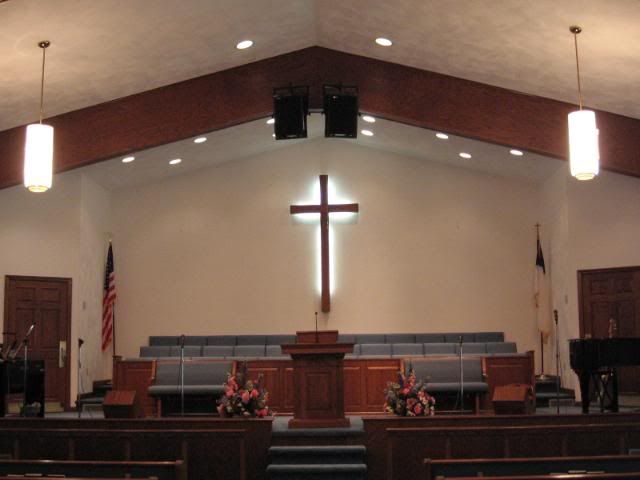 But instead, I am home with a sick boy.
Our little church has been in revival all week. We were blessed with an anointed evangelist who preached God's word on my level, without all the thees and thous.
It was some good stuff and I was blessed.
 Because God is love, there are several things He expects from us. God is love, but he despises when we sin.
All sin was nailed to the cross. All sin is wrong. Big sin or little sin. All sin is the same to God.
God wants to hear "I'm sorry" from His children.
We need to get to the place in our relationship with God where we despise sin as much as He does.
You could be sitting in these pews week after week and still be in a backsliding condition.
You may be here this evening, refusing to listen to God's conviction. When you are not listening to the Lord, you are not where you need to be.
How do we commit idolatry? How many are guilty of crafting a God in their mind that overlooks the sin and fits the way we want to live.
In semiaries across the US, people are being taught there is no hell. My friends, the Bible does not change. God does not change. Hell is just as hot today as it was years ago. In fact, Jesus spoke more on hell than he did Heaven.
God is love. But His love is tough love. There are consequences for our sin.
What we like to do as people is sow our wild oats and then pray for crop failure. The Bible is full of warnings about sin.
Sin is attractive. That's why Satan dangles it in front of our eyes.
If the Holy Spirit is speaking to your heart, you better listen.
If you have a difficult time loving and forgiving, you need some rewiring.
We as humans are conditional. In our giving, our relationships and even with the Lord. It's time that we start loving WITHOUT conditions.
God loves you! And why you would turn your back on that love I don't know.
There are some of you who sing in the choir and teach classes and are faithful to the business of the church, but you are disobedient to God's will.
Some choices are a matter of life and death.
You should try to live closer to the cross than you did yesterday.
Who we are tomorrow, depends on the choices we make today.
It is time for us to observe the Ten Commandments and not just read them.
If you harbor sin in your heart, you should know that God cannot and will not use a dirty vessel. Nor will he bless you.
You walk talks, and your talk talks, but your walk talks louder than your talk.
We should be laboring successfully. As God's children, He expects us to work.
If you are a lazy teacher, you're going to be held accountable for that.
You are as close to God as you want to be.
Sometimes God says no when we ask for something. We need to understand that sometimes that because He is protecting us.
There are things in our life the devil will use to get his foot in the door. He knows what your weaknesses are.
If something seems like temptation, guess what? IT IS TEMPTATION!
We sing "I Surrender All", but really, we should sing "I Surrender Some" because that's what a lot of us do.
Many of you are saved, but you've lost your joy, and you walk around like you're sucking on a sour apple.
If you are unsaved, Satan has complete control of your life.
Just about every sin we commit stems from I — I need, I want, I deserve.
We like to go about our own business, but that kind of behavior has consequences. My friends, there are always consequences to evil choices.
Satan wants to cripple your witness. He wants to disable us and make us ineffective.
Can I get an Amen?
Create in me a pure heart, O God, and renew a steadfast spirit within me. Do not cast me from your presence or take your Holy Spirit from me. Restore to me the joy of your salvation and grant me a willing spirit to sustain me.  – Psalm 51:10-12