While visiting Florida over the summer, we drove down this street. I don't know the name of the street, but for obvious reasons, I call it 'Easy Street' in my head.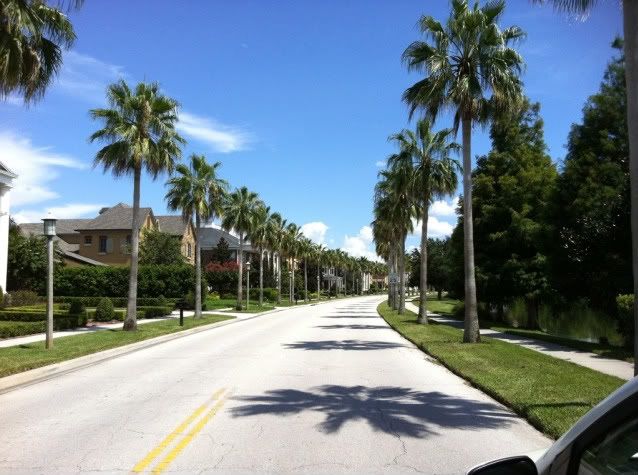 'Easy Street' is without doubt the most beautiful street I have ever seen. The houses are simply breathtaking and if by some chance they allow crazy people to live here, I'd love to call it home someday.
Last night I had a dream.
It involved me driving down 'Easy Street' in this:
The top was down. The sky was bright. The sun was shining. And I was hollerin' like a crazy person.
There was a Dr. Pepper in the cup-holder (with a lid of course), the radio was blaring Me Against The World by 2Pac (because apparently that's how I roll in my dreams) and I was hollerin' like a crazy person.
Shemar Moore waved as I drove past. And so did Maksim Chmerkovskiy.
My sunglasses were on. My hair was a hot-mess (as it is most days), and heads were turning to see what the commotion was, coming from that bright yellow car. It was me, hollerin' like a crazy person.
I was hollerin' like a crazy person because after four v-e-r-y-l-o-n-g years, I was finally driving my dream car.
My smile was wide and I had not a care in the world.
It was a day I had dreamt of (ha!) for years and now, after all this time, here I was.
Just me. My dream car. And this beautiful day.
I might have heard a choir of angels.
And then, as it does every morning at 6:40 AM, this obnoxious monster had to rear its ugly head reminding me that it was time to wake up.
And I realized I had been dreaming.
It was all just a beautiful, perfect dream.
Which I should have known, because in real life, I would have been driving a (chili pepper) red one.
Whether I'm fast asleep or wide awake, you can pretty much count on me hollerin' like a crazy person because I am one.
Someday Saturn Sky.
Someday.