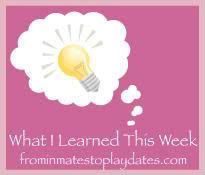 I woke up this morning feeling well and rested.
And a bit sad.
Everyday last week, I woke up at O'dark thirty to get me and the boys ready for cub scout day camp. I had expected to follow Stevie's group throughout the week, and figured when the heat and humidity got the best of me, I'd snatch Alex up and high-tail it to the mall for a few hours of reprieve, because y'all, the July heat and humidity do not play.
About thirty-nine minutes into the day on Monday, that all changed.
Through an extraordinary set of circumstances several things happened. Three or four adult leaders had to cancel. I was asked to help out with Stevie's group. Stevie moved to a different group. And it was scorching hot.
For those of you keeping score, that means, I was helping to oversee a group that my own cub-scout son was not a part of. By Tuesday, I was assisting Stevie's den-leader, Big Daddy (not his real name by the way, but it fits him perfectly) with a group of eleven boys, two girls, and Alex.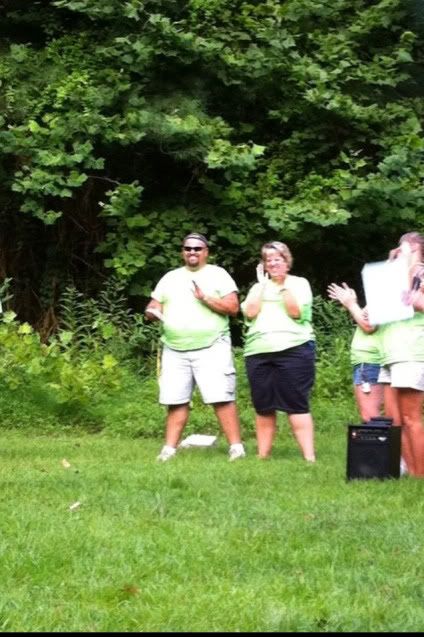 Before I tell you more about my week, let me just say the two things I hate more than anything on this earth are 1) waking up early, and 2) being uncomfortably hot. Which is pretty remarkable considering the fun I had last week.
Monday was a whirlwind. The only thing I knew for sure was that I was miserably hot because it was ninety-eight degrees. NINETY EIGHT DEGREES!  I had sweat pouring from every pore, and by noon, my sweat was sweating. And, I think I forgot my name.
I came home, peeled off my sweaty clothes and passed out on my bed.
By Tuesday, I was becoming attached to our little group, and discovered that I was paying more attention to the fun than I was the heat and humidity. It was a wonderful week that I will never forget.
Here's a list of things I learned. In no particular order.
– I learned that my boys are determined.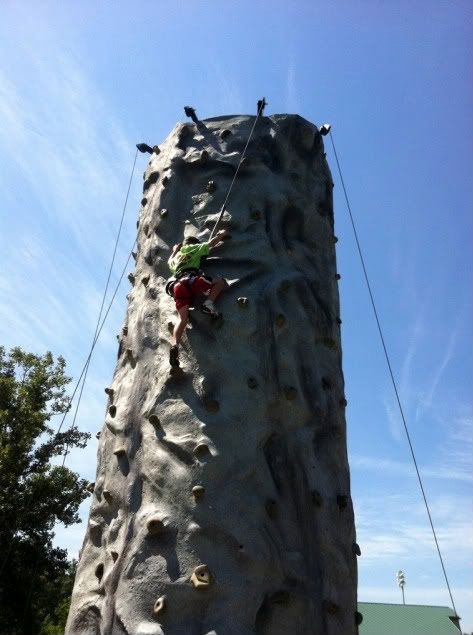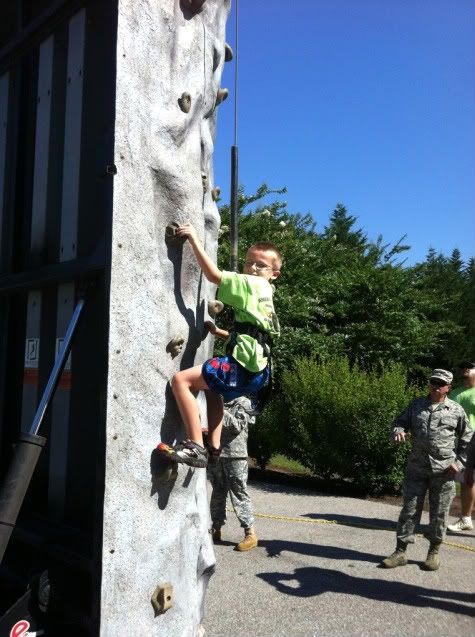 – A good chant and a sweet boy with a cute voice will bring a smile to your face every. single. time.
– It is difficult to watch fourteen kids at a public pool filled with 482 other people on a 98 degree day.
– My sweet boy has a pretty good eye. For the second year in a row, he received a medal for being a top BB gun shooter.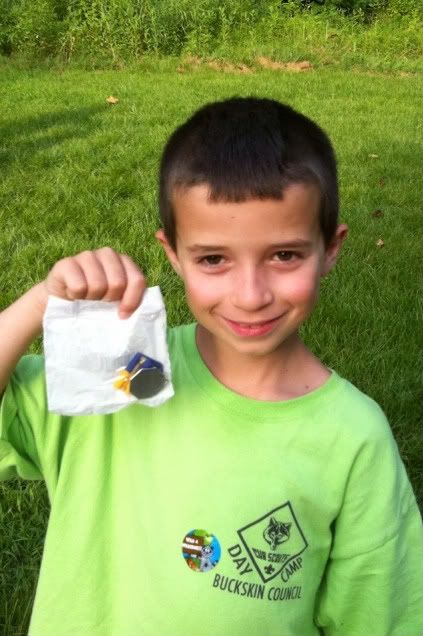 – Crocs flip-flops are very slick and should be worn with caution on a slippery concrete pool floor.
– A massage will be helpful around day three. You should schedule it ahead of time.
– It is entirely possible for five adults to get into trouble during the lunchtime story for making too much noise. (Oops!) AND, if you happen to be sitting across the table from the craziest one, you probably shouldn't make her laugh or else she might spit pop for miles and get you all wet and sticky. (Sorry, Josh!)
– When the registration paper suggests that you should mark every single belonging with your child's name, you should actually do it.
– When a five year old hits two bullseyes on the BB range, there is a good chance he'll tell everyone he comes into contact with for the next week.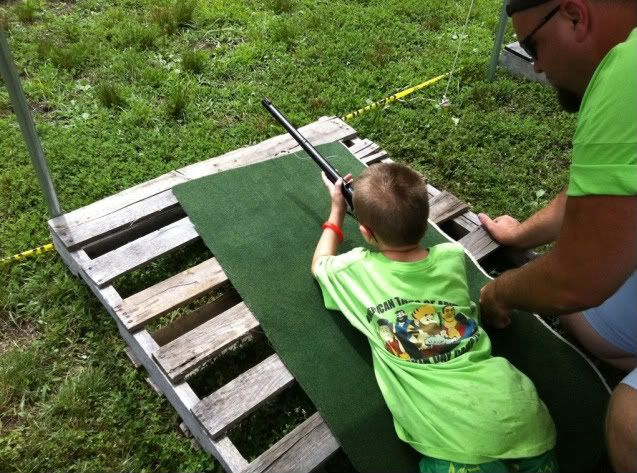 – Having your boys wear a shirt in the pool makes it much easier to see them.
– Always have extra sunscreen on hand.
– A cold peanut butter and jelly is actually pretty good.
– Even fishing can be fun with a great group of kids. (This was one of the most beautiful afternoons we had in a while. There was a breeze and I enjoyed camp the most on this day).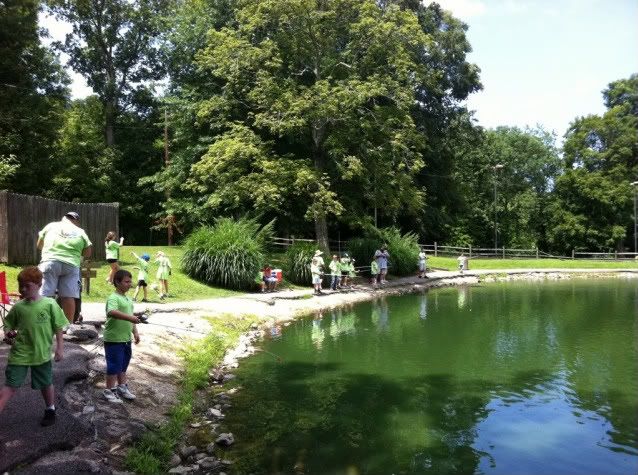 – Wearing tennis shoes is a bad idea because your socks and feet will be wet within the first hour.
– A good leader would have band aids, bug spray, and sting medication on hand at all times.
– Scouts enjoy the "sweet taste of victory".
– A really cute closing program that includes an enlarging machine will have the crowd in stitches. (And if you hear someone snorting behind the sheet, it might be one of the leaders.)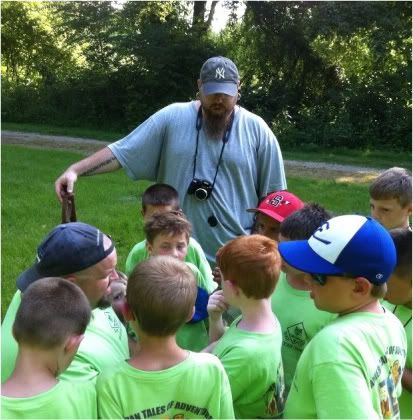 – With twelve little boys in a group, you can expect to hear lots of talk about farting.
– Forget the hairspray. It is a waste of time. 
– Little boys AND GIRLS love to shoot guns.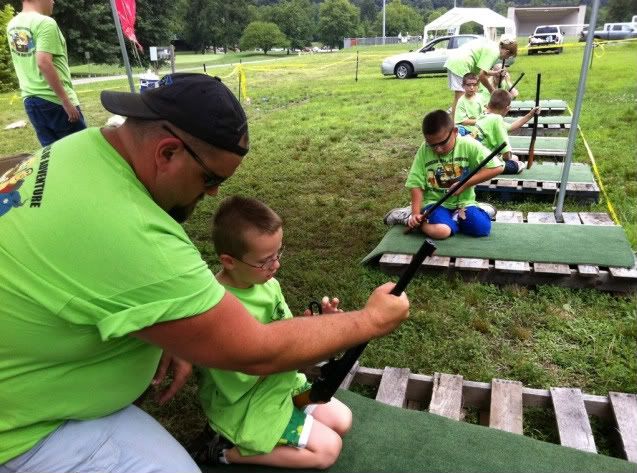 – Bringing a camera to document the week for the kids and then giving out a CD on Friday would have been a fabulous idea, had the idea occurred to me, oh, I don't know, on Monday maybe.
– The memories we made during Scout Camp will stay with me for a long time.
That's what I learned this week.
Now, what did YOU learn?
——
You can read a crazy long detailed version of the rules here, or simply follow these easy steps.
1. Any time this week, publish your What I Learned This Week post on your blog.
2. Within that post, please mention the What I Learned This Week carnival and link back to this post here at From Inmates To Playdates. If you don't know how to link, please ask me.
3. Then link up with Mr. Linky down below.
4. Visit the other participants and see what they learned this week. Then leave a comment because comments are fun!