From time to time, I look at the feedjit widget down in my sidebar to get a glimpse into my readership. (Readership, ha!) It still cracks me up to think about the fact that actual living, breathing people stop by here on a daily basis to read this mess.
As is always the case, I am amused at the things that people search for on The Googlethat lands them here on the front porch of From Inmates To Playdates, Inc.
And before you ask, there really isn't an "Inc." involved. It just makes the blog sound fancy.
I thought this might be a great time to give a shout out to those of you who arrived here because you searched for the same sort of crazy that I dish out here on a daily basis.
– Weston, Missouri arrived from Google.com on "My Exciting Life" by searching for Amish ear candles.
Welcome to my little bloggy home, Weston! I'm so glad you stopped by. Much to McDaddy's dismay, I did try ear candling after purchasing the ear candles at the Amish flea market. While I am not 100% that it made a huge difference in my ear, (I have exzema of the inner ear. How's that for crazy?) I do know that it felt good and that it pulled out a big nasty bunch of ear wax, that I am assuming would still be stuck in my ear canal if it weren't for the candles. You should also know that the popping and crackling that you'll hear deep down in your ear is perfectly normal. McDaddy was very skeptical of the entire process, even pausing to sing the song "I called the witch doctor he told me what to do…" in the middle of the procedure. He's never had ear problems though, so you can't pay too much attention to his opinions on ears and the ear candling process. And before any of you ask, ear candling is achieved by placing a special candle into the ear canal and lighting it, thus pulling all the goop and stuff from your ear canal. Anyway, I'd love to know if the Amish ear candles helped you. I'd suggest everyone try it once in their lifetime, just so they could say they've done it.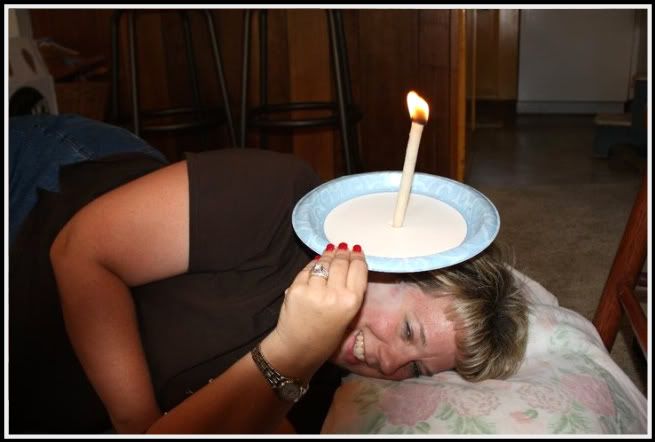 – Swansea arrived from Google.co.uk on "Inmates, Embalming and Minding Your Own Business" by searching for watch someone be embalmed.
*In my very best English with a side of redneck speaking voice* Welcome, Swansea! You might be surprised to know that I did indeed watch an embalming. It was a very interesting experience and I would suggest it, ONLY, in the event that you can handle blood, guts, and gore. Otherwise, you should just stick to reading blogs and "Googling' about it. The process is most certainly not for everybody. I would do it again though if the opportunity should ever arise. That's just my type of crazy! And before y'all ask, I do not have any pictures from my experience.
– Malvern, Pennsylvania arrived from Google on "Class of '92, This One's For You" by searching for big hair and glasses.
It's true, Malvern! I rocked the big hair and the glasses back in the 90's. And if we wait just a few more years, I'm betting it will be make its way right back down Cool Blvd. It's not time just yet, though. Rock on, with your bad self!
– Little Rock, Arkansas arrived from Google on "Over My Dead Body" by searching for expensive mahogany caskets.
What's up Little Rock? I remind McDaddy from time to time that when it comes time to lay me to rest, I deserve the very best money can buy. That means solid and mahogany. Not pressed and wood.
– London arrived from Google.co.uk on "Thursday Thirteen – Thirteen Things In My Purse" by searching for organising items in my handbag.
Hiya, London. If there's one thing that makes my heart smile, its a good organized handbag. I just purchased a new handbag a few days ago with lots of pockets and compartments and I love that I can keep things where they belong instead of one bucket full of stuff.
– Houston, Texas arrived from Google on "What I Learned At The Funeral Home" by searching for embalming and funeral homes.
Is it hot there in Houston? Because it's hot here in West Virginia, and I'm guessing that y'all might have us by a degree or two down there. I should be used to it by now, but I am always surprised at the number of people Googling embalming information. That simple fact proves that I am not the only crazy out there. Welcome to my blog, Houston. I think you have found your people.
– Baltimore, Maryland arrived from Google on "A Little Bit Of Gross" by searching for "how to remove milia on my own".
Hey Baltimore! While it is certainly possible to remove your own millia using a tool you can buy at The Mart of Walls, I wouldn't suggest you do it yourself. It seems to me that there are a whole host of things that could go wrong, and when you're using a tool on your face, well, that just doesn't seem like a good idea. Instead, find a really good friend that you trust to, well, cut a small whole in your face, and then let them do it. McDaddy has a small millia just above his eye and I have tried (unsuccessully, might I add) several times to talk him into letting me play Doctor. He is a smart man though, so I don't anticipate doing any type of procedure on him any time soon. Oh, and it's worth noting that I turned to a Dermatologist for my milia removal needs.
– ?Apopka, Florida arrived from Google on "Today on Guantanamo Bay" by searching for Guantanamo Bay Windward Loop.
First, can I just say that the word, Apopka makes me smile great big. I think it would be fun to live there, just so I could say, "Apopka" when someone asked me where I was from. Course, I'm probably pronouncing it all redneckwrong in the first place, but still. Apopka, I can't think of too many reasons that one would be Googling 'Guantanamo Bay Winward Loop' unless they were headed there or lived there. McDaddy did a six month sentencedeployment on (or is it 'at', I never know.) Guantanamo Bay and he lived on Winward Loop. It is a beautiful island with lots (ahem!) to do, so I do hope you'll enjoy your visit. As far as deployments go, I hear it wasn't bad at all. My boys and I spent a week there visiting and it was one of the most exciting weeks of my life. I'd love to know why  you Googled it. (Y'all know I"m nosey, right?) If you pop back in, be sure to let me know.
And there you have it, folks.
Many thanks to Google for sending people my way.
And many thanks to all the crazy people out there who visit me every single day in search of my daily dose of crazy. This would be a great day to tell me where you're from, you know because I am nosey and all.
Have a great weekend, people!