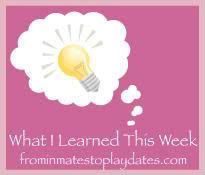 This week I've learned that I really have no business buying girl-scout cookies because I don't have sense enough to not eat them. Actually I learn that same lesson every year around this time yet I buy them anyway because my BFF's daughter Katie is cute and irresistible.
I also learned that each Tagalong has seventy (70!) calories which makes me very sad because the tagalong is my favorite cookie and I could eat my weight in them. I have them tucked safely away in the cabinet and I will only allow myself four per day. One saving grace is that I can barely taste because I am still suffering from a big fat case of head congestion and a constant flow of snot. (I know, I know, TMI).
And since I've already had my four tagalongs today, I need to stop talking about girl scout cookies because OHMYWORD, I want another one badly! But Enough. About. Cookies.
I did learn a number of other things this week though, things that have nothing to do with cookies, so lets get right to it, shall we?
1. iHop is now serving a Bacon & Egg Cheeseburger. – I haven't tasted it because it defies my breakfast/lunch separation requirement, but from what I hear its a big seller.
2. Vaseline lip therapy works great for a sore, raw nose. – Gross, but true. Look. I know that sounds a bit crazy, but when push comes to MYNOSEISRAWANDSORE, a girl's gotta do what a girl's gotta do. I initially bought a generic form of carmex lip balm, but the smell was horrible and caused me to gag. The Vaseline is pretty much odor free. AND, before you ask, even though I am only using it for my nose, I simply squirt a little dab on my finger and then apply it to my ol' sore nose.
3. When the peanut butter is missing from a mouse trap, you will find yourself googling the words will and peanut and butter and evaporate? And the answer will have you thinking you should use probably just use cheese next time.
4. A new door knob and kick-plate can breath fresh life into a door. That is, once the door knob and kick plate are the same color.
5. The School Book Fair will be much more profitable if you host a Grandparent's Day.
6. To get rid of the stupid black picture thing on Facebook, you can simply hit F5 and it will go away. (You can thank me later!)
7. The child sitting beside my child in the lunchroom will have a direct effect on how much of his lunch my child actually eats.
8. A Lincoln Navigator Limo ride is an excellent motivator for kids (and parents) to peddle sell 25 tubs of cookie dough.
9. Baking Soda, when used in the shower is a great product to strip the hair of various products that make it feel 'heavy' and 'rough'.
What did YOU learn this week?
——
You can read the long detailed version of rules here, or follow these easy steps.
1. Any time this week, publish your What I Learned This Week post on your blog. and spread the news to your bloggy friends so more people will join in on the fun.
2. Within that post, please mention the What I Learned This Week carnival and link to this post here at From Inmates To Playdates.
3. Then link up with Mr. Linky down below.
4. Visit the other participants and see what they learned this week. Then leave a comment because comments are fun!