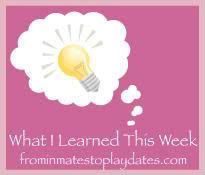 The list of stuff I learned this week is long and random.
You know, kind of like every post I do around here.
Long. And random.
I will try to keep the commentary to a minimum, but you know that usually doesn't go well. I am watching The Bachelor, but only because Emily is from West Virginia and I want to see if Brad will FINALLY MAKE A DECISION. I vowed to quit watching The Bachelor after the 294th time I heard Chris Harrison utter the words, "The most dramatic rose ceremony ever." I like drama more just as much as the next person, but really, can EVERY episode be "the most dramatic rose ceremony ever?" I think not. I was nosing around on Facebook and saw a bunch of posts about Emily and Brad and I knew I needed to get in on the action. And as is generally the case, it was, "the most dramatic proposal ever!"
Anyway.
Here's the long and random list of things I learned this week:
1. March 14, 2011 is National Pi Day. In honor of the event, I enjoyed some nice, round Thin Mints.
2. Baseball is an expensive sport. Especially with two kids playing for the first time.
3. Little League players cannot slide into first base.
4. I have a lot to learn about baseball.
5. Reunion is a tough word for a second grader to learn to spell.
6. Ice Blocking is an outdoor activity similar to sleigh riding, only without a sled. And snow.
7. The Wal-Mart sells caskets.  And so does Costco. Neither of them have a solid mahogany one though.
I ran into my funeral director friend at the ball-field over the weekend. I reminded him that if I ever come across his embalming table, I'd like for him to leave me about 1/8 of an inch, instead of wiring my mouth completely closed for all of eternity.
8. A fly-swatter is a wonderful instrument for setting off a mouse trap for the express purpose of re-applying peanut butter.
I don't really know why I added the word 'express' in there, it just sounded fancy.
9. Payola is an official approved Words With Friends word.
10. When the iHop frigs up your pancakes, (and by frigs up your pancakes, I mean runny in the middle and not cooked fully), there is at least one iHop manager in a West Virginia restaurant, who will tell you that discounting the bill by $1.00 is okay.
I am not typically one to complain about food in a restaurant, but when you're having pancakes at the International House of Pancakes, you kinda expect your pancakes to be done. Totally different story if you happen to be eating pancakes at, oh I don't know, the International House of Eggs.
11. My son is just as meticulous as I am.
12. Cookie dough is an excellent fundraiser for an elementary school.
13. The perfect time to go to Chuck E. Cheese, if there is a perfect time, is Monday afternoon at 3 PM.
14. I heard this week that hot movie popcorn is best enjoyed when you drop peppermint patties into it.
It is my goal to try that this week on popcorn day at Stevie's elementary school.
15. According to Time, The iPad was the #1 Gadget in 2010. The iPhone 4 was #6.
Ineed an iPad.
16. Dragon Dictation is a really cool iPhone APP, however, it will not allow me to dictate the name, McDaddy.
17. Even if you don't trap a mouse in one of the many glue traps in your home, you will probably get lots of ladybugs.
18. I told y'all it was LONG. And RANDOM. So, what's new?
What did YOU learn this week?
——
You can read the long detailed version of rules here, or follow these easy steps.
1. Any time this week, publish your What I Learned This Week post on your blog. and spread the news to your bloggy friends so more people will join in on the fun.
2. Within that post, please mention the What I Learned This Week carnival and link to this post here at From Inmates To Playdates.
3. Then link up with Mr. Linky down below.
4. Visit the other participants and see what they learned this week. Then leave a comment because comments are fun!