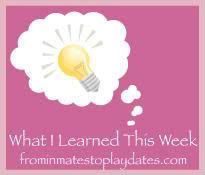 Guess what?
The mousetraps are still sitting empty.
AND, we have not seen a trace of the little sucker since that fateful night. But I'm not here to talk about that. Instead, I'm here to share what I've learned this week.
In no particular order, may I present what I learned this week:
1. If you have the nagging feeling that you are forgetting something, you probably are.
2. The song, "I wanna be a billionaire so freakin' bad" is one of those songs that sticks in your head hours after hearing it.
3. When accessing Facebook from a strange computer or device, you will receive an e-mail asking if you were the one accessing your Facebook from that device?
4. National popcorn day is January 19th.
5. If you happen to be shopping at Bed, Bath and Beyond and run across a metal head messager thing ($3.99), you should TOTALLY spend the four bucks because it is the bomb diggity. (Am I too old to say "bomb diggity?")
6. When placing a 31 order, you should insure that you have at least an hour to devote to the process. Especially if you are a crazy person for fonts and fabrics.
7. Warren Harding wore a size 14 shoe. Strange, but true.
Go ahead, Google it.
8. A bowl of fruity pebbles at 11:00 PM is never a good idea.
9. When you see – with your own eyes  – a mouse walking very casually across your living room floor, the scene will replay in your head at least 4,719 times over the next week as you continually watch your step looking for the little sucker.
That's what I learned this week?
What did YOU learn?
———
You can read the long detailed version of rules here, or follow these easy steps.
1. Any time this week, publish your What I Learned This Week post on your blog. and spread the news to your bloggy friends so more people will join in on the fun.
2. Within that post, please mention the What I Learned This Week carnival and link to this post here at From Inmates To Playdates.
3. Then link up with Mr. Linky down below.
4. Visit the other participants and see what they learned this week. Then leave a comment because comments are fun!