Back when McDaddy was deployed, I made the decision to use Thursday Thirteen as a way to count down the weeks. He was gone for 26 weeks and so it made sense to use the 26 letters in the alphabet to work my way through the alphabet. Every week closer to "Z" also meant another week closer to McDaddy being home.
I had thought about making my way back through the alphabet because having a planned event every Thursday makes it so simple to sit down and write a post. The next deployment is now on our radar (with lots of variables included), so I thought I should hold off on that for awhile. I was thinking that some of you might have some exciting ideas for Thursday Thirteen posts, so feel free to share them in the comment sections if you have any. 
Today, I'll focus on one of my favorite things.
Random thoughts.
Oh, dear bloggy people, you have no idea about the number of ridiculous random thoughts that run through my head everyday. They are plentiful. And they are crazy.
1. Tissues– If I were a bettin' woman, which I am not (unless I'm in the casino and then all bets are off because I'm a sucker for the nickel machines), I would bet that I use more tissues than any three of you out there combined. It is the first thing I do in the morning and the very last thing I do at night. And at least once every waking hour. Gross, I know. Even though I prefer Kleenex tissues, I've been using a fresh supply my dad stumbled upon at a yard sale from a drug rep. I think they manufacture those things at a sand paper factory.
2. Tom & Jerry – Our boys watch Tom & Jerry. And that used to be fine until, UNTIL, the three hour standoff McDaddy and I had on Saturday night with a real, live, conniving, dirty, sneaky, rotten, patient mouse. And now, when I see Tom and Jerry, it serves as a reminder to me that there is a very good chance THAT SAME MOUSE (and maybe more according to the commenters on that post) and others are living here among us.
I shudder at the thought.
3. The Simple Wife – Several weeks ago, my blog traffic spiked. With all of the blog analytics programs available to bloggers, it is easy for me to see who's been here, how many have been here, where they live, what type of operating system they use, and how they got here. On that particular day, I noticed more than thirty visitors from a site called The Simple Wife. Typically, a spike in traffic means that someone has linked to me on their blog. I clicked on The Simple Wife's link and began to read her story. On January 11, 2011, 38-year old Joanne (The Simple Wife) suffered a major stroke and was discovered in her basement by her young daughter while having a seizure. Since reading about Joanne's stroke I have continued to follow her blog as her husband, Toben is sharing her journey as she recovers. As it turns out, The Simple Wife and From Inmates To Playdates are on the same Blogher circuit (advertising  you see over in  my sidebar) and when one of my blog posts are featured, they show up on her feed and vice versa.
Are your eyes crossing yet?
I guess what I'm trying to say is, you should head over to The Simple Wife and read about Joanne's journey and recovery. I felt an immediate connection to her because we are almost the same age and because her two girls are about the same age as our boys.
4.  Proloquo2go– Joanne's husband Toben mentioned an iCult APP that is helpful for stroke victims (and others with speech difficulties) and I thought I would share it on the off chance any of you know someone who could benefit from it AND have an extra $189.99 lying around your house.
Yes, you read that right.
5. New Facebook Picture Viewer and Facebook in general- I am generally not one to complain a great deal, (ha!)  but I am powerless to stop it when I feel really, really strongly about something. This new picture viewer thing just may be THE DUMBEST THING I've seen Mark Zuckerberg and his peeps do on the Facebook. The black screen is distracting and the pictures (at least on my page) are not clear. In addition to that the picture comments rarely show up. WHY? Why would the FB peeps make such a dumb change? And, while on this little tangent, my Facebook is performing at about 72% these days. Just a few of the problems are:
notifications not updating
profile picture not changing once it has been changed
messages not showing up for hours, and in some cases days after they are sent
did I mention THE STUPID PICTURE THING
6. McDaddy –I was gone most of the weekend with some girlfriends returning late Saturday night. And we all know by now that those few hours before bed WERE SPENT PLAYING STANDOFF WITH A MOUSE which means there wasn't a lot of communicating going on unless you count the moments I was sharing my panic, fear and irrational thoughts. On Sunday, McDaddy was gone all day visiting family in Kentucky and he didn't return home until just before our boys went to bed. On Monday morning, he was gone before I ever even rolled over on his way to New York for business. Because of our various travels, it seems like forever since we've sat down to really talk. For that reason, I am preparing this blog post early in the day so that I can spend the evening with him.
7. Valentine's Day – Late Sunday evening, our little family had an early Valentine's celebration. McDaddy and the boys gave me a gift card to Kohl's. For months, I have been watching a bedding set, waiting for it to come on sale. And by sale, I mean more than 20% because even at 20% off it was outrageous. I had mentioned my plight to McDaddy one or twelve times, so he knew it was something I would love. I went to Kohls yesterday and got the bedding and can I just say, "You made a great choice, girl!" It is absolutely beautiful!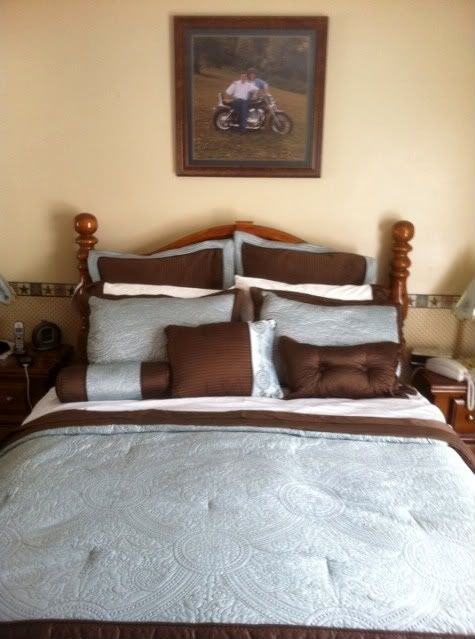 8. And speaking of Kohls – When I was there to purchase the bedding, I noticed the memory foam mattress pads were BOGO free. I didn't purchase one then because I didn't have a need for two of them. The next day I updated my status on Facebook asking if any of my 638 friends wanted to go half on the deal. Almost immediately my hair dresser responded that he'd do the deal also. So, you can imagine my surprise when I arrived at Kohls to discover that the memory foam mattresses were no longer BOGO. They were now 50% off, HOWEVER, the prices had been raised. Not cool, Kohls. Not cool at all.
9. Fresh Air – It was so warm yesterday I was able to OPEN THE WINDOWS. When we arrived home from church hours after the windows had been closed, you could still smell the fresh air in the house. It was glorious and I wish Spring would hurry the heck up.
10. New York – There is a chance that I will be accompanying McDaddy on a business trip to New York in the next few weeks. I love being at home with our boys, but I love, love, love spending time alone with my hubby, my friend. And if I'm being honest, a wee little part of me is looking forward to some time off from mommy duty for a few days, too.
11. Giveaways – I am currently hosting a review/giveaway over on my review page for a beautiful unique piece of jewelry with a wonderful meaning. Go over there right now and get entered.
Go ahead, I'll wait.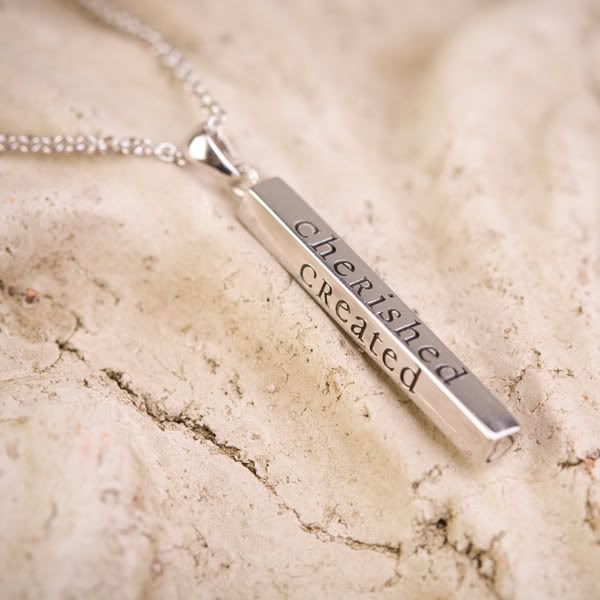 12. Whoopee Cushion – If you are looking for a great way to entertain two little boys, give them a whoopee cushion. Unlike the whoopee cushions from my day (the one you had to blow up time and time again), the new fangled whoopee cushion of 2011 is self-inflating. Unless of course, your five year old chooses to run and jump on the thing five-billion time as if  he's a whoopee cushion Olympic medalist and busts the thing.
13.  Mouse – If you've been keeping up with the crazy this week, you know we had an unwelcome visitor here at the McResidence Saturday night. As of this writing, I am sorry to report that all eight traps are sitting empty and the mouse has not been spotted since 2:15 AM EST.
*Oh, and just so you know I wrote this post in two installments and had forgotten that I had already written about the mouse earlier in the post.
Happy Thursday, y'all!