Admittedly, I have a strong will, serious opinions and thismuch patience. For that reason, I often find it difficult to slow this crazy train down once something gets in my head.
As you might imagine living with me is a trip.
Take for instance, last Thursday evening. McDaddy and Stevie took off on an impromptu evening ski trip. Because I only need half an excuse NOT to cook, their little trip meant that Alex and I would have dinner out. We took our party to the iHop and talked about things like Sonic the Hedgehog and various reasons I don't like to ride in our Jeep. My boy is a talker, so there are always lots of questions. After we finished up there, we headed to Lowes because earlier in the day I had decided to purchase some yellow aint so that I could repaint the interior side of our front door.
Once we arrived at Lowes, I gave the lady at the paint counter a sample of the fabric that now presides over our living room (curtains, pillows, rocking chair and even a basket liner). She inserted the fabric into her magic custom paint machine and within minutes it kicked out a goldenrod color (babyfood squash anyone?) that made me snarl my nose and draw my eyebrows into the position that I try to avoid because the wrinkle that has made it's home between my eyebrows is not pretty.
I quickly thanked her and then no-thanked her. After examining and reshelving every card sample of yellow paint in the place, I was ready to admit defeat and walk out. My crazy train had come to a screeching halt. That is until I held the  fabric up along the rows and rows of blue paint samples. The one pictured here caught my attention and before I had the good sense to even think about what I was doing, I was at the counter purchasing a quart of 4007-8B, otherwise known as wellspring.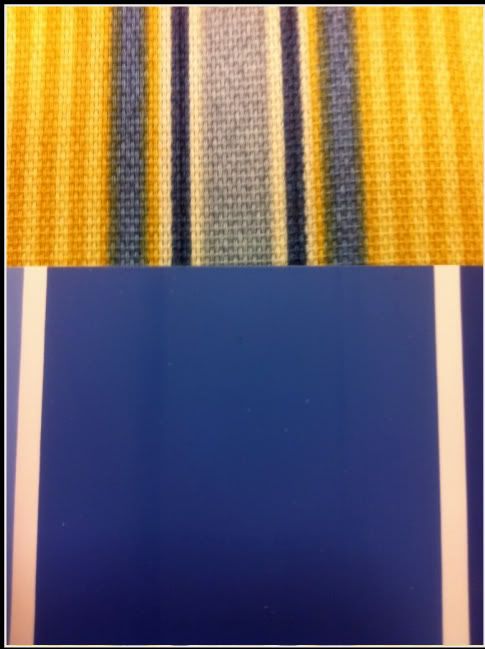 On the way home, we had to stop for gas because it was 19 degrees, plus there was a wind-chill advisory I always wait until the last possible second and have no other choice. Once we arrived back at home, I paused for half-a-second thinking that maybe I should wait until McDaddy could take the hardware off of the door to make painting easier, but decided I would just be real careful not to string paint everywhere.
Ha!
I took a good long look at our beautiful yellow door and snapped a picture because I just knew y'all would want to see a before shot. (The "tattoo looking things" on the door have been there since we bought the house. Above the doorknob is an angel that says "Bless all who enter" which is interesting to me considering the fact that she hangs out on the interior side of the door. And, according to Alex the "tattoos" at the bottom of the door are pigs and roosters, though I can't be sure because I don't ever remember looking that closely at them.)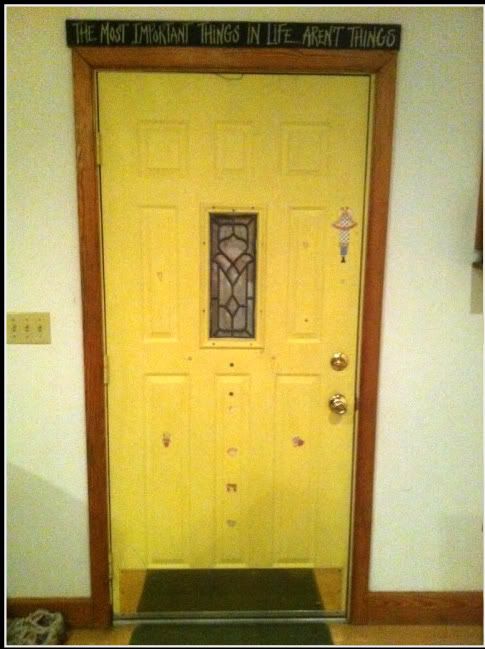 Before I could blink, our bright yellow door looked like this and the crazy train started to slow down.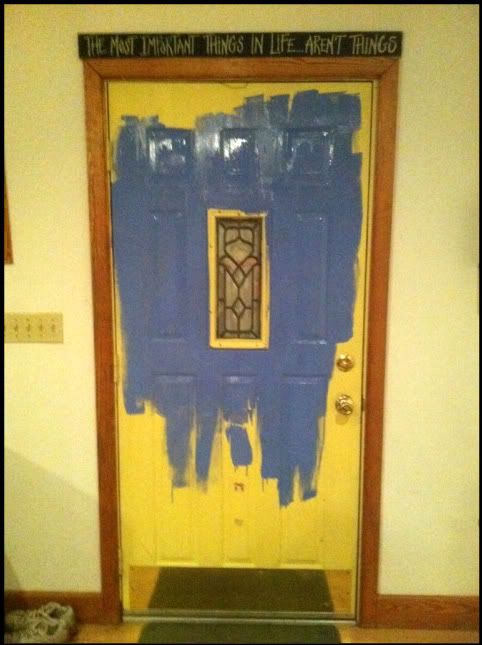 What in the heck had I done?
At this point it dawned on me that maybe I should wait and discuss this with McDaddy. Not because he is at all concerned with matters of interior decorating mind you, but just because it's what we do. That lasted all of about three seconds before the crazy train took off again and I ran to keep up.
I'm telling you folks, the madness gets the best of me sometimes.
In the time it took for an episode of The Young And The Restless to run I had the door painted except for the area around the trim and knobs.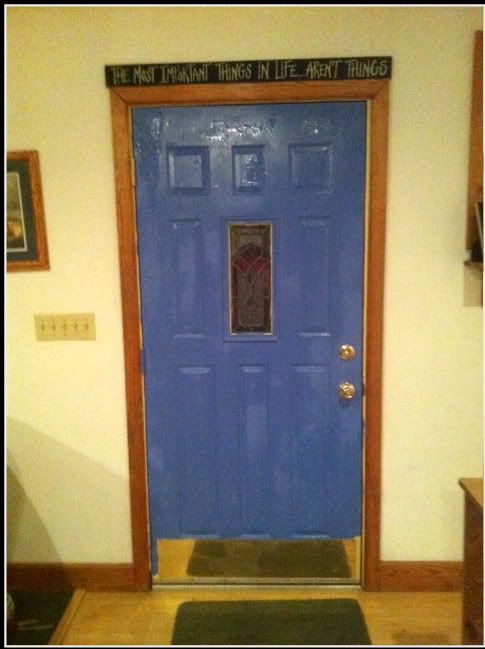 Oh Snap!
The next day McDaddy removed the kick-plate and the trim and I finished the job. The door is now a beautiful shade of blue and it matches my chair and curtains perfectly. I am still not sold on the idea of a blue door. That fact has less to do with the shade of blue and more to do with the fact that I don't embrace change easily.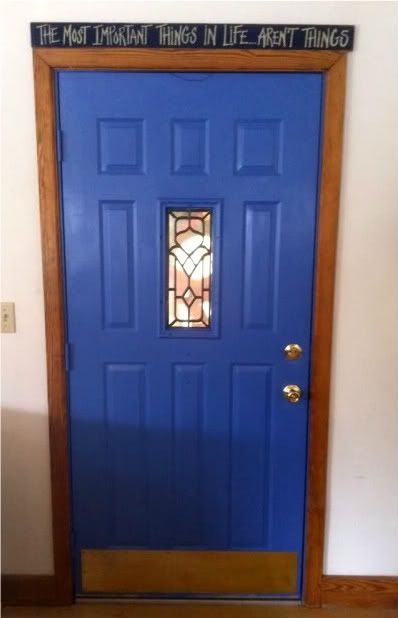 McDaddy told me last night that "The door is starting to grow on me." I agree with him and look at it frequently waiting for the urge to hit. You know, the urge to paint the door yellow. Or white. Or a lighter blue. Or buy new hardware?
As for now I am enjoying this ride on the crazy train, because the crazy train, um, it works for me!