My day started with a mile-long to-do list.
Topping the list was reaching the peak of Mt. Washmore and going to the grocery store because we were out of milk, juice, pop tarts and Dr. Pepper. I know, I know. We're talking emergency here, folks.
I got Alex ready and dropped him off at school. One of my preschool mommy friends asked if I'd like to join her for breakfast and just like that, I abandoned my grocery store plans and we headed for the iHop. We enjoyed a wonderful breakfast and I had about an hour before it was time to pick Alex up from school.
I decided to hit Target.
I am usually a Wal-Mart girl because I am on a budget and quite frankly I haven't been able to beat their prices at our local grocery store. It's been months since I've shopped at Target because I choose to steer clear of three-mile-long holiday lines in November. But I was in rare form this morning and thought I'd shake things up a little bit.
One thing I love about Target is all the coordinating merchandise they offer. I have not a need in the world for blue, orange and red striped plastic plates, cups and serving platters but those brightly colored sets catch my eye every single time I go in there. It takes all the discipline I can muster to pass the stuff up. On top of that they have the best selection of bedroom, bathroom and kitchen stuff of any store around. As I perused the aisles, sans kids mind you, I couldn't resist going down the CARS aisle just to see if there were any new CARS out. Sure enough, I found a Color Changer Snot Rod, which I immediately picked up for a certain little boy for Valentine's Day.
From there, I headed to the make-up department. I found my favorite mascara and rounded the corner to see an entire display of Sharpie pens with bright silver lids.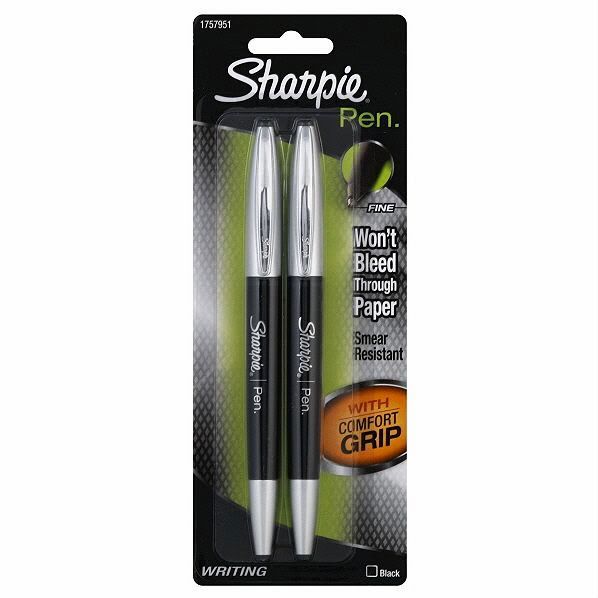 In my head, I imagine a group of Sharpie big-wigs sitting around a table asking, "How can we improve upon the widely popular Sharpie?"  And then in my head, I imagine a woman, a classy woman, calmly stating, "You put a bright shiny silver lid on it!" 
That silver cap sealed the deal for me because hello? It's shiny! AND it's a Sharpie AND it won't bleed through my calendar! So, how, I ask you, was I to pass up the new shiny sharpie? I say it all the time around here folks, it's hard to stop a woman with a strong will and a Sharpie. 
As I was gushing at all of the Sharpie awesomeness, a thought hit me and before I knew it, I got all wild and crazy and began throwing some of my favorite things into my shopping cart because GUESS WHAT? Valentine's Day is coming up and I love you all so much I thought it might be fun to GIVE AWAY SOME OF MY FAVORITE THINGS HERE ON THE SHOW TODAY!
And the crowd goes wild!
Just imagine that I am working my way around the stage to tell you about each and every item, just like Oprah does. I would gush and clap and holler because I am a holler'er.
I'd be all crazy as I announced, "Up for grabs is a package full of some of my favorite things!"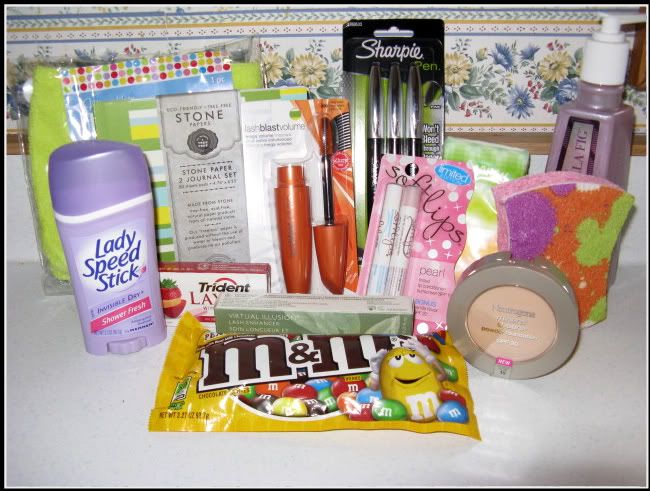 I'll tell you now that my FAVORITE thing is the Saturn Sky, but sadly, I am not including one because I couldn't find a box large enough to ship it. Included in the package are: my favorite candy – Peanut M&Ms, Lady Speed Stick deodorant, Wild Strawberry and Tangy Citrus Trident Layers gum (Because I am wild!), Softlips Pearl tinted lip conditioner, Bath & Body Works Festive Vanilla Fig antibacterial moisturizing hand soap, Cover Girl lash blast volume mascara (it's the bomb, folks!), Classic Ivory Neutrogena mineral sheers powder foundation with SPF 20, Kleenex travel tissues, Cello sponges (because they have a cute design), Arbonne Virtual Illusion Lash Enhancer, Microfiber hair wrap, and a "tree-free, acid free, made from all natural stone journal set."
To enter, simply leave a comment telling me one of your FAVORITE THINGS!
That's it.
If you're feeling wild and crazy, you can mention the giveaway on Twitter and/or Facebook and then pop over here and leave another comment for another entry. Add one more entry if you "Like" From Inmates To Playdates on Facebook. And don't forget to stop back over here and leave another comment.
The contest is open to US residents only.I'll choose a winner at random on the evening of February 1oth.
—-
In the interest of full disclosure, I purchased these items myself and am not receiving any sort of compensation to host this giveaway.
This post is linked to WFMW over at THAT Family.
—–
UPDATED TO ANNOUNCE WINNER:
Random Integer Generator

Here are your random numbers:

51

Timestamp: 2011-02-15 22:03:00 UTC
On February 4, 2011 at 11:43 pm Frances (who does not have a blog but has a yahoo e-mail address) left the following comment: "My favorite things (besides the husband and kids, so cliche right? but the truth) are Sunflower Seeds, Tropical Punch Kool-Aid (weird, I know), your blog and the Bible. Your blog brings a smile to my face daily".
Congratulations Frances! I'll be in contact with you via e-mail shortly!