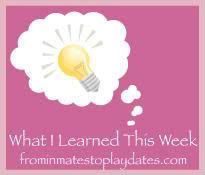 First of all, I'd like to say thanks to ALL of you who linked up last week. I was so happy that so many of you showed up in my corner of the blogosphere. And y'all, I cracked up at some of the things you learned. 
As is the case most weeks, my learning curve was off the charts because once again I learned all manner of useless information.
For your consideration:
1. When the cub-master for your son's cub scout troop approaches you about rechartering the troop, you should most definitely run the other direction because it is a lot more work than you think it will be, PLUS, there is PRESSURE people. Lots of pressure. After weeks and weeks of it hanging over my head, McDaddy handed the thing in this evening.
2. I would much rather have the pukes and poops for 48 straight hours and be done with it, instead of dealing with the stupid phlegm-laced cough bronchitis crap for two weeks because after some serious chest pain on Saturday night, I convinced myself I was having a heart-attack. Luckily, it was nothing more than sore muscles FROM ALL THE COUGHING I've done the past two weeks. Fourteen days later and this thing is still kicking my trash.
3. Julie Chen (Co-anchor of 'The Talk' and host of Big Brother) is married to Les Moonves (Director, CEO and President of CBS) who made a butt-load of money last year according to Forbes.
4. Four of the top ten richest people according to Forbes are from the Walton family. As in Sam, not John. There is not a doubt in my mind I had a [very small] hand in those rankings.
5. The Google Guys were ranked #11. (Y'all know I love Google, right?)
6. When visiting Forbes.com, the information can suck you in.
7. To 'tort' a cake is to cut it in half horizontally. A 'tort' is also an action that injures someone in some way. I had never heard of the first, but studied the second in Criminal Justice classes.
8. Cookies and Creme pop-tarts aren't a bit good. I'm still missing the Vanilla Creme pop-tarts and posted this in hopes that a big-wig from Kelloggs might happen across my blog and bring them back.
9. It is difficult to write a WILTW post while attending the #incourage twitter party.
10. March will be a L-O-N-G month for us. Not looking forward to it. I hate it when McDaddy travels.
And since I'm listing ten things, I thought I'd link to Oh Amanda's Top Ten Tuesday.
What did YOU learn this week?
——–
You can read the long detailed version of rules here, or follow these easy steps.
1. Any time this week, publish your What I Learned This Week post on your blog. and spread the news to your bloggy friends so more people will join in on the fun.
2. Within that post, please mention the What I Learned This Week carnival and link to this post here at From Inmates To Playdates.
3. Then link up with the Mr. Linky below.
4. Visit the other participants and see what they learned this week. Then leave a comment because comments are fun!