When we moved into our home eight years ago, we found out pretty quickly that we had been blessed to move into a wonderful neighborhood surrounded by kind neighbors.
During the Christmas holiday, we were surprised at the number of neighbors that showed up on our doorstep dropping off baked goods, ornaments, chex-mix, and gifts for our boys.
I knew it would mean that next year I would be baking up a storm so that we too would have something to share with neighbors during the Christmas holiday. Since that first year, our family prepares several packages of baked goods and we spend some time a couple of days before Christmas walking through our neighborhood spreading Christmas cheer through cookies, and other goodies.
Our next door neighbors, Ronnie and Libby (also my BFF Becky's parents) always bring a container of some sort of white chocolate heavenly crunch. McDaddy and I just about came to blows over the last bit of it. I contacted Becky and asked her if she had the recipe for the stuff and if you can believe it, I made a big batch of it last night.
Which means that it fits the qualifications I have for a recipe.
McDaddy went to the store to purchase the following ingredients.
[Edited to add: When I made the second batch, I added peanuts, substituted cinnamon toast crunch for the Kix, and wheat Chex for the Corn chex.]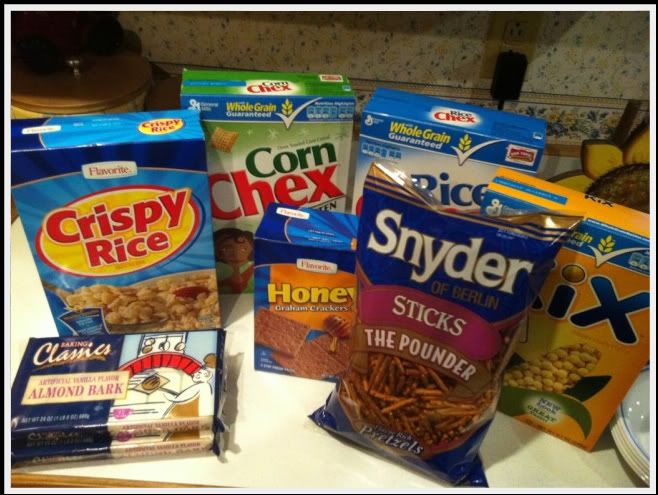 Our neighbor Libby calls the stuff, "Tastes better than it looks white mix recipe".
I call it "White Chocolate Heavenly Addiction Crunch" or "White Chocolate Chex Mix".
2 c. Rice Chex
2 c. Wheat Chex
2 c. Rice Crispies
3 c. Kix
2 c. Pretzel Sticks
2 c. Graham Crackers
2 c. Nuts
2 1/2 lbs. white almond bark
Melt the almond bark in a double boiler or melt it a little bit at a time in the microwave, stirring often.
Pour the almond bark over the remaining ingredients and mix.
Pour or spoon the mixture onto wax paper and allow it to cool. Once cool, break into pieces and enjoy.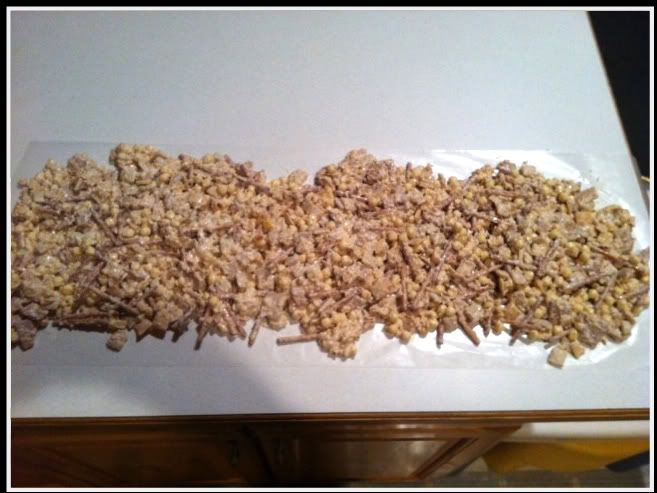 Prepare to make friends and influence people.
This stuff WORKS for me. It does not, however, work for my waistline.