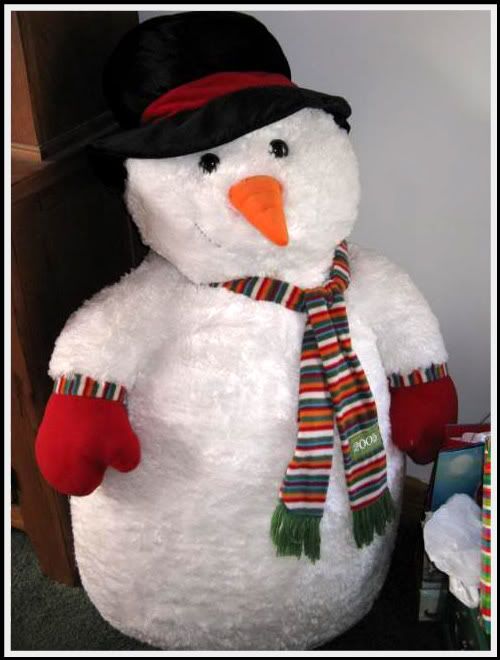 Hi, my name is Fred.
The lady of the house is off creating birthday invitations, or playing Words With Friends, or eating a bowl of cinnamon toast crunch, or some kind of mess and she asked if I'd like to take care of today's blog post. I couldn't be happier because there's not much to do around here except hang out and keep watch over the house while the McFolks are away. This year, I'm hanging out in the loft with another of my snowman friends. There are lots of snowmen sitting around, so I suppose I should feel honored that she asked me and not one of those other jokers hanging out in the bathroom. the bay window, or the dining room table.
Back in 2009, I found my way to a Kohl's store in Charleston, WV. Even though I was a bit pricey during the regular season, Julie's parents picked me up during an after Christmas sale for half price. She let her little boy name me, and that's how I got the name Fred. I hang out in the loft throughout the year with a trashbag over my head which in case you're wondering is not a bit of fun. The good news is I can hear the television from where I sit.
As I write this, I am watching the Christmas tree rotate, and I can hear it raining outside. There is a crazy show on the TV that I'm not the least bit interested in. always a lot going on here on the home front, but those two little boys are in bed and things are pretty quiet.
I'm going to mention to the lady of the house that I'd be happy to fill in for her during this busy holiday season if she needs a break, so you might be hearing from me again soon. I appreciate you stopping by and I hope you have a lovely day.
Let it snow!
Sincerely, Fred