Welcome to From Inmates To Playdates. Come on in, I've been expecting you!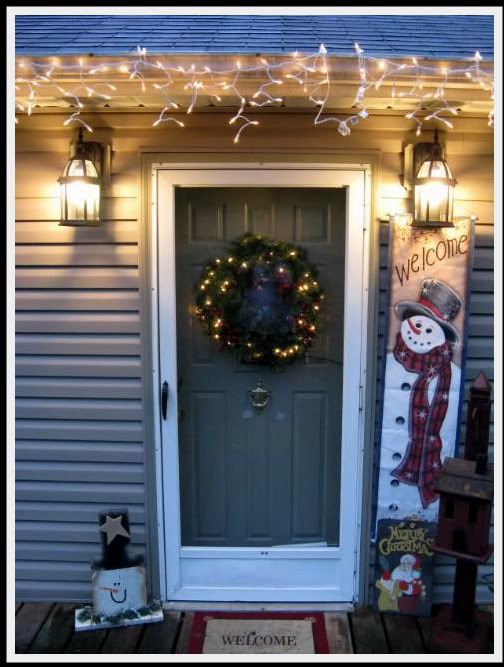 Can I interest you in a snack? Normally I drink Dr. Pepper but sometimes we get all wild and crazy around here and shake things up with some Cherry Crush. Oh, and don't forget the Little Debbie Christmas tree cakes. (That Debbie sure knows how to make a cake!)
There's lots to see around here, so I'll do my best to keep the commentary to a minimum, but if you've spent any amount of time around here you know that isn't going to be easy.
I absolutely love our Christmas tree. It makes me all kinds of happy to sit in the dark and watch it rotate.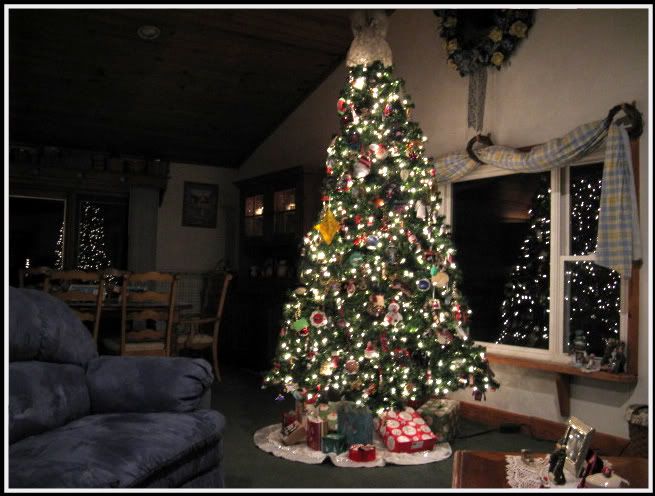 And, as an added bonus, I've added a tree to our downstairs rec-room. I intend to put presents under the tree that match the turquoise theme. Only time will tell if that will really happen. (Oh, and if I had any sense whatsoever, I would have fixed the ribbon on the bottom of the tree before snapping the picture.)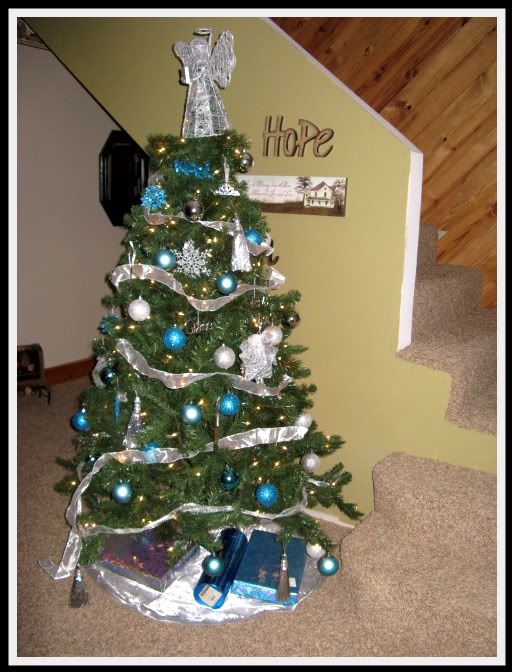 This is my husband, McDaddy. He decorates the loft every year because I'm a klutz and I'm afraid of falling from the ledge and breaking something.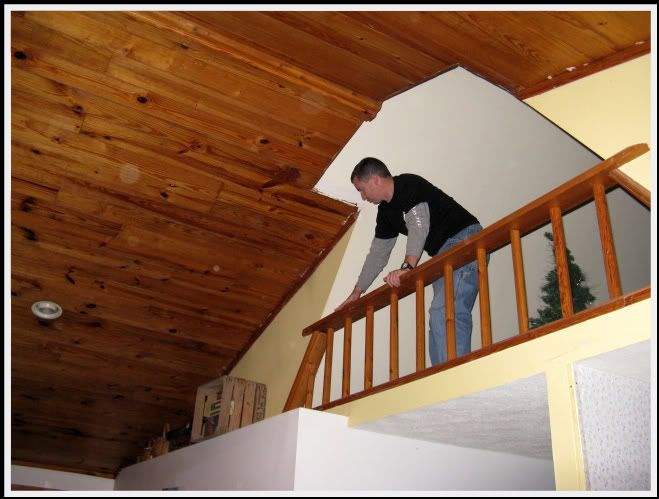 This is the Christmas "through the years" table. In addition to the crazy creation of Longaberger, a candle and a some Christmas bulbs which came about in a fit of anxiety about what to do with 20 some odd Christmas bulbs that were rolling off the table, I've got pictures of our boys with Santa over the past seven years. This table makes me all kinds of happy!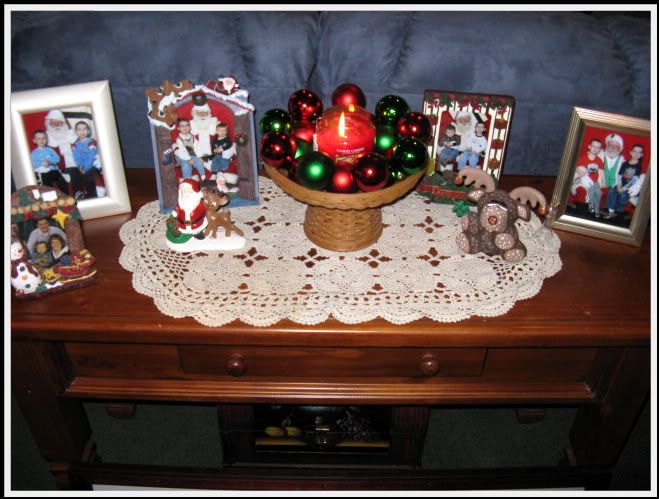 I changed up my dining table a bit this year. I found this really cute snowman collection of stuff at Kohls (which by the way has some fabulous deals and sales and whathaveyou!) and couldn't resist.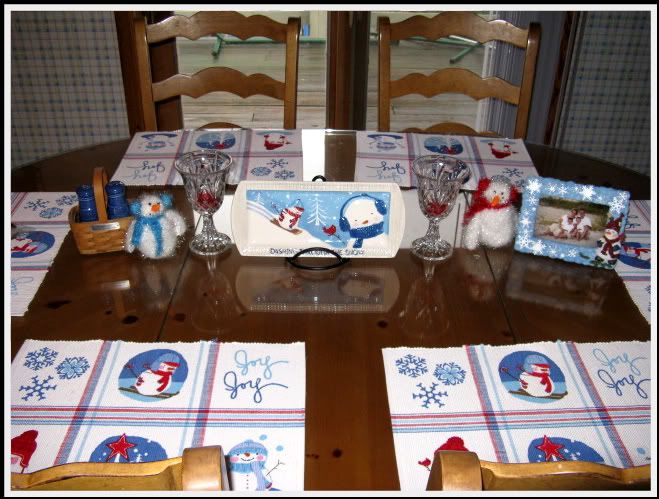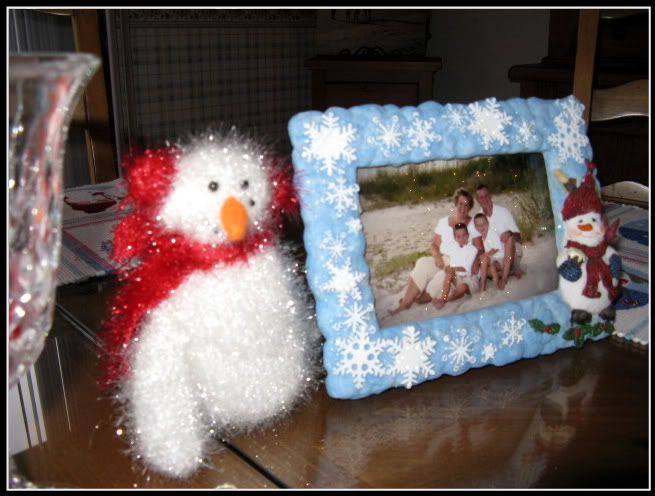 Wave to McDaddy! As you can see, he's risking life and limb to put decorations up there.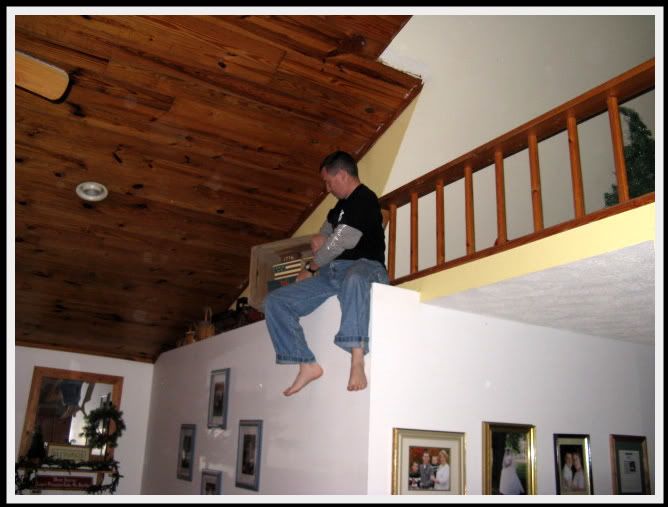 As you can tell, I love snowmen! (But I HATE snow!)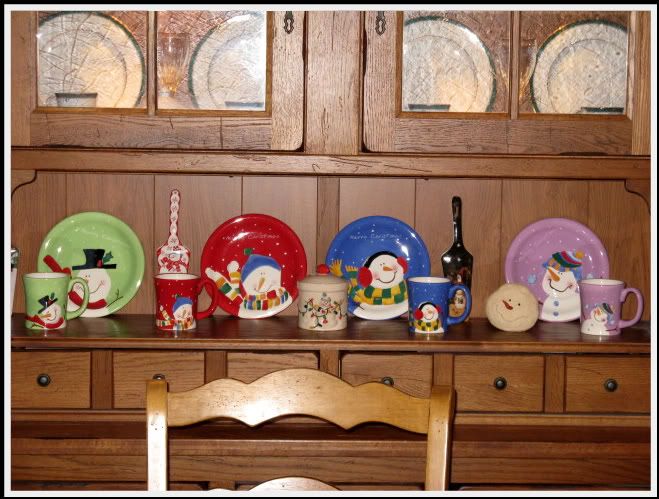 In fact, our bay window is full of them.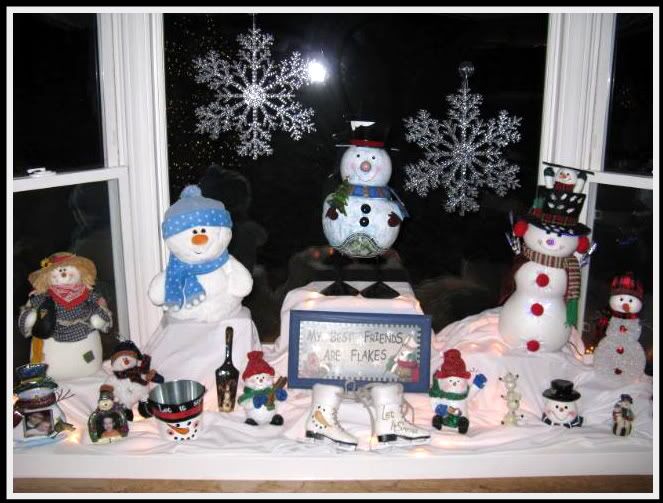 And so is our bathroom.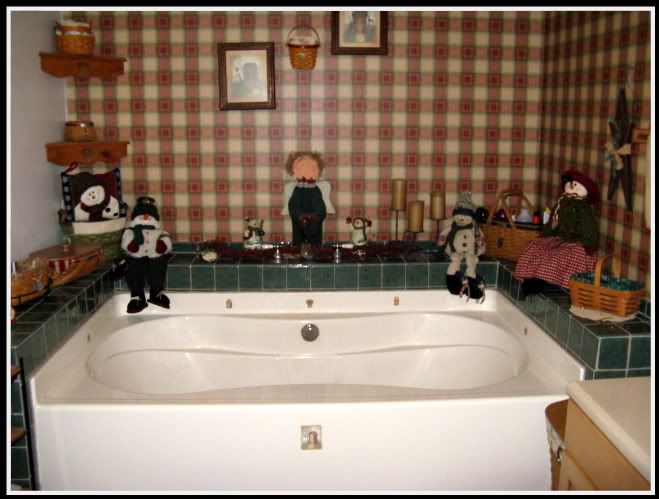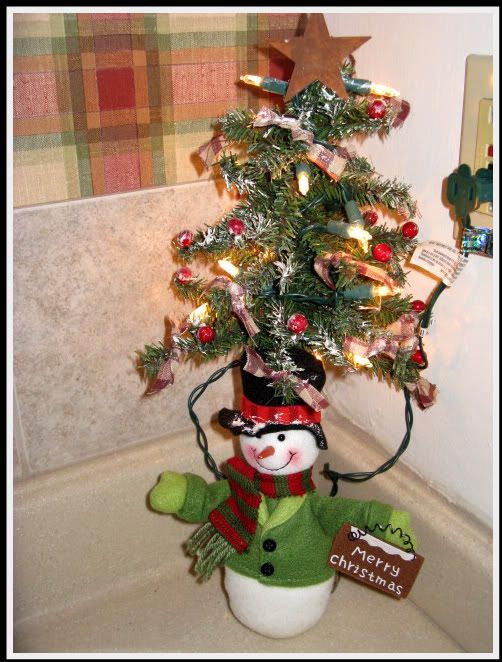 And in the loft, too!
Didn't McDaddy do a wonderful job? Plus, you'll be happy to know he did it all without falling or breaking something.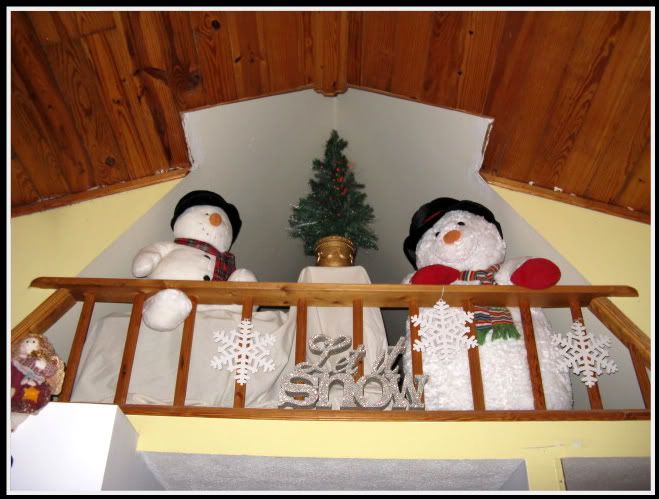 This is my one-of-a-kind vintage nativity set.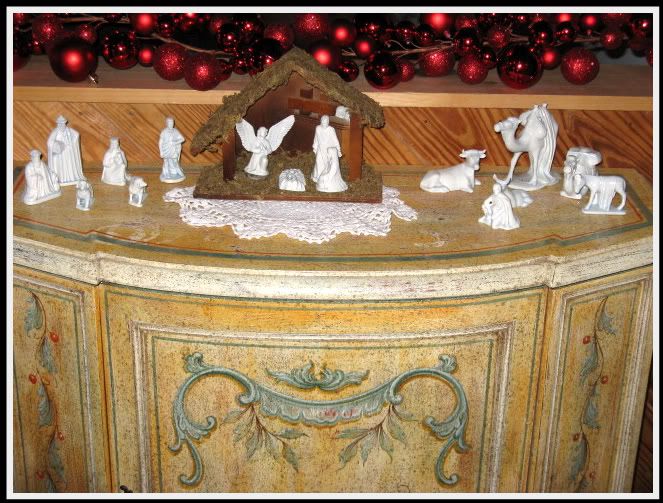 I call it vintage because it dates back to 1985. And I call it one-of-a-kind because I painted it in ceramics when I was 12 years old.
So yeah, vintage and one-0f-a-kind. Kinda like this little crazy-eyed sucker who is waving goodbye!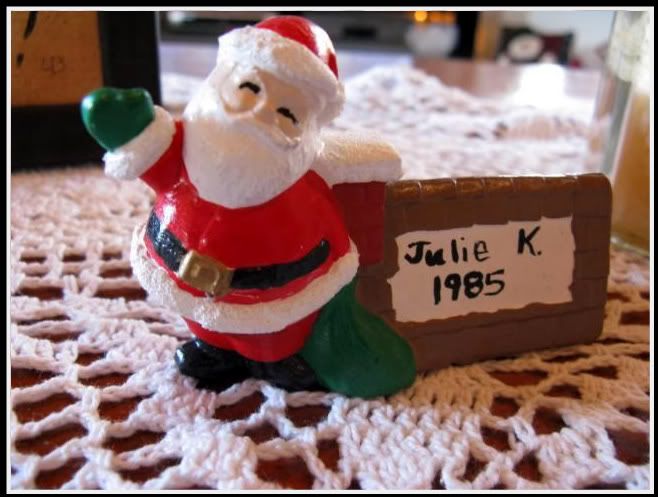 And that, as they say, is that! Unless you want to grab a cookie on your way out the door.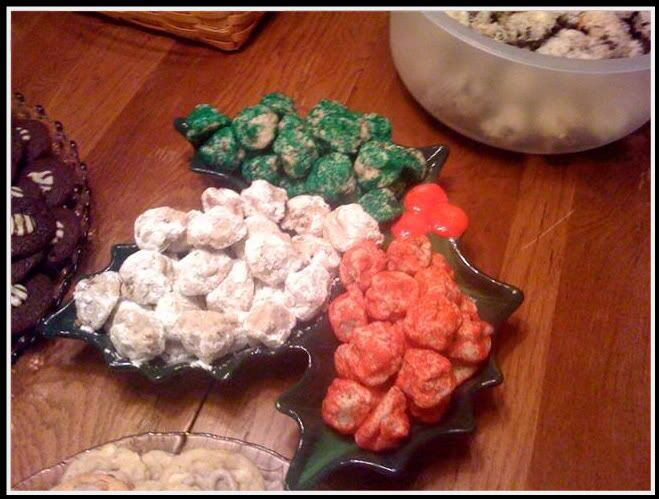 Merry Christmas from my family to yours!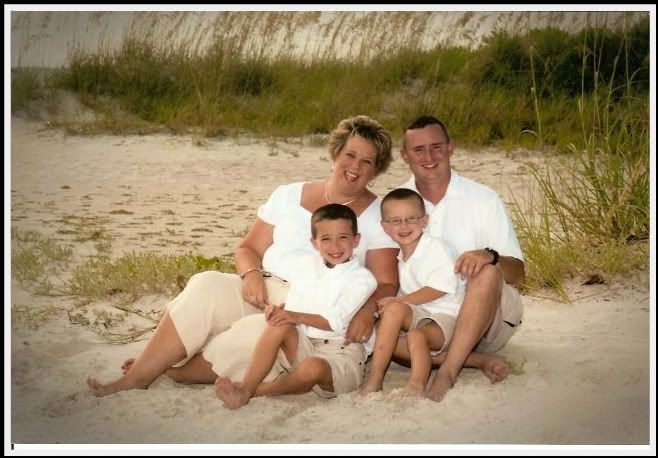 Oh, and if you have any desire to read one of those dreaded Christmas letters our annual family Christmas letter, you can go here.
Thanks for stopping by!
This post is linked to The Christmas Tour of Homes.