The Christmas Card is a big event around here.
I say that because I take great care to hand-sign and address each and every card. I compose a letter which might be considered an annual ramble, and we include a picture. I start planning for the Christmas Card extravaganza in early November so that my cards will be done by the first week in December.
The first stage in the process is getting out all of my cards and Christmas stationary. Because I am indescisive I purchase 4 or 5 or 10 different Christmas cards and choosing who will receive which card is just as much a task as addressing them because I am crazy and have some sort of preception that people actually care which Christmas card they will receive. On top of that there is the color coordination of the stamp, the envelope and the sharpie.
I'm telling you people, I am a nut case.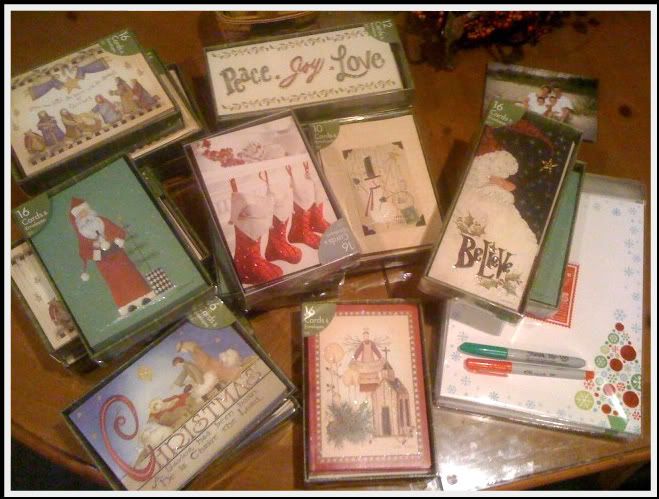 Then, I compose our letter and have it printed. Our letter this year went like this: (For some reason wordpress insisted on putting a space between each line aggravating me to no end and making it nearly impossible for you to see that the first letter of each line should be bolded to read Merry Christmas From Them McFamily! WordPress, you are an aggravation sometimes!)
May this find each of you enjoying the madness and mayhem of yet another
Exciting holiday season. As luck would have it, you have been chosen to
Receive the annual McFamily Newsletter where Julie will no doubt
Ramble on about what all the family has been into since you read last
Year's account. McDaddy is still traveling quite a bit with Honeywell where he is a Principle
Control Systems Specialist, and he is a major in the WV Air National Guard where
He has served for 19 years. He enjoys off-roading in the Jeep and overseeing various
Remodeling projects currently taking place around the McPalace. As one might
Imagine, Julie is just as crazy as ever. She is serving her 2nd year as PTA President at
Stevie's school, Flinn Elementary. As a homemaker extraordinaire, she takes her job of
Transporting kids, laundry and cleaning the house as serious as one can while still
Making time to blog at From Inmates To Playdates Dot Com and watching a vast
Array of reality TV. It's a tough life, but somehow she manages. Always on the run,
She is busier than a raccoon in a trash-pile most days. She and Steve are truly blessed.
Finding out in June that Stevie NO LONGER NEEDS GLASSES, we celebrated and
Rejoiced. He's in the second grade and can rattle off information like nobody's business.
Oh, he loves to read and draw and has inherited the gift of gab from his mama. He is a
Member of the Cub Scouts. He also plays basketball for the Sissonville Youth League.
Then, there is Alex, our five year old. He goes to pre-school and loves to play with Stevie.
He is full of vim and vigor and has two speeds – wide open and asleep. He is a sweet,
Entertaining boy who loves stuffed animals, shoes, Tom and Jerry, and CARS.
Much to the dismay of their parents, the boys are growing up fast. Even though we
Could, we won't go on about how smart or sweet our boys are. The entire McCollam
Clan (all 27!) plus a few enjoyed a weeklong vacation in Florida which was the site of
Our annual Christmas picture. The four of us also spent Spring Break in Florida,
Lazily relaxing with both sets of our parents. Much of summer was spent at swim
Lessons, camps, travelling with Steve on business and camping with friends at various
Area campgrounds. Our little band of four has been blessed beyond measure with
Many friends & a loving family. We have no idea what 2011will hold, but we are
Sure of Christ's love and abundant grace in our lives today and everyday.
Merry Christmas from our family to yours!
And finally, my little family took this picture back in July when we were at the beach. I was having a good hair day that day so I decided it would be our Christmas picture.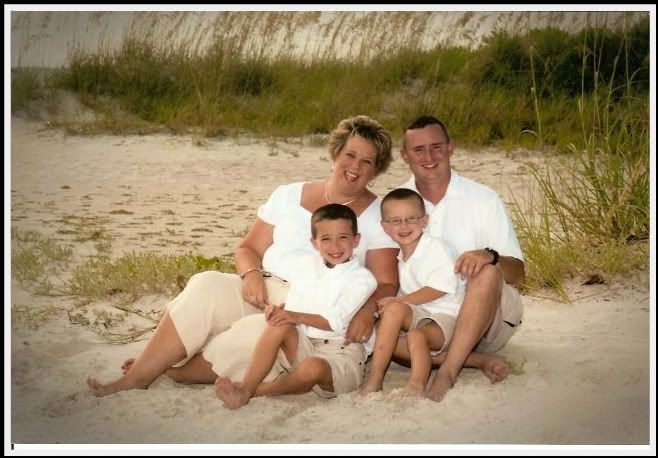 Merry Christmas from our family to yours!
—–
This post is linked to the Christmas Card carousel hosted by Faith.