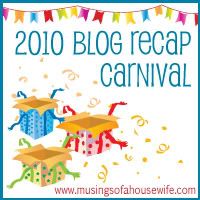 My long-time bloggy friend, Jo-Lynne from Musings of a Housewife is hosting a blog re-cap carnival (complete with a snazzy button) and I thought it would be fun to play along, just as I did last year when I posted My Year In Review.
I'll be looking back at the first line (or two, or three depending on how excited I get) of the first blog post of each month and providing you with a teaser that may or may not compel you to click on the link and read the original post. I'll do my best to keep things short and sweet, but y'all know I'm mouthy and can easily get carried away when I'm explaining something or telling another one of my long, windy tales.
January – I've been keeping a running tally of things I DEFINITELY DID NOT DO THIS WEEK. Because y'all, there are so many it was hard to keep track.
Ah, embarrassing moments, we've all got'em, right?
February – I was making my morning blog run when I stumbled upon a post over at Chic Critique called What's In Your Make-up Bag? 
See what's in my bag!
March – Just like most of y'all who live here on the East Coast, we've had more than our share of snow.
Weathering another friggin' storm.
April – Sometime in January, McDaddy asked me what I'd like for Valentine's Day.
I love McDaddy. I love bling. And I love A Sweet Deal.
May – For some reason, the list of things I didn't do this week seems a bit longer than usual.
June – Dear Boys, I write to you each month in the hopes that someday you'll read my ramblings and know without a shadow of a doubt that I absolutely love being your mama.
Another edition of "Just So You Know" a monthly letter I write to my boys.
July – Thirteen things I was doing this time last Thursday. You know, because you have nothing better to do than to read about what I was doing 168 hours ago while sitting in a hotel room in Monaca, Pennsylvania.
Well, what are you waiting on? Get over there and see for yourself what I was doing.
August – I am sitting in my big, blue, bloggy chair watching Big Brother. It has been a long day spent mostly on the road from South Carolina to our home in West Virginia. I spent the day thinking about what I was doing one year ago today. There was the little matter of deployment and on this day one year ago, McDaddy returned home from his stint in Cuba.
Sweet mercy, it makes me cry just thinking about the stupid deployment.
September – I am not a morning person.
Truer words have never been spoken.
October –I try to keep things light and easy here at From Inmates To Playdates, Inc. because I feel like most of y'all have enough of your own stress to deal with without coming here for a daily dose of crazy only to read about McFamily drama.
Counting my blessings because I Am Blessed!
November – It's been one of those days.
Lucky for y'all, I'm Talking About My Ear Again!
December – Hi, my name is Fred.
A note from a family friend. It's amazing what folksI will blog about when bloggy times get tough.
And if that's not enough crazy for you, feel free to read about my five years in jail or what I learned at the funeral home while watching an embalming.
I have no idea what 2011 has in store for our little family of four, but I am sure of God's goodness and mercy in our life.
Happy New Year From Our Home To Yours!
Keep up with the crazy! Subscribe to From Inmates To Playdates for a play-by-play of my rants and raves. Or, you can follow JulieAtInmates on Twitter. Oh, and if you LOVE my crazy, head over and LIKE From Inmates To Playdates on the Facebook.