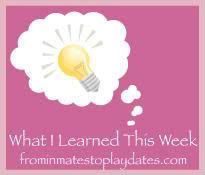 Here we are just a day away from December, and I am already busier than a raccoon in a trash-pile.
Thankfully though, I have learned a thing or two over the years regarding the month of December. It has a tendency to sneak up on me and THEN, in the blink of an eye, it's gone. It certainly doesn't help that we'll be celebrating two birthdays in two days at our house either.
I've spent one too many December holidays fretting over stuff, so hopefully the things I've learned will help one or two or ten of you fret less. I say it all the time people, this blog is about so much more than entertainment.
May I present to you a dozen of my best tips and tricks for a more relaxing holiday season.
1. Pack holiday decorations away in groups. (Snowmen for the bay window, bathroom decorations, dining room decorations, etc.) The unpacking will be much more organized.
2. When unpacking my holiday decorations, I find it EVER SO HELPFUL to pack away all of the other stuff sitting around in the empty holiday totes.
3. IF you insist on sending Christmas cards complete with a Christmas picture and a family Christmas letter, get all of that mess out of the way and in the mail as soon as you can.
4. If you've been at this holiday decorating thing for awhile, it is a good to follow this rule of decoration: for every new holiday decoration you buy, get rid of one. (You might consider giving the stuff to a newlywed who doesn't have a whole of Christmas stuff to decorate with.)
5. If your holiday plans include participating in a cookie exchange, you may want to Google the Pillsbury bake-off cookie recipes before submitting your recipe.
6. If you send a blue million lots of Christmas cards, you should purchase them the day after Christmas when they are 50% off and put them up for the next year.
7. Ditto for Christmas stationary and wrapping paper.
8. The blogosphere is a great place to get holiday decorating ideas. It also helps to have a husband who is ready and willing to help you get it all done.
9. There are lots of people searching for Christmas letters on Google. Many of them have shown up on my bloggy door the past two weeks simply because I titled a blog post, Family Christmas Letter.
10. Keep some sweet stuff (cookies, brownie mix) on hand for impromptu visitors.
11. Gather all of your wrapping supplies and keep them handy in a decorative box under your Christmas tree.
12. Compose a couple of blog posts that are ready to be posted in case you get busy one evening and have trouble getting your What I Learned Post up at a decent hour.
Okay, that is all.
Now it's your turn to  share.
——-
You can read the long detailed version of rules here, or follow these easy steps.
1. Any time this week, publish your What I Learned This Week post on your blog. AND, if you could, spread the word to your bloggy friends so more people will LINK UP for pete's sake.
2. Within that post, please mention the What I Learned This Week carnival and link to this post here at From Inmates To Playdates.
3. Then link up with the Mr. Linky below and give a shout out about it on facebook or twitter.
4. Visit the other participants and see what they learned this week. Then leave a comment because comments are fun!
——–