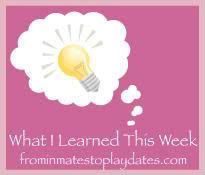 What I Learned This Week:
1. A yellow tablecloth looks better in my bay window for fall than a red one does. It looks so much lighter and make a huge difference in my fall display.
2. Once I get something in my head – as in something I really want – it's so hard to get it out. I've had three prime examples of that this week. (Still, no Bath and Body pump soap to speak of. And still no luck finding a cute rocker chair in a fabric that I like for a decent price). My search will continue for both of these later today.
3. When your cordless phone has been missing from your kitchen for the better part of three days and the locator button does not seem to be working, there is a pretty good chance that the cordless phone is in your van because remember three days ago when you laughed when you walked out of your house with the iPhone in one hand and the cordless phone in the other hand yet you were too lazy to walk the cordless phone back into the house, instead just dropping it in the console of your van?
You knew better ding-dong.
4. The life of an underwire in a bra must be approximately 18 months because I've lost two in the past month.
5. I can think of 28,372 I'd rather be doing instead of shopping for a bra. If you have any suggestions for a comfortable one, I'd love to know about it. Generally, I love to shop. But a bra and it's drama puts me right over the edge.
6.  After wearing flip-flops for the better part of four months, your toes will ache after wearing tennis shoes for an entire weekend.
7. Maybelline Falsies mascara is clumpy. Ditto for the maybelline Colossal kind. In fact, I decided to try them during a BOGO half-off sale at the rite-aid and returned both of them three days later. I think I'll just stick with my big chunky orange tube of Cover Girl Lash Blast.
8.  The show Sister Wives is off the hook. I can't imagine sharing my house, my life, my kids and McDaddy with three other women. Um, I'll pass, thanks.
Is that even legal?
9. If you are loading the dishwasher and have the door open, you should be very careful not to crack your kneecap on it or else you might feel like cursing.
And now, what did YOU learn this week?
If you're linking up this week, please link to your actual WILTW post, and not just to your blog's home page because in seven months when folks are nosing around on past posts, they can click on your link and go straight to your post. If you need help with that, you can go hereor simply e-mail me because I love to talk, type, skype, whathaveyou, and I'll do my best to walk you through the process. Also, please link back here to 'From Inmates To Playdates' because, well, that's just a kind thing to do when you're linking up to a carnival.
Okay. With all that out of the way, here's MckLinky!