It's one of those mornings where I would welcome genuine adult conversation.
McDaddy left on a business trip to Canton, Ohio before I ever even rolled over, Stevie is at school, and Alex is busy playing with McDaddy's vintage Hot Wheels service center. I am in my big, blue, bloggy chair watching Dr. Phil.
Yes, I said, Dr. Phil. And no, it's not really working for me.
I could be doing something productive like dusting my living room or cleaning windows, but I'm still waiting on the desire to show up and do its part!
I initially thought I'd sit down and write this week's Thursday Thirteen. I was going to call it Thursday Thirteen – Thirteen things that thirteen people need to know. You know, because I've always got something to say to someone. But, then I had to use the bathroom and I found myself sitting there spinning my wheels thinking of all kinds of other things I'd like to talk about. And if you know me IRL, you know there is rarely a time that I don't have something to talk about.
So, we could talk about the fact that I hauled a bail of straw in my van yesterday, sending McDaddy straight into aggravation mode because hello, we've got a truck to haul things! I was "in town" when the urge to buy the straw hit and I thought hauling it in my van was more cost efficient than coming all the way home, getting the truck, and driving back into town. I know McDaddy's logical brain would suggest I just wait until the next time I went to town to pick up the straw, but its kinda hard to operate that way when you're me.
Immediate gratification, folks. Immediate gratification.
I was all excited to decorate my porch for fall until I opted instead to change out of my shorts and back into my pajama pants. Once I did that, it was tough to do anything beside curl up in my big, blue, bloggy chair and rest, or nap, or blog and watch Dr. Phil.
We could also talk about the fact that I should be going to the Y today. For six months, back in 2008, I was so motivated and conditioned. Going to the Y was part of my everyday running around and I consistently lost one pound per week for 24 weeks. I felt better and I looked better. And I was motivated to keep at it. Then, deployment hit and I found myself sitting up late at night wallowing in my depressed state, always with some sort of snack, and then, I made the unfortunate decision to get an IUD at the prompting of my gyno because my periods were out of control and it was all more than I was willing to deal with. Little did I know that the IUD would bring along 25 pounds worth of fun with it, in addition to a knack for wreaking havoc on the blood and its pressure. Since that time, the IUD has been removed. Unfortunately the 25 pounds are still hanging around. So, really it's time for me to get back on the workout wagon.
And speaking of periods. Did you know that the iPhone has a period tracker APP? Apparently Steve Jobs hasn't left a single APP stone unturned.
PTA is back in full swing. We had our first Board Meeting yesterday after school. Board meetings usually last less than an hour. But yesterday? Yesterday, the meeting was two (2!) hours long which would normally be fine because our afternoons are usually free, but the night before I had called the inlaws to invite them over for dinner and wouldn't you know the two hour meeting ran right into my food preparation time and so I found out that the microwave option on the side of Mrs. Stouffer's lasagna is an acceptable alternative when you find yourself in a time pinch thanks to poor planning. Luckily, I had prepared the dessert before the meeting because everyone knows as long as you serve a great dessert (a big finish!), it gives you a little wiggle room even if the dinner you prepared was subpar.
And then there is the Saturn Sky which I am still absolutely crazy about because just look at this sucker!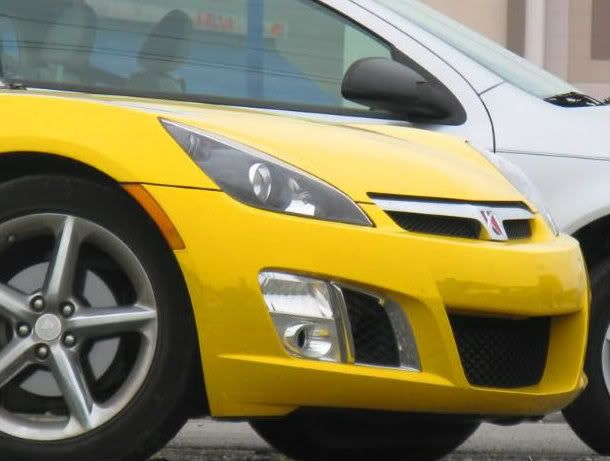 The Saturn Sky is slowly slipping through my fingers because they are no longer being manufactured and because they they are fewer and farther between. That makes me so sad because I WANT ONE SO BAD even though it makes absolutely no sense for a busy stay-at-home mom who rarely stays at home to drive a two seater convertible when said SAHM has two children.
Still.
Oh and just in case you've been living under a rock, here's the season line-up of Dancing With The Stars – Michael Bolton and Chelsie Hightower, Brandy and my boyfriend, Maksim Chmerkovskiy, Margaret Cho and Louis van Amstel, Rick Fox (who's he?) and Cheryl Burke, the unrecognizable Jennifer Grey and Derek Hough, David "The Hoff" Hasselhoff and Kym Johnson, Florence Henderson and Corky Ballas, Kyle Massey (is he 12?) and Lacey Schwimmer, Bristol Palin and Mark Ballas, Audrina Patridge and Tony Dovolani, Kurt Warner and Anna Trebunskaya and Mike "The Situation" Sorrentino and Karina Smirnoff.
I'll be cheering for Florence Henderson and Jennifer Grey because I spent many an hour watching Florence mother her bunch in the 80's and because Dirty Dancing is my all-time favorite movie and I have seen it, oh, I don't know, 1,823 times. I will also be cheering for Brandy because for every week she stays in, that's another week I get to watch my boyfriend, Maksim Chmerkovskiy dance.
Ok. I think that's it!
Time to dust. Or decorate. Or watch another episode of Dr. Phil
[Note: I wrote this post two days ago and forgot to post it. That's how smart I am.]