They appeared out of nowhere.
Totally uninvited.
They are dark. They are overbearing. And they would not under any circumstances, go away no matter how big a fit I threw and believe me if there's one thing I know, it's how to throw a fit.
Throw it. Pitch it. Toss it. To really do a fit justice, there must be a verb involved.
Fit or not, the dark circles stayed.
I've powdered. Plastered. Lotioned. Wiped. Brushed. Waxed. And rubbed.
Nothing helped until I showed up for battle armed with,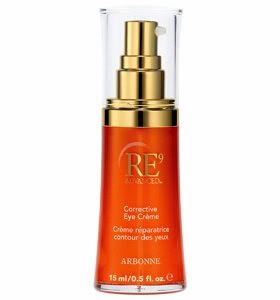 the bomb-diggity.
I've been fighting dark circles under my eyes for a number of years. I'm telling you folks, the mid late thirties mean business. Things are happening to my body at an alarming rate and some days it is hard to keep up. My hair is turning gray. I have unexplained pains.
My eyes, among other things, sag. Ahem.
May I introduce you to Arbonne's RE9 Corrective Eye Cream.
The Arbonne catalog says: Visible firming, moisturizing and corrective benefits that are so immediate, you won't believe your eyes! Reduces the appearance of dark circles and puffiness, while beneficial RE9 elements are transported to protect and repair the delicate tissue around the eye. ( .60 oz./17 g ) Price: $55.00.
While $55.00 may seem a little steep, I have to say that I have used this bottle for months and the bottle is still over half full. I actually unscrew the lid and dab 4 or 5 dots (actual dots – very small dots) on my ring finger to dab on my eyes. The squirter sends the stuff spewing out and at $55.00 a pop, I can't afford to waste any of it. Humph, maybe I should dab the excess on my thighs.
The dark circle under my right eye is gone and the circle under my left eye, is almost gone. If I were waging a bet, I'd say it's because I always do the right eye first. Perhaps I need to shake things up and do lefty first next week. In addition to that, the skin under my eyes is so soft. I actually looked in the mirror yesterday and said, "My bags are gone!"
In just three easy steps, your bags can be gone, too.
1. Dab a few dots on your ring finger.
2. Gently dab the cream under each eye.
3. Watch your bags disappear.
Arbonne's costly RE9 Corrective Eye Cream works like a charm.
And if you try it, you won't believe your eyes!