When we bought our house seven years ago, we also purchased living room furniture. The couch and loveseat was absolutely perfect for our country-themed great-room. It was big and puffy and blue and came complete with 214 pillows. Before sitting on the furniture, it is necessary to move the pillows or else there isn't a comfortable place to sit.
It aggravates McDaddy to no end and requires me to straighten the pillows several times a day. Still I LOVE our couch and love-seat.
Once I knew our pooping and peeing days were over Since the day I placed the very last diaper on my sweet Alex's bottom, I've wanted a new couch and loveseat. Our old furniture is stained. The piping is ripped. The pillows are loosing fluff. And the disconnected back pillows droop a little more everyday.
Two weeks ago, I went on the prowl for a new couch/loveseat set.
I was disappointed and disheartened to find that most of the sets are only available for the listed price if they are mocha, slate, chocolate, or khaki.
Choose a custom fabric and the price goes up hundreds of dollars.
When I walked into the fourth furniture store, the design consultant met me pretty much at the door with a icy-cold-coca-cola-classic in a small glass bottle. I knew right away she was my people. With her help, I thumbed through book after book looking for a couch frame. Then, I spent way more time than I should have at the wall of fabric fame. There were rows and rows of the fabric and I am about as indecisive as they come.
Finding the perfect fabric was not an easy job.
Ultimately, I found a couch frame and a fabric that I adored. I came home armed with figures, pictures, fabric samples, and a good feeling. Then I went to the couch website and played around with the design-your-own couch plaything. I was a little surprised to see this.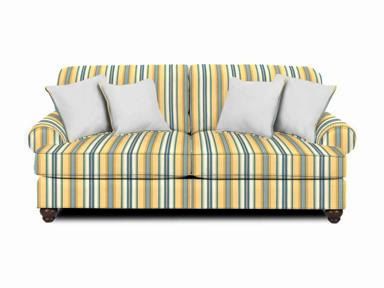 It is bold and it is a perfect match for our country theme. Oh how I love this couch.
And then McDaddy mentioned that he'd like to have a couch that reclines.
Which this couch DOES NOT.
I mean it rocks, if you know what I mean.
But it doesn't recline.
And in that very second my dream of the beautiful custom created couch was crushed.
Instead, McDaddy and I settled on this Lane microfiber saphire (yes, that's the way the fabric is spelled) covered crazy comfortable-as-a-bed couch and loveseat.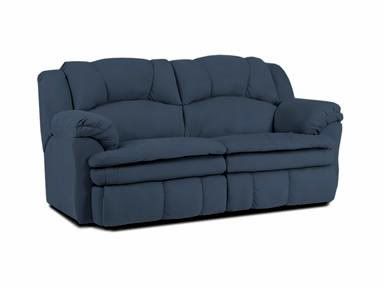 We will need to countryfy this bad boy a bit, so I inquired about purchasing two throw-pillows in this beautiful fabric that would have covered my whole couch and loveseat.
Until I found out that two custom throw-pillows cost $79.00.
$79.00!!!!!!!
For two pillows. Craftmaster is out of their ever-lovin-minds if they think this ole' gal can pay $79.00 for two pillows.
In an instant, my dream for 2 throw-pillows were crushed. That was, until I found out that I can puchase a yard of the fabric for $30.00 (which is enough fabric to make 4 pillows mind you). And since then, I have found this rocker on the fabric place website and I intend to call about it tomorrow.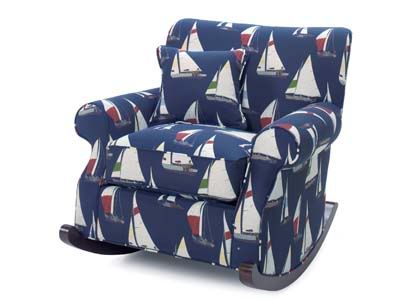 I'd love to know who in the heck made the poor decision to post this chair on their site in this ridiculous pattern. Hideous I tell you.
I'm hoping the rocker is more reasonable than the pillows.
The bad news is that our custom furniture will not be ready for 4-6 weeks which makes me so sad BECAUSE I WANT EVERYTHING RIGHT NOW.
I hate to wait.
And I can't wait to see all of my hard work come together.