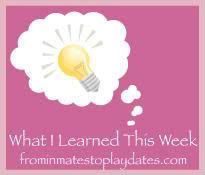 I am a bit pre-occupied because I am watching Maksim shake his booty Dancing With The Stars. I was pleasantly surprised with Bristol Palin and I dropped my jaw when I heard that Florence Henderson is 76 years old and she can shake her grooove thang.
76 YEARS OLD.
I hope I can walk when I'm 76 years old much less dance. I guess you could say I learned that Florence Henderson can dance in spite of her age.
Some other things I learned this week, in no particular order are,
– When the flusher handle breaks off of your toilet, you can lift the lid on the toilet and pull up on the white bar to flush it.
– When the flusher handle breaks off, you should know that the universal flusher handle isn't really universal.
– If you make the dumb mistake of saying you purchased a new curling iron with a concrete barrel on your blog,  you can expect for your blog to be the only hit on Google when you put in the words, curling and iron and concrete and barrel.
Some days I am a complete moron.
– The Chicken teriyaki sub at the Penn Station is quite possibly the best sandwich I've ever eaten.
– Sitting outside in the September night air with wet hair is probably never a good idea.
– If you do choose to sit outside in the September night air with wet hair, you should make sure you have plenty of tissues on hand because you will need them the next day.
– A new couch and a new loveseat are almost the same price. Which makes not a bit of sense to me.
– The Saturn Sky still makes my heart thump.
– It is totally possible for the seat in your van to have a plastic piece broke on it and have no earthly idea how it got broken.
– Things that are common sense to some will be anything but, to others.
That's it for this week.
——-
Linking up for the first time? Click here for the complete carnival rules. Or just read the short version.
1. Any time this week, publish your What I Learned This Week post on your blog and link back here to my blog. The button is optional, but so cute, so why not?
2. Link up with the Mr. Linky form below. Please remember to link to your actual WILTW post, not the main page of your blog.
3. Then, visit the other participants to learn what they learned this week. And, for added excitement, leave them a comment!