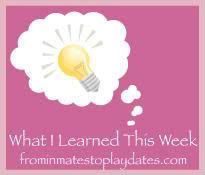 What I Learned This Week…..
– When your BFF decides to get a part-time job, you will miss meeting her for breakfast at iHop spending time with her.
– Mango peach gum by Bubblicious is straight-up nasty. Ditto for Trident Cool Colada.
– When a cowboy boot is missing from your boy's shoe collection for the better part of six months, and then a rain boot goes missing, there is a good chance it has fallen down behind the drawer into the floor under the drawer. In fact, there might be a whole community of things under there that haven't been seen for months (pajama pants, hot wheels, plastic screwdriver, cowboy boot, rain boot, silly bandz, and a pencil. It makes me wonder if that stuff came to life like Toy Story once we left the house each day.
– When sitting at your house and you hear a continuous banging, it probably isn't a friend knocking on the side of your house, and it probably isn't some of your fall decorations blowing in the wind, rather, it is probably fireworks from the county fair that you can see just perfectly from your big picture window. And even better if you turn out your lights and turn the television off.
– When you purchase a shirt bearing a big fish on it for a guy at your church, there's a good chance he'll wear it, even if it says, "Does this shirt make my bass look big!" I giggled just typing that. That is one funny tee-shirt.
– If you're looking for a way to waste time, Facebook is always a safe bet.
– When searching for a way to make your house smell yummy for fall, head to the nearest Yankee Candle and purchase the biggest Cranberry Chutney candle you can find. Then light it.
– Angela Thomas is an awesome conference speaker. She is funny, engaging and anointed. I enjoyed her very much!
I think that's it for this week.
——-
Linking up for the first time? Click here for the complete carnival rules. Or read the shortened version.
1. Any time this week, publish your What I Learned This Week post on your blog and link back to my blog. You may choose to use or not use the button.
2. Link up with the Mr. Linky form below. Please remember to link to your actual WILTW post, not the front page of your blog.
3. Then, visit the other participants to learn what they learned this week and be sure to leave a comment to let them know you stopped by!