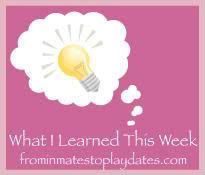 I hope you had a wonderful Labor Day weekend.
The McFamily enjoyed a relaxing camping trip with six families from our church. There was a chill in the air for most of the weekend, but I'll take that any day over the 403 degree temperatures we experienced most of the summer. It was a nice change.
In addition to the weather, we ate and ate and ate and ate some more. This is our third of fourth annual Labor Day weekend camping trip and our breakfasts and dinners are eaten as a group. There were kabobs, barbecues, pancakes, omelets, fish, and more desserts than any of us needed. Sadly, it is time to bid summer a final farewell. I will miss that rascal. Our little family had an action packed summer full of travels and fun. I'll be counting down the weeks until school is out and we can again enjoy late mornings and days at the pool.
I know y'all didn't come here expecting to hear me whine and complain about summer though, so, we'll get right down to what I learned this week.
1. When camping with six families from your church, it's not a good idea to leave your iPhone lying around. Especially if you do not have a pass-code on it. Otherwise, somebody might pick up your iPhone and post, um, I don't know, a facebook comment that says something like I do not like cornhole. I'm just not good at it! Or worse, something about having the runs.
2. When camping with six families from your church and you discover your four-year-old is missing, there is a REALLY GOOD chance that he has not been kidnapped. Rather, he is probably at the park with one of the adults and several kids with your group.
Still, very scary.
3. Not sure how long the promotion will run, but the Chop House offers a half-priced meal on your birthday for you and a guest.
4. The green poison control face with his tongue sticking out is lovingly referred to as Mr. Yuk.
5. At the onset of a fever blister, you can pretty much count on having it for at least nine days.
6. CNN reporter, Anderson Cooper is the son of Gloria Vanderbilt.
Odd, but true.
7. It is much easier to sweep the camper rug with your vacuum cleaner than it is with a broom.
8. When packing for a camping trip and the weather forecast calls for 60 degree temperatures, it's probably a good idea to make double for-sure that after you pack plenty of pants for your kids, you pack more than one pair of pants for yourself.
9. When you are anxious to decorate for fall, it will be difficult to concentrate on writing a What I Learned This Week blog post.
—–
Linking up for the first time? Click here for the complete carnival rules.
1. Any time this week, publish your What I Learned This Week post on your blog and link back to my blog. The button is optional but oh so cute, so use it if you'd like.
2. Link up with the Mr. Linky form below this info. Please remember to link to your actual WILTW post, not the front page of your blog.
3. Then, visit the other participants to learn what they learned this week. And then, leave a comment because everybody loves comments. 
Ok, I think that's all.